It's the week after VOICE 2019. Every speaker, attendee, and organizer has returned home and had time to look back and reflect on what can only be described as a memorable four days.
Between July 22nd and 25th, the quiet city of Newark was bustling with people from all walks of life with one common passion: Voice. The NJIT campus was brimming with new perspectives, challenging insights, and dozens of sessions showcasing the unmistakable power of voice technology.
We covered it all day-by-day, from David Isbitski's opening keynote to the final standing ovation in complete silence. But VOICE isn't just another tech event—it's a learning experience that goes beyond what's new in the industry. Each Summit is an opportunity to underline what we're doing right and what is still left to do. So in this concluding post, we want to go beyond the usual tech takeaways and instead highlight the true cornerstones of VOICE Summit.
Community comes first
"There have been so many spontaneous meetings. Big events are usually impersonal but VOICE is very family-like. Lots of people are connected online and we're finally meeting in-person." - Blandine Avot, Women in Voice.


From the NJIT to the local bars, executives, employees, professors, and students were united under one roof, exchanging stories and comparing experiences. Thought leaders met their followers, Voice aficionados met their heroes, and pockets of like-minded people quickly formed their tribes within our growing community.
The Whova app used throughout VOICE overflowed with suggestions for new meetups. We saw a developer's dinner, "CEOs and Coffee", a "French people in Voice" reunion, a "Women in Voice" lunch, LGBTQIA get-togethers, and even "beer for people from São Paulo".
With over 2,750 active threads on the app, it was beyond clear that the most exciting thing about VOICE was simply the opportunity to connect.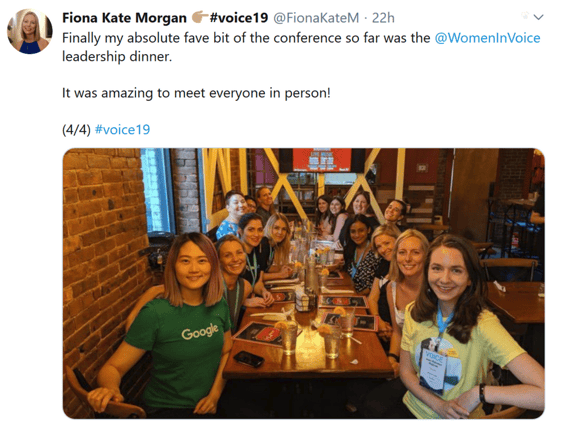 Fine shows of camaraderie appeared within the NJIT campus too. During more than a few panels at VOICE, if a speaker couldn't make it, another would graciously volunteer in their place. In one particular session, the very audience stepped up and took turns to discuss the topic themselves—since the speaker's flight had been canceled and couldn't make it.
This heart-warming sense of community and solidarity is what defines VOICE. It's why we have reached such incredible growth in such a short time, and it's the motivation that drives everything we do. Besides, it's only fitting that such an incredible technology be spearheaded by an equally incredible community.
Diversity takes us further
People of all genders, ethnicities, and abilities are (and always will be) welcome at VOICE, because brilliance is unbiased and progress demands diversity.
Speakers, panelists, and attendees streamed from over 26 countries. Teams of students flew in from around the world under the VOICE scholarship program, aimed at those who otherwise wouldn't be able to attend. Not a single session took place without someone of a different gender on-stage. Of course, not every possible perspective was heard this Summit, but we're working hard to make it happen.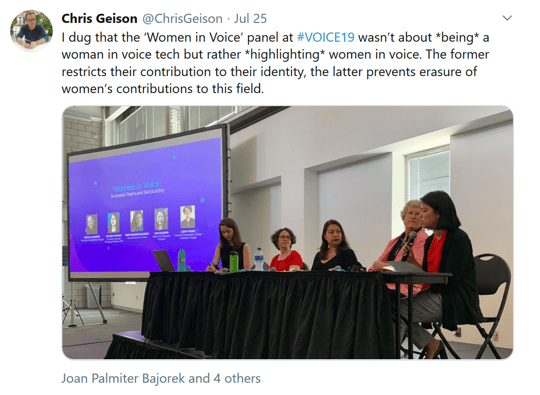 There is still a lot of work to be done, not just at VOICE but in the tech industry as a whole (particularly regarding Latinx, Native, and African-American groups). Hopefully, in the near future we can look at the voice-first community and realize there's no need to intentionally point out diversity, because diversity will simply be there.


Everyone

has a voice

Thomas Chappell, Senior Associate at Prudential Financial, gave the closing keynote of VOICE 2019. Thomas was born deaf—he didn't speak a single word throughout his entire presentation, but the audience heard his message loud and clear.

Earlier that day, Inclusion Strategist Christina Mallon—who was diagnosed with a form of ALS that paralyzed both her arms—gave a keynote on using Voice to empower the deaf and hearing impaired.

Anil Lewis from the National Federation of the Blind sat on a panel dedicated to accessibility through Voice. A pair of interpreters sat across them, signing questions to fellow panelist Noah Blankenship, who in turn signed his responses that were then read out to the audience.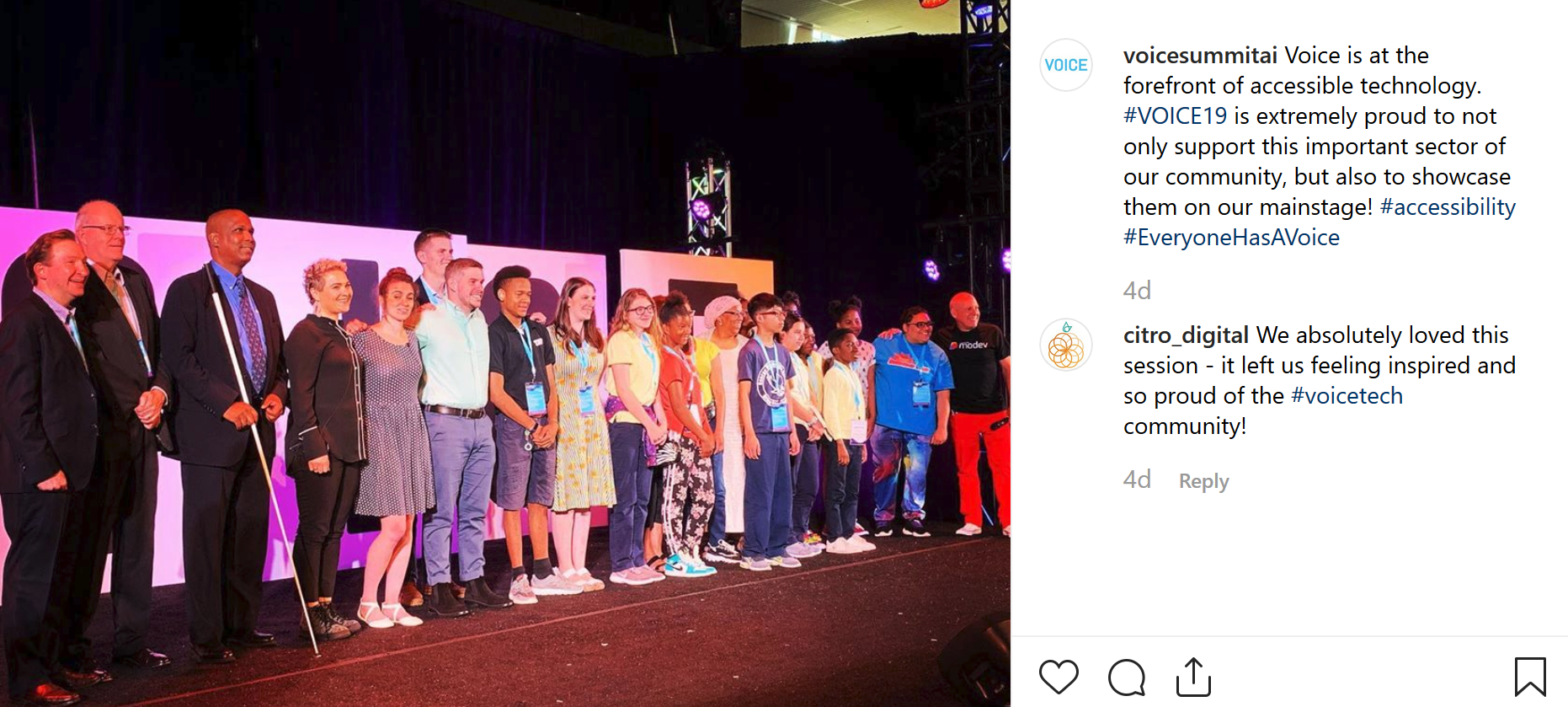 Most notably, when the Bruce Street School for the Deaf walked in on day one of VOICE, every single attendee fluttered their hands in the air—applauding in sign language. It was an amazing sight and the feeling of appreciation was palpable. It was yet another demonstration that ensuring inclusivity isn't some overwhelming effort; sometimes it's as simple as raising your hands in silence so people who can't hear know that they belong.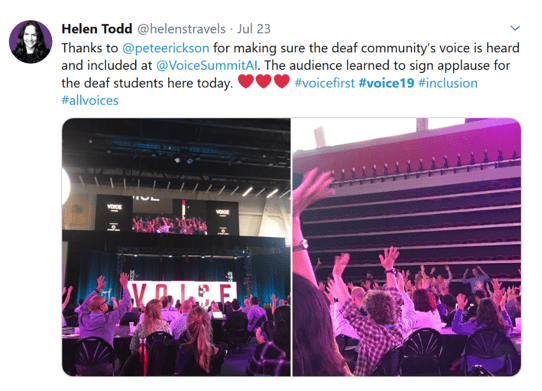 While VOICE 2019 has ended, we still have much to reflect on and even more to look forward to. As you drift back into your daily routine, we hope you'll always fondly remember all the amazing people and ideas from our Summit. Here at VOICE, we'll be working hard to make the next one even more welcoming, inclusive, and accessible than before.
The voice-first community is growing every day, the possibilities of voice tech swiftly transitioning from unimaginable to obvious, and we're thrilled to say that the best of VOICE is yet to come.
Want to join our tight-knit community? Add your name to VOICE 2020 to stay in the loop for early-bird discounts and updates. (It's completely free to sign up.)
See you next year?