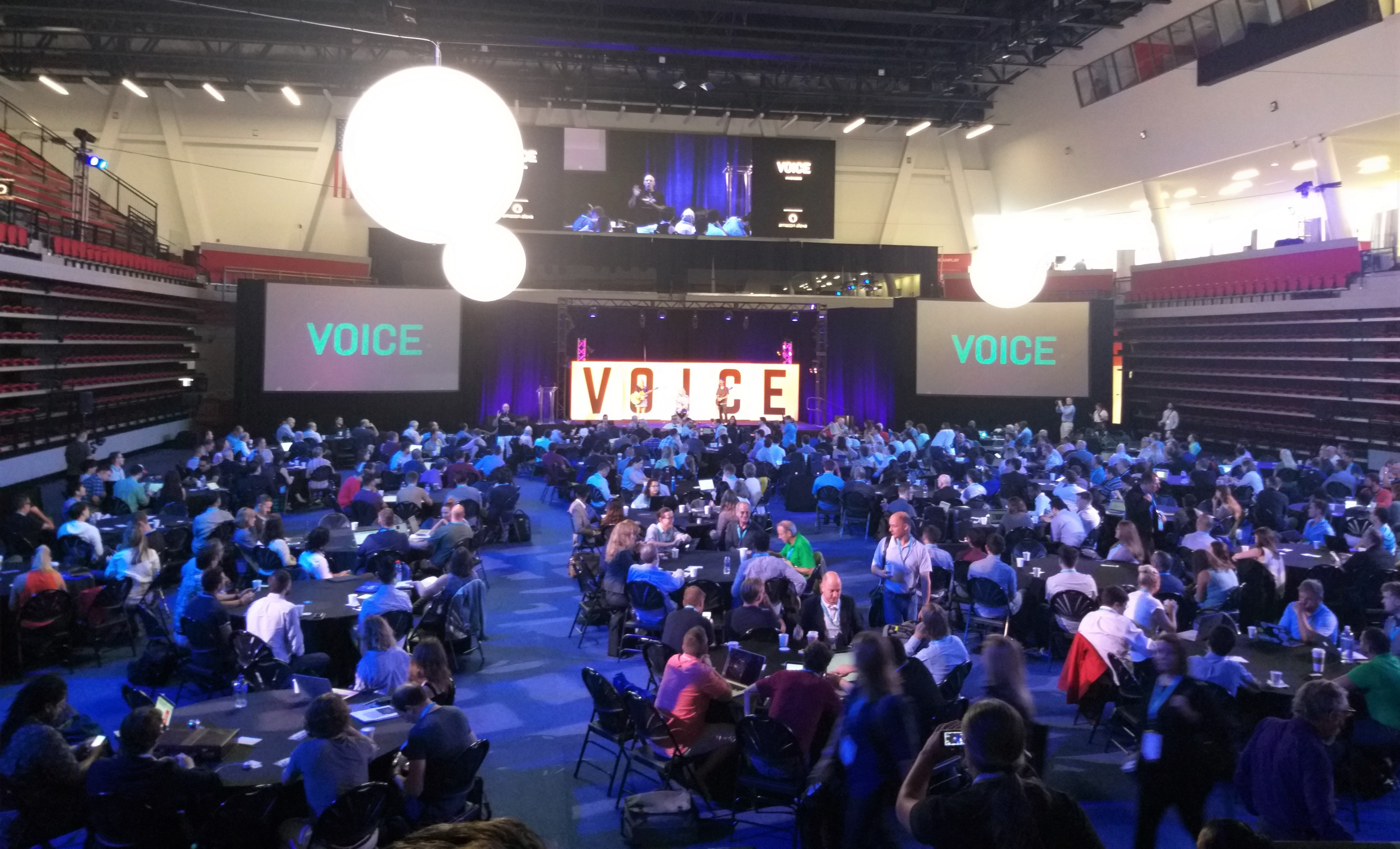 The Main Stage at NJIT is hustling and bustling with attendees and organizers. Media crews line the back of the auditorium, sitting behind black tables laden with screens and blinking sound systems, ready to livestream the event on Facebook and Instagram. Up on the glowing purple stage stand three musicians, strumming the official sonic brand of the Summit in front of a thick velvet curtain and large letters spelling out "VOICE".
The music slows to a stop as Modev CEO, Pete Erickson, takes the mic and says, "welcome to VOICE!" prompting an enthusiastic applause from the crowd.
"Let's get this party started," he announces before diving into how Modev started with 12 people in a pizza shop. Now, ten years later, over three thousand people from 26 countries are sitting in one room. More applause rang throughout the auditorium as Pete went on to recognize the sponsors, speakers, organizers, and the Newark community for making VOICE happen.
More attendees file in holding coffee cups, climbing up stairs to find a spot on the bleachers while Pete introduces the very first keynote speaker: David Isbitski, Chief Evangelist at Amazon Alexa.
Applause fills the room as David walks on stage, the lights changing to a pinkish hue to mark the beginning of his keynote. Multiple attendees take it as a cue to pull out their phones and laptops to document what happens next.
"How many people have created an Alexa skill?" He asks the crowd, prompting almost a hundred hands to shoot up in the air. The screens on either side of the stage move to different slides as David talks about the potential ubiquity of Alexa, while walking leisurely up and down the platform.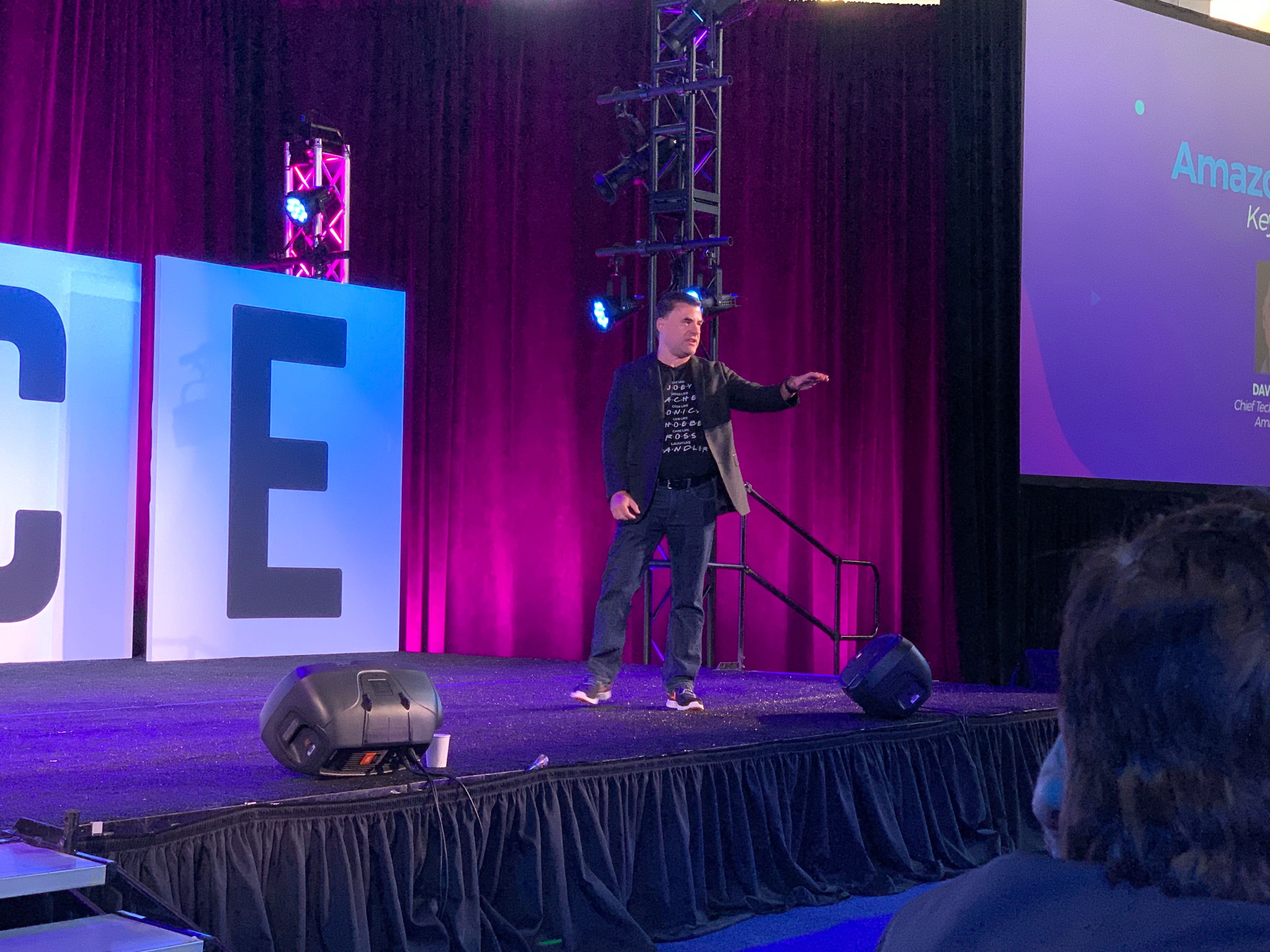 David Isbitski giving his opening keynote on stage at VOICE.
The bleachers at the back continue to fill up. Blue spotlights are dotted around the room, basking the audience in a calming glow. Most attendees are dutifully typing—some at the round tables, others balancing their laptops on their legs, barely looking up as their fingers race to capture every word.
After 30mins, David announces the next people to take the stage (don't worry, videos of all the keynotes will be uploaded after the event). Smartphones are raised, taking various shots in the hope one of them is usable. The next speakers are from Doppio, ready to share their experience developing voice-first games. Not five minutes in, laughter and scattered applause interrupt their talk as the speakers suddenly blast white noise, shocking a few guests to attention. A few seconds pass until the speakers fall silent once again and the speakers manage to end their talk, eventually switching places with Pete Erickson who introduces the next keynote speaker, Adam Cheyer—co-founder of Siri and Viv Labs.
Just outside the main stage, a handful of attendees are taking advantage of the red couches and coffee-bar workspaces to get things done. One such attendee is Courtney Gyrath from Novo Nordisk, sitting across two speakers sprawled on the couches hoping to recover from their early flight.
"It was cool seeing people come up from these big companies to talk about what they're doing with this technology," she said of the opening event. "There's tons of people here but it's still comfortable and easy to hear and see everything."
A few steps away, two women who flew in from France are just exiting the main stage in search of the silver coffee dispensers lined outside.
"I was happy to see David talk about Skill Flow Builder, I didn't know about that! I also loved the colorful lights, and when Pete said 'everyone has a voice' then had us sing along with the musicians." Said Soledad Bedu from FCE, feeling jetlagged but visibly excited to be at VOICE.
Back in the main stage, keynotes from Samsung and Microsoft have ended and Pete is introducing a team of students from Bruce Street School of the Deaf. As the students gladly look on from their bleachers, the entire auditorium raise their hands in a silent applause.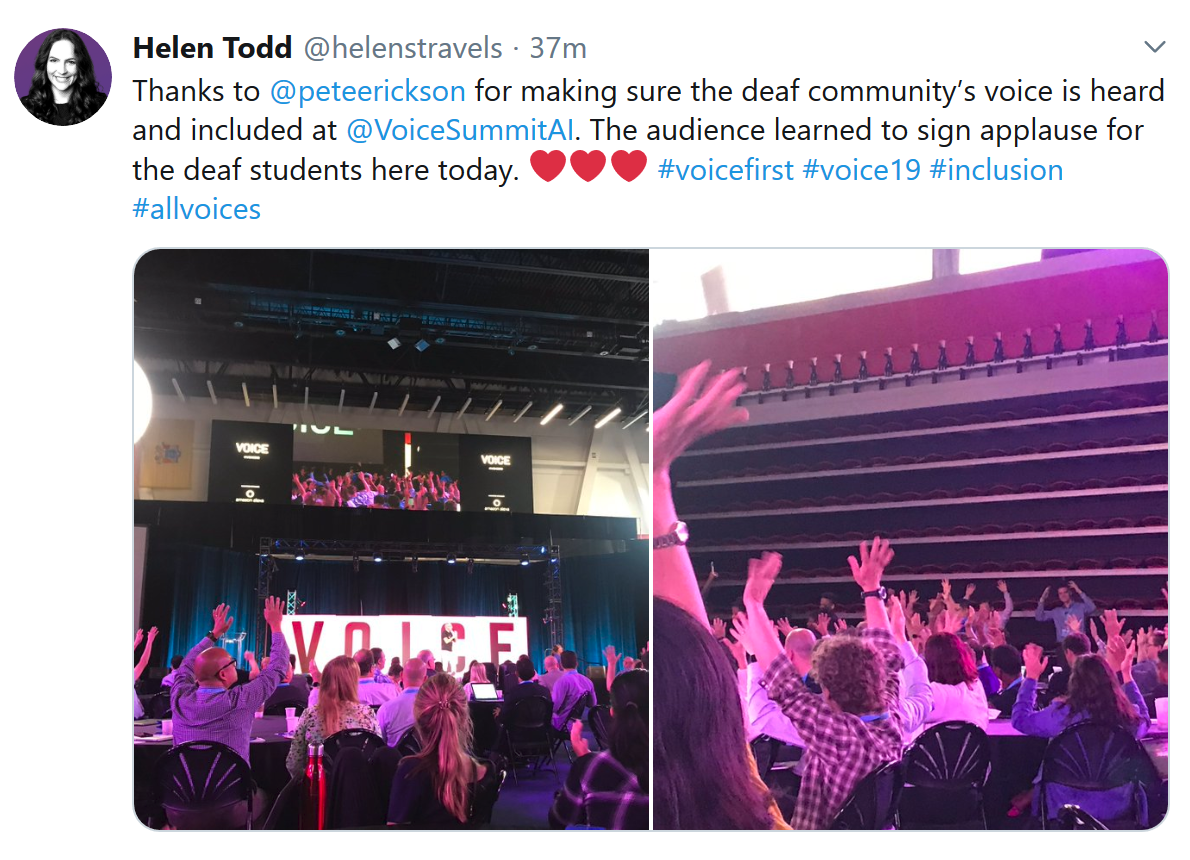 Tweet of audience signing applause for the deaf students.
As 10 AM passes by, the main stage is still full, the audience is still listening even though their coffee cups are running dangerously low. One by one, speakers take the stage for special announcements, helpful talks, and an interesting intermission by Pete with a mass VOICE selfie.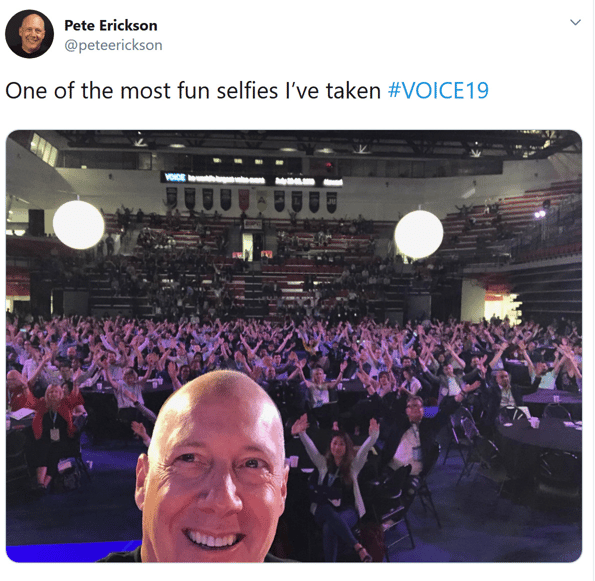 Tweet of VOICE audience at opening ceremony.

After a closing statement from the Mayor of Newark, Ras J. Baraka, Pete retakes the stage to announce lunch is up for grabs. Attendees give one last applause before gathering their belongings and chatting with their colleagues while making their way to the food trucks and court.
Ready to join us at VOICE 2020? Pre-register here and stay in the loop for next year's tickets. Don't miss out!