At the main stage, Pete waves in the panel in charge of "Addressing Bias in AI". Darlene Gilliard, founder of digitalundivided starts off the conversation in her usual cheerful tone with a definition of bias. She defers to Jennifer Heap from Vixen Labs to answer the first question: where are we now on bias in tech?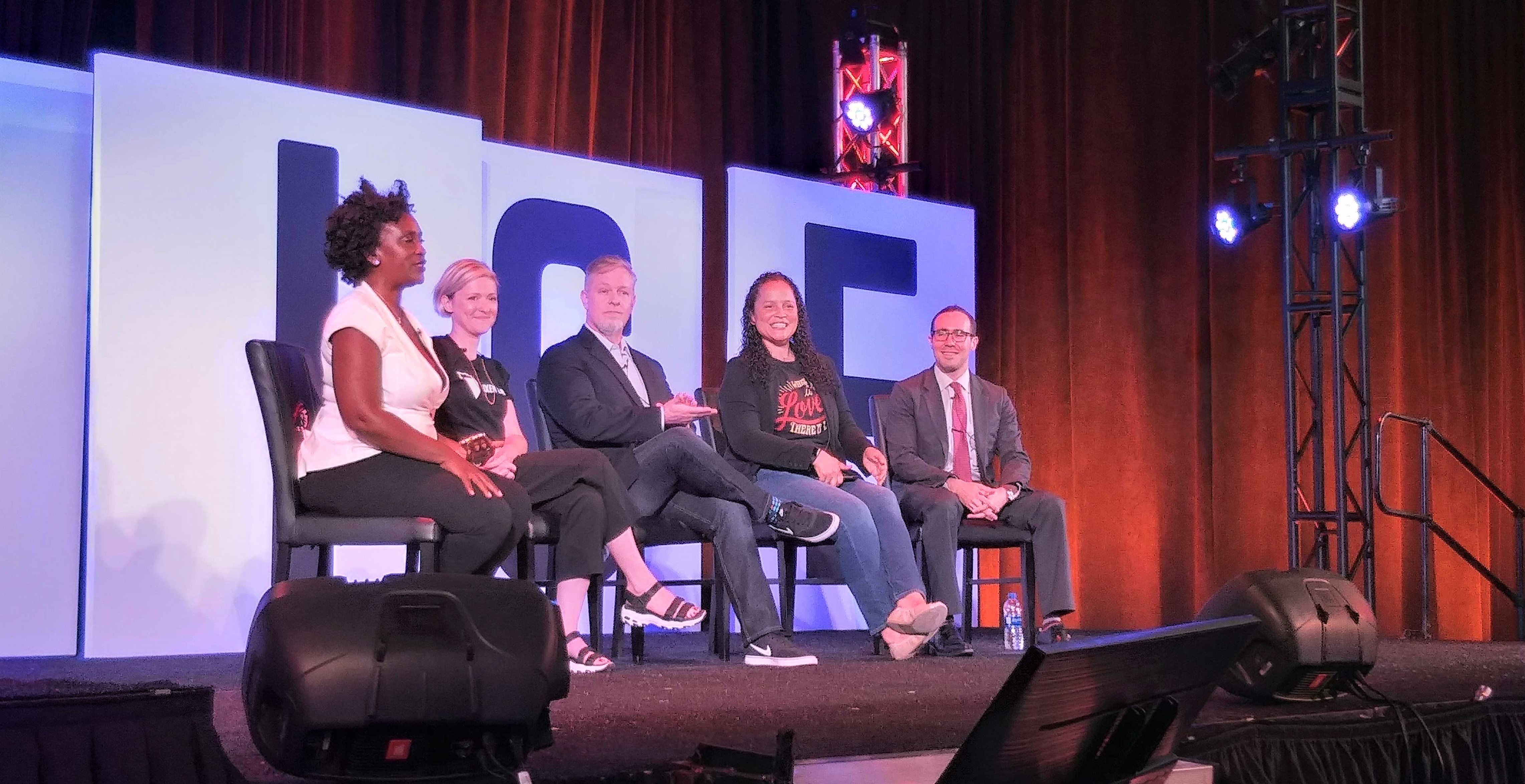 Panel on-stage discussing bias in AI.
"We're in a place of heightened awareness—which gives me hope," she says before highlighting the importance of empathic design.
Microsoft's Noelle LaCharite chimes in on the next question, saying "we're responsible for creating processes to protect the people we're creating for."
Over at Tiernan, another row of panelists are calming discussing Gaming in the Voice-First Era. Attendees are still dropping in, quietly finding a seat as Taseen Peterson from Gamefuly shares how he gets his inspiration for his games from his own family and friends. One attendee at the back attempts to quietly peel open a packet of Oreos (but is unsuccessful). A few familiar faces from the EXPO demo hall have apparently left their booths to attend the session.
In the Weston Hall, the panel on Women in Voice is entertaining a large audience of all genders. Every person in the room is listening intently to the advice being given by five impressive panelists.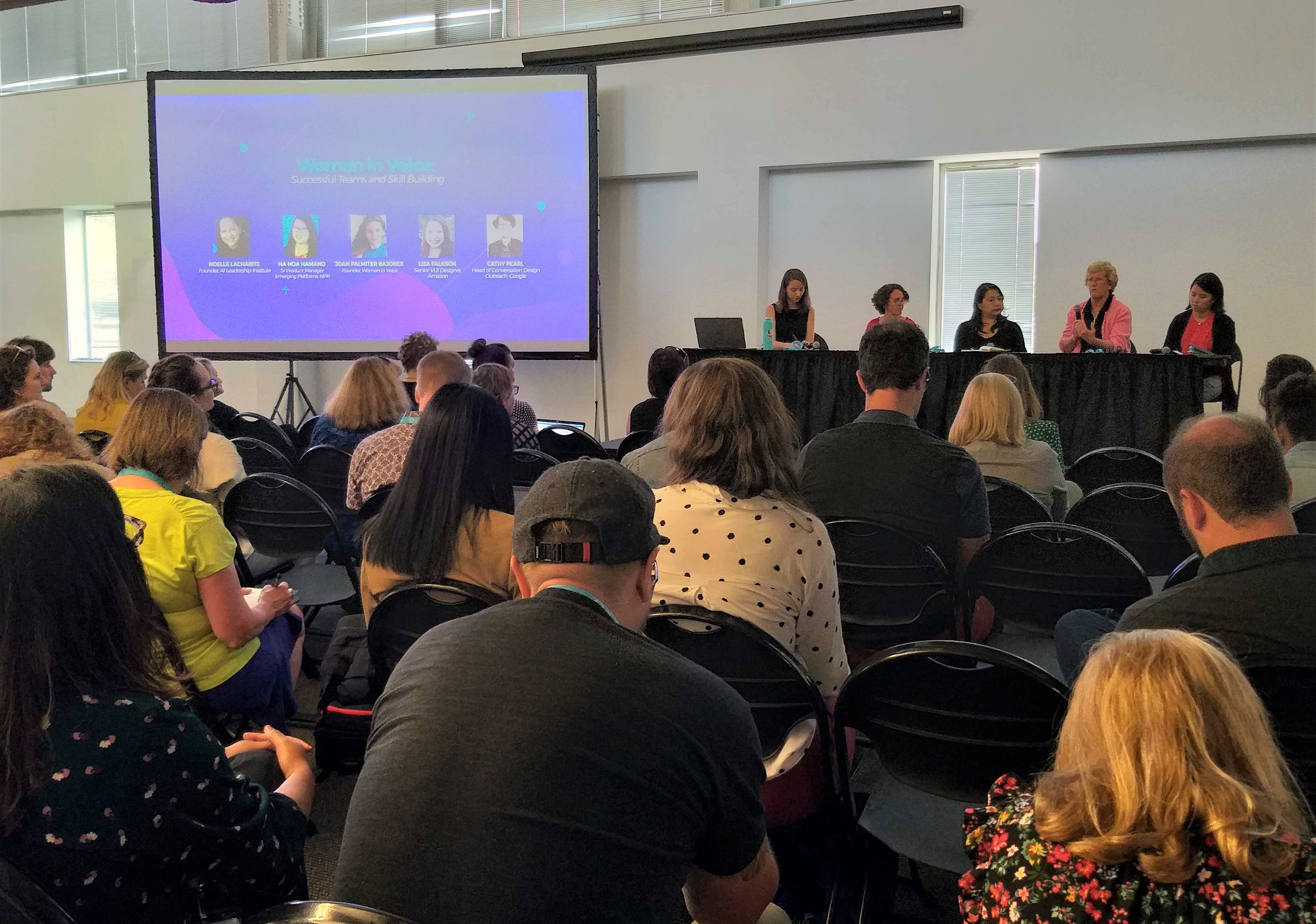 Women in Voice panel.
"Go to the front of the room and get comfortable there," advises Heidi Culbertson from Marvee.
"Find your tribe. Be the champion for someone else and help lift the community up," recommends Joan Palmiter-Bajorek, founder of Women in Voice.
After a few more minutes of discussion, the panel ends right on time. Almost twenty attendees swarm the panelists with questions and congratulatory comments, while others linger in their seats and a few shoot out the door to reach their next session. One attendee hums the VOICE theme song, promptly receiving a slap on the shoulder by their colleague.
Within the Jim Wise theater, the session on the Future of Love has launched with a demo showcasing a natural-sounding voice assistant asking whether the presenter wanted to set a date with their latest match, "Andrew".
"The dating scene is broken," says AIMM founder Kevin Teman, taking over the presentation. His slides were packed with videos, app snippets, and an interesting glimpse into the budding world of "dating AI".
His presentation ends as the music turns up to mark the beginning of Thibault Duchemin's session on Voice for Impact. A sign language interpreter sits in the corner of the stage to help a group of students understand the presentation.
Thibault grew up as the only hearing person in a deaf family, so he became passionate about making life easier for people who couldn't hear. He later founded Ava (Audio Visual Accessibility), an app that uses AI to transcribe a conversation in real-time and also narrate what is written in text—enabling conversations between people with different hearing abilities.
The music starts up again, signalling the end of his session. Rashmi Rao from Samsung's Harman replaces Thibault on stage, ready to give her presentation on the evolution of speech recognition in transportation.
Back at the main stage, executives from Mercedes-Benz, Nestle, and Royal Bank of Canada are finishing their discussion about the future of Voice. As they walk off, Pete Erickson—with his usual high energy—announces that it's 3 PM and time to meet the organizers of VOICE Summit.
The Modev team discard their notebooks and jackets before getting up on stage and throwing up a "v for Modev" sign for the official photo.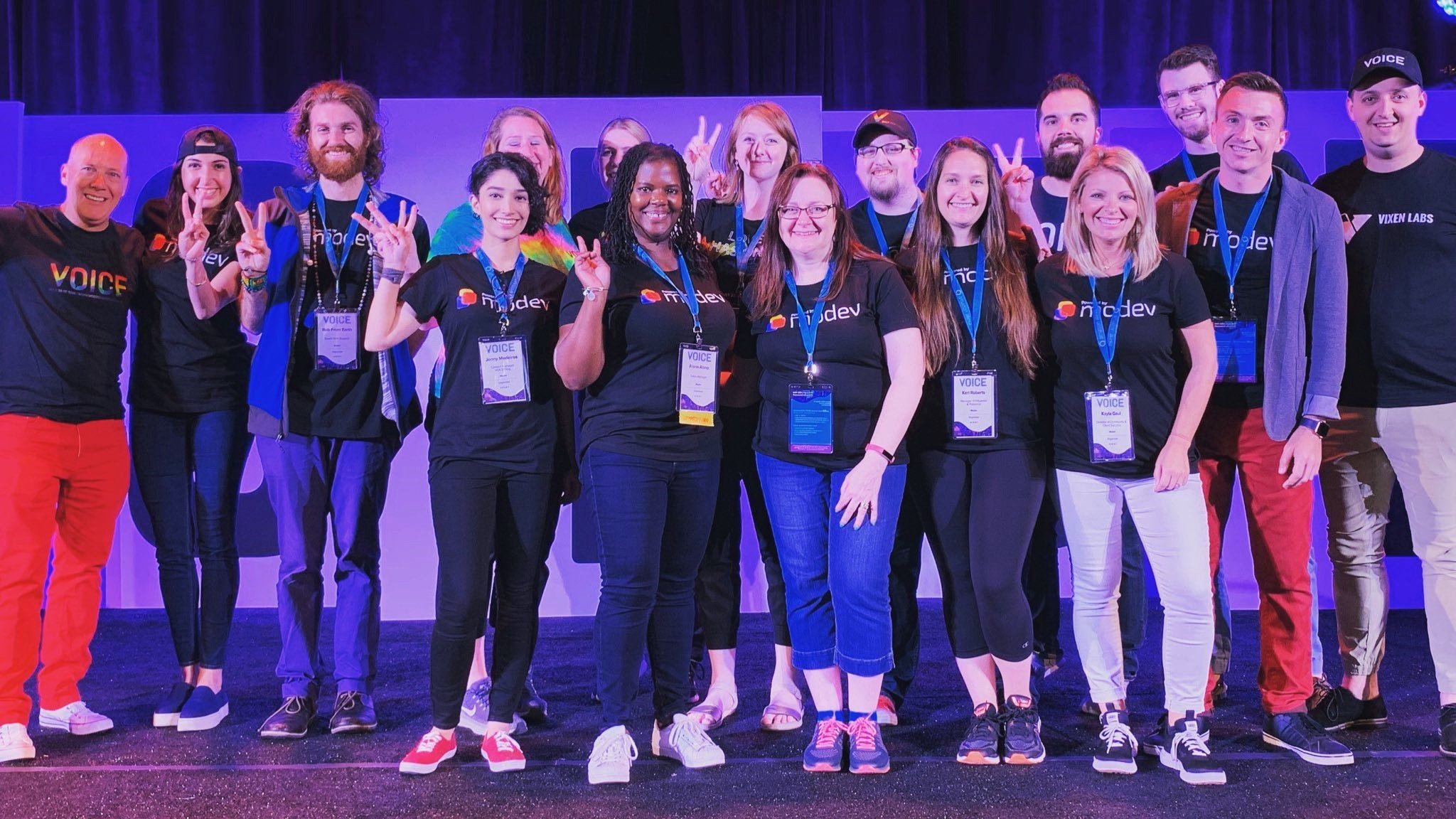 The Modev team on stage at VOICE 2019.
Once each Modev team member has rushed back to their assigned positions, Pete picks up the mic to announce that VOICE will have a spot at CES 2020. Plus, in February 2020 everyone has the chance to attend VOICE Global, a live-streamed conference featuring keynotes, talks, workshops, panels and entertainment. (It's also completely free). Finally, Pete reminds the audience that VOICE 2020 is on the way and that pre-registration is already open.
"We push the limits every year," said Pete. "Tell me your feedback so we can make it bigger and better." He jumps off the stage for some snap opinions on the Summit from the audience. Most attendees freeze, but a select few raised their hands and a "whoop!" is heard from somewhere in the stadium.
The feedback was largely positive, with the exception of "I wanted to attend sessions that were happening at the same time as others."
As Pete concluded his interlude, he introduces a very upbeat Dr. Jason Mars to the stage. Jason is the founder of Clinc—a conversational AI company that builds sophisticated voice and chat enabled solutions for all industries.
"Should I spend $500 dollars taking everyone here to dinner?" Jason asks his Clinc-enabled voice assistant to show how intuitive it is.
"Based on your spending this month, spending $500 on dinner would put you 198% over your budget." Responds the Clinc app.
As Jason whizzes through his presentation with unparalleled energy, attendees from around campus finish their sessions and file in for the raffle and closing keynote.
Jason wraps up his session and Pete hops on stage, prompting everyone to get their red raffle tickets ready. The first ticket doesn't match anyone in the room, so he draws a few more. Miraculously, out of thousands of attendees, the next raffle number belonged to someone a few tables over. The winner quickly walks up to the stage to receive her prize: a Super Pass to VOICE 2020 and a Samsung wireless charger.
As the end of VOICE approaches, Pete introduces Thomas Chappell to present the closing keynote, "A journey through a deaf developer's eyes at Prudential".
Thomas begins by tapping the microphone jokingly, then moving to the center of the stage signing to his interpreters sitting in front.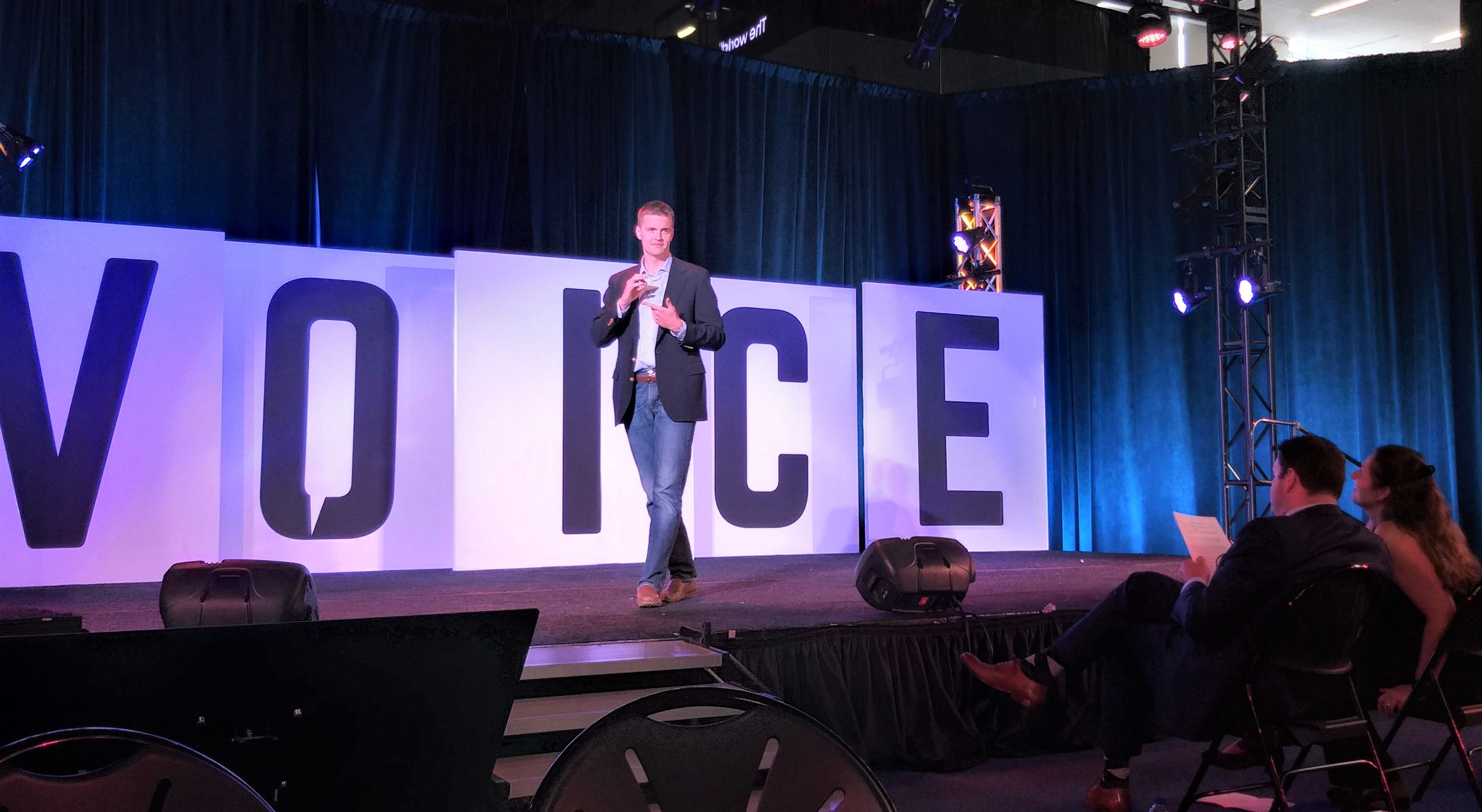 Thomas Chappell signing on-stage during his closing keynote.
"I may not have a voice, but I believe I send a strong and clear message." Thomas signs while his interpreter reads each word aloud with the help of a written script. Thomas goes on to sign his own story, growing up deaf and choosing to work at Prudential for their welcoming attitude.
He pauses his keynote to chat briefly with the students from Bruce Street School for the Deaf sitting at the nearest table. The kids are visibly glad to watch a presentation without an interpreter of their own.
Thomas ends his presentation by encouraging the audience to ask about accessibility at every conference they visit, since there should be nothing special about being inclusive. "We have come so far," he signs. "Let's continue this journey together so we can give everyone a voice."
He takes a step forward and the audience stands, giving Thomas a silent ovation for a full minute.
Pete comes up on-stage and begins to thank the audience, but his voice breaks. He never expected to witness an entire stadium stand up and clap in sign language. Every attendee remains silent, allowing Pete to pause and regain his composure. Before long, he manages to thank the audience for their gesture, then delves into a story from his own upbringing.
Pete learned how to be an entrepreneur from his mother. And the most important lesson Pete learned from his mother was to create families. Since founding Modev, Pete has continually aimed to create bonded families and tight-knit communities. Ten years later, he has done exactly that.
"I am honored and thrilled to be part of this movement," Pete says, looking proudly at all the faces in the audience.
The final round of applause fills the stadium, and Pete graciously invites everyone to the VOICE closing BBQ at Robert Treat Hotel Rooftop; promising 360-degree views, an open bar, and a live band to celebrate the end of yet another successful VOICE Summit.
We're not done yet. You can follow the closing BBQ live on the VOICE Summit Instagram. If you've seen enough and want to make sure you attend VOICE next year, pre-register here and get the early-bird discounts as soon as they're launched!
We look forward to welcoming you to our voice-first family.