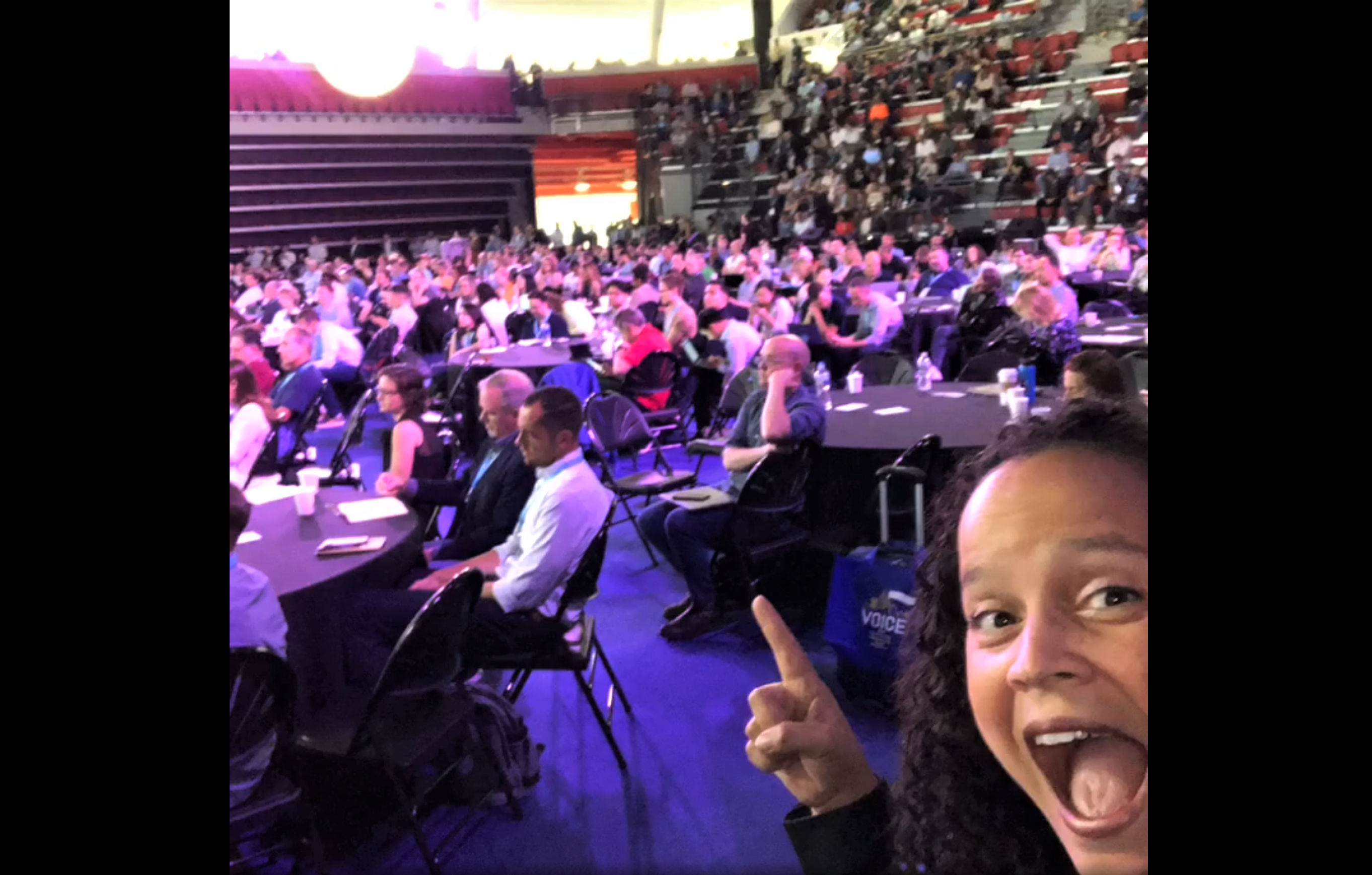 ---
Compilation: Our Favorite Post-VOICE Coverage So Far
We're definitely enjoying the calm after this year's fantastic VOICE Summit, but with the flurry of brilliant write-ups and fond feedback from the voice-first community, we're looking forward to the next one.
From curious students to world-leading companies, we've enjoyed seeing every post, tweet, and hashtag pop into our online feeds. It would be a shame to keep them to ourselves, so we've decided to make a little compilation of our favorite post-event posts.


Noelle LaCharite
Noelle's glowing presence and exciting attitude is packed into a short video summing up her VOICE experience. In a LinkedIn post, the AI Influencer and Strategist from Microsoft shares "the best part of VOICE Summit 2019" and you really have to watch it.

Dashbot
Blandine Avot, Product Evangelist at Dashbot (and Women in Voice volunteer) wrote a wonderful VOICE19 recap on LinkedIn detailing her experience at the Summit.
"Lots of things got me and the team at Dashbot excited during these three intense days," she writes before diving into how Voice is growing across every industry and current challenges for brands adopting it.
She also covers the panel on conversational interfaces, which was graced with the insights of Dashbot CEO, Arte Merritt. "Data is the new oil," she writes, "and conversational interfaces are an unprecedented way to gather the richest data ever."
It's a fascinating read for anyone who missed the best sessions on conversational interfaces and the challenges that come with them.


Trinity Audio
Ron Jaworski, CEO of Trinity Audio, had some passing thoughts on VOICE Summit that caught our attention. In a quick tweet, Ron describes his pleasant surprise at seeing big brands sit down with small startups to discuss Voice.
Have to share this little tidbit about @VoiceSummitAI, more to come in a blog post soon. #VOICE19 #voice-first #voice pic.twitter.com/94ymnzMEjX

— Ron Jaworski (@JaworskiRon) July 30, 2019
He expands on his thoughts from the Summit in a fantastic recap on his company blog. "Where else can you see such a sight, a "small" man to be shoulder to shoulder with the big league players?" Ron writes in his post. He also covers key takeaways about audio and voice technology that will have you nodding in agreement and curiously scrolling through his other posts.


Dan Galante
Dan Galante, Marketer and Writer of "Sales, Marketing, & Social Media Today", had nothing but gracious things to say about VOICE Summit. In his LinkedIn post: How Voice is Changing Marketing & Technology, he eagerly describes each experience during his rounds at NJIT—from his conversations with Alexa to interesting tidbits he heard during keynotes.
His entire post reflects the genuine enthusiasm of someone loving every second of VOICE. Each section of his post is complemented with an impressive number of videos and photos, giving everyone a chance to catch glimpses of the Summit through his eyes.
We especially love the part about Thomas Chappell, the deaf developer from Prudential. "What touched me on a human level was the closing keynote titled 'A journey through a deaf developer's eyes.'" Dan writes. "After his talk, I was able to meet him."
Looks like you're going to have to read his post to find out what happened next.


Voicebot.ai
Eric Hal Schwartz, Staff Writer and Podcast Producer for Voicebot.AI, was busy as can be during VOICE with his daily wrap-up posts and an observant summary sharing four takeaways from VOICE19.
Accessibility, story design, and the "human element" are just some of the key aspects Eric covers in his summarizing post. As he rightly says at the beginning, it was practically impossible to see every session and exhibition during the four jam-packed days at NJIT, but Eric does a pretty impressive job at picking out the most important highlights.


Digitalscouting.de
Dr. Robin Kiera, CEO of Digitalscouting, had a particularly insightful time at VOICE and made sure his followers knew it. In a LinkedIn post he happily typed, "I was impressed what I saw: great possibilities and potentials Voice has to offer in a lot of business industries like health, insurance, finance, insurtech, fintech, music, real estate and many more."
He goes on to warn that while Voice promises big benefits, it also comes with a few consequences. Check out his wonderfully enthusiastic video on five major insights he learned at VOICE19 on the future of Voice.
Amplifi Media
Steven Goldstein, CEO of Amplifi Media, had a ball at VOICE Summit and shared every key insight and valuable takeaway on his blog and podcast.
In his post "Finding Your Voice," Steven lays bare all his thoughts and predictions based on those four memorable days in Newark, NJ. He also gives a brief overview of what was said during his own panel on advertising and smart speakers.
"What people value and will do with their devices is less clear at the moment than the limitless and boundless forecasts of many," he writes, "but the Voice Summit conference was the venue where it was all aired out. The good, the bad, the weird."
Rightly said, Steven.
His comprehensive post is laden with stats that anyone in the voice-first space needs to know—so make sure to give it a look!


Pulse Labs
Maríadelmar Gonzalez, Head of Marketing at Pulse Labs AI, whipped up a delightful recap of VOICE from the perspective of the four attending Pulse Labs team members. In Part One, she describes the pre-session workshops and David Isbitski's kickoff keynote. In Part two, she surfs through some of the panels and presentations their team found the most useful.
Every session she mentions is dutifully linked and each post is decorated with candid photos taken on-site. It's truly a short and sweet read if you love both Pulse Labs and VOICE.
We may be biased here (just a bit), but this is our favorite part from her posts:
"Pete Erickson and the Modev team deserve a HUGE congratulations for organizing and launching such a successful conference! It laid down the groundwork for many conversations, thoughts, and collaborations as the voice ecosystem continues to evolve. We are grateful for the connections that we made with the voice-first community. See you all next year. The countdown for VOICE 2020 has already begun!"
It sure has, Maríadelmar. (We already marked our calendars.)


Want to share your post-event content?
Have a post or video recapping VOICE Summit 2019 that deserves a spot here? Sling the link into a comment below and we'll make sure to check it out. If you're looking for an insider's view of VOICE as it happened, you can peruse our own daily blog posts from Day Zero's first workshops and Barcade networking to our VOICE Summit Awards and the inspiring closing keynote. (It's all there!)
On another note, if you'd like to be on our go-to list for VOICE 2020 updates and special discounts, add your name here and you won't miss a thing.