The main stage is glowing once again. Every round table is set, the screens upfront are poised with the first slide of the night, and attendees are visibly excited as they take their assigned seats. The first drinks are being served and the summit's signature tune is playing as everyone gets settled—taking in their surroundings.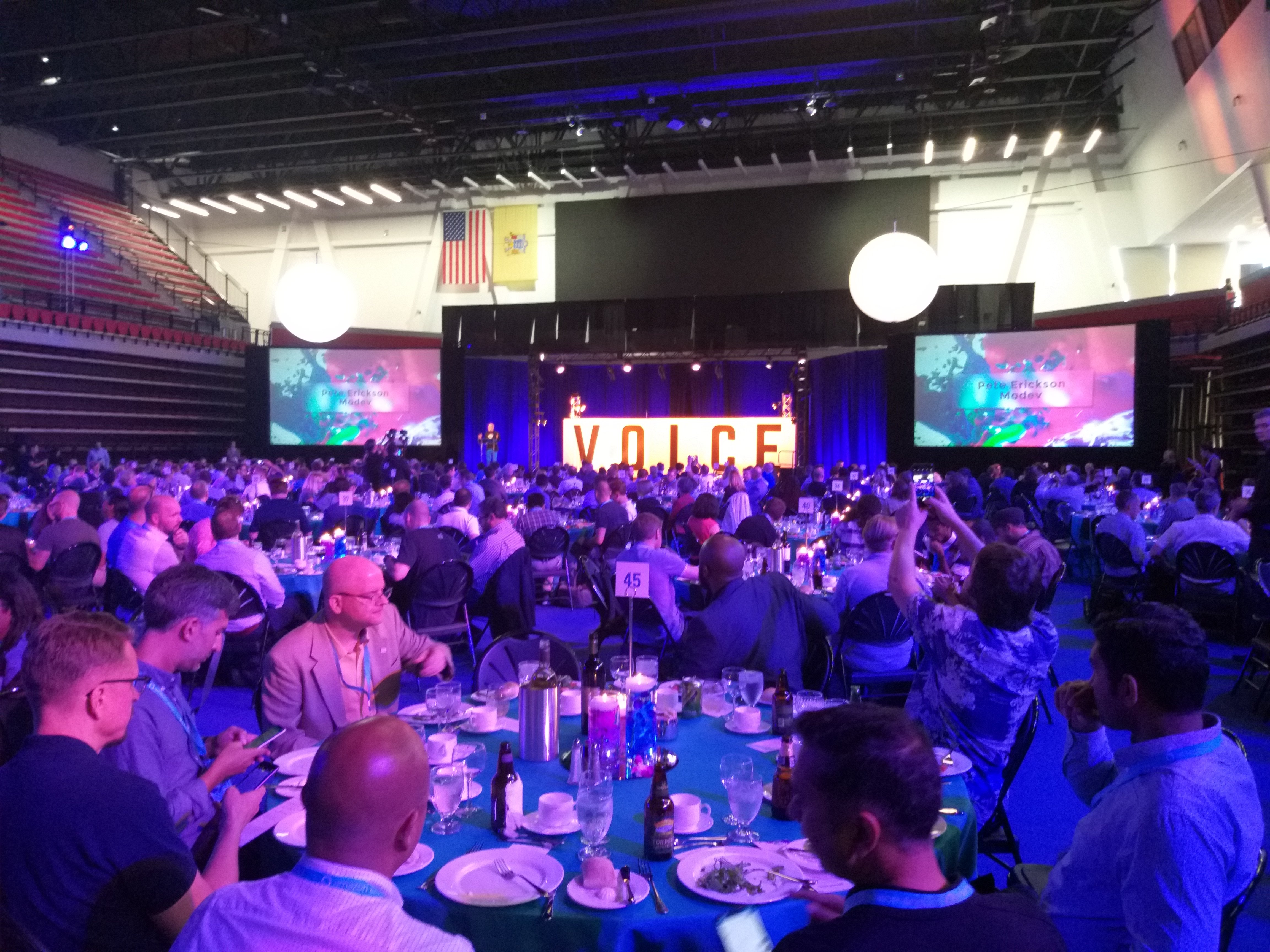 VOICE Summit Awards
When all the social snaps have been taken and every company table is full, Pete jumps up on stage in his distinctive bright blue pants to open the awards dinner.
"Thank you for joining me this evening for the inaugural VOICE Summit Awards. Tonight, the voice industry begins to write our history."
Applause erupts as Pete dutifully thanks the sponsors who made VOICE possible, their logos flashing on-screen. He moves on to give an outline of the evening, comparing it to a "new kind of Oscars".
As he's speaking, servers dressed in black glide across the floor carrying the first course. Murmuring and the clinking of cutlery sound throughout the stadium as attendees attempt to select the right fork for their salad.
While they peck at the small plate of watermelon and feta mixed with greens, a pair of industry leaders approach the microphone.
"This year we are awarding VOICE Awards in 12 categories that highlight different aspects and voice uses in our industry," began Monique Jones of Audible. Next to her, David Heafitz of Prudential explains the meaning of Conversational Design—the first awards category of the evening. Monique takes over to list the four finalists, congratulating them all before pausing in suspense with a knowing smile.
"The very first VOICE award goes to a platform that gives voice to everything from car dashboards and refrigerators, to espresso machines and smart mirrors…"
Another pause.
"Houndify of SoundHound!"
Loud applause fills the stadium as the SoundHound team walks on-stage waving at the crowd. They give a brief, almost breathless speech as they hold their gleaming teardrop-shaped award and walked off stage to the sound of more applause.
"Here to present the award for Best Multi-Modal Experience — Angela Garretson of New Jersey Institute of Technology and Don Sebastian of New Jersey Innovation Institute."
The servers return to collect empty plates and top-up water glasses while in true, Oscar-night style, pairs of recognized figures in Voice walk on-stage to present each category, the nominees, and the deserving winner.
Without further ado, here are all the champions of the very first VOICE Summit Awards:


BEST CONVERSATIONAL DESIGN
Houndify by SoundHound Inc.


BEST MULTI-MODAL EXPERIENCE
Bamboo Math by Bamboo Learning


BEST GAME
Mr. Robot: Daily Five/Nine by USA Network & Earplay


BEST IN-CAR EXPERIENCE
Song Quiz by Volley


BEST SHOPPING/ECOMMERCE EXPERIENCE
Snips by Snips.ai


BEST HEALTHCARE EXPERIENCE
Suki by Suki


BEST TRAVEL, LEISURE, OR HOSPITALITY EXPERIENCE
Angie by Angie Hospitality


BEST EDUCATIONAL EXPERIENCE
BBC Kids by BBC Voice + AI


BEST IoT VOICE DEVICE
Kanega LTE watch by UnaliWear


BEST MEDIA EXPERIENCE
resemble.ai by Resemble AI
Radio Lab by AlphaVoice


BEST BANKING FINANCIAL EXPERIENCE
BOND.AI Empathy Engine™ by BOND.AI


BEST BRAND INTERACTION
Alexa "Choose Your Own Adventure" skill by Audible
As the final winning team walks off-stage, the servers swoop in with the main course. The music turns up as attendees are left to dig into their plate of steak, potato, salad, and cod.
After twenty minutes of animated chatting and laughter, the light dims and the music drifts to a whisper as Michelle Levine and Matthew Cadman from Amazon Alexa walk up to present the winners of the Global Alexa Cup.
Matthew gives a brief review of the Alexa Cup competition before announcing the first, second, and third place for the three competing teams.
First place was nabbed by Inner Voice, an Alexa skill designed by an Australian team to help people manage their anxiety. In second place, the London-based team Say It Now won with their skill bookthisnow, made to easily reserve services in every category through Alexa. Third place was taken by Publicis Media, with the Talk2Me Barbie skill that encourages girls to interact with the character for inspiration to follow their dreams.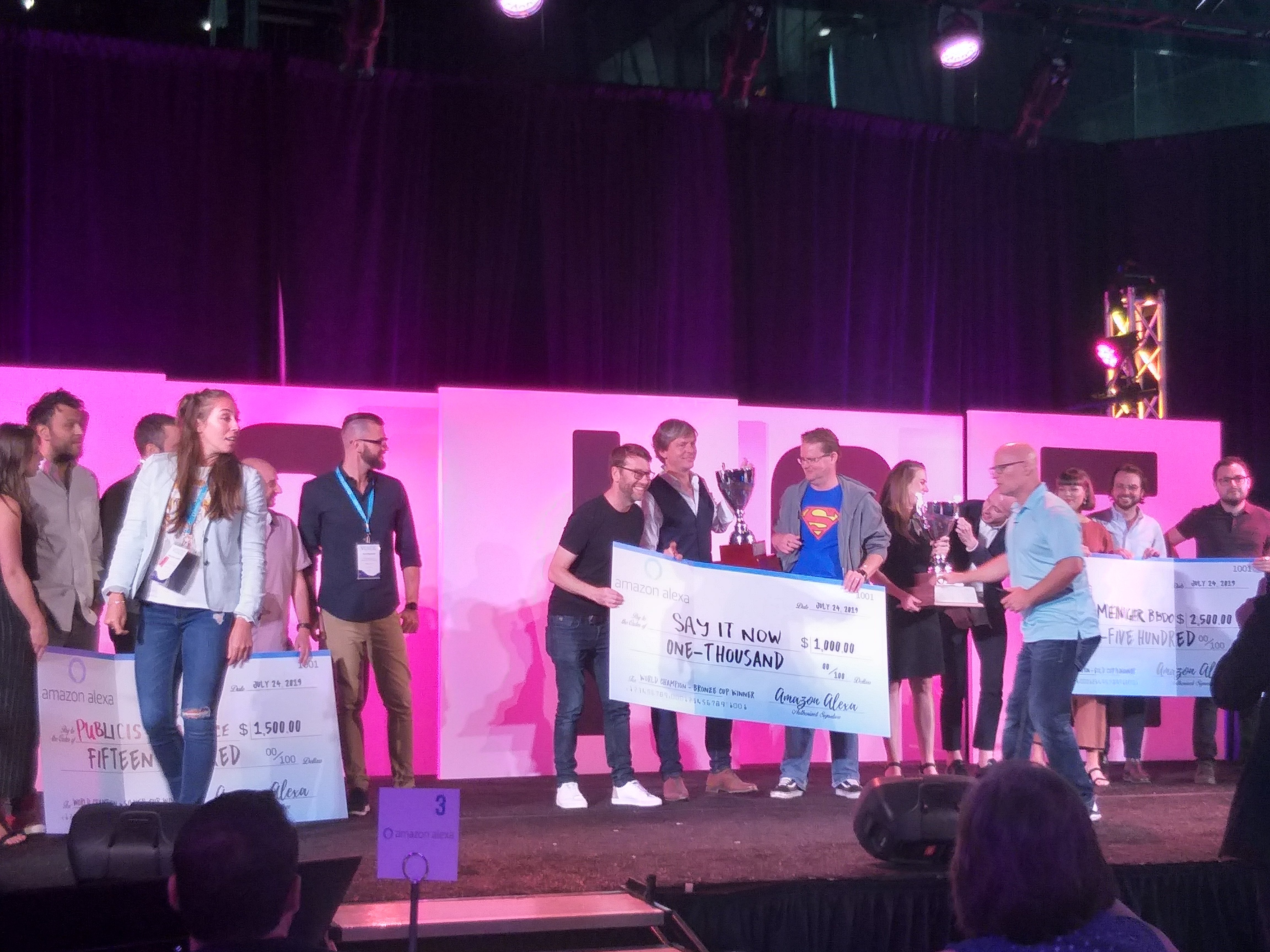 The winners of the 2019 Global Alexa Cup.
The winners happily held their trophies and over-sized checks as cameras flashed and Matthew bounced around the stage to pose with each team.
As a chocolate and berry-covered dessert is set in front of attendees, Pete Erickson is welcomed back on-stage for the close. At this point, attendees are talking slightly louder after a few glasses of wine and chatting to people on nearby tables.
Silence falls as Pete gives an unexpected statement. "I have one more award to present this evening..."
The audience perks up in expectation.
"By ensuring an inclusive experience for the VOICE Summit and Awards through Accessibility content, Prudential, is helping to grow our business community through reach and diversity."
Applause breaks out as Pete invites a flustered Prudential team to accept their award for Accessibility. They happily thank everyone involved and leave the mic for Pete to make his closing remarks.
"By the end of the year, it's predicted that 50% of all searches will be accomplished by voice search. Multi-modal hubs will grow in popularity. Speech recognition will get noticeably better at understanding natural language. Businesses will start to include voice in their strategic plans."
Pete goes on to highlight VOICE Summit as the epicenter of VC funding and innovation, where developers, marketers, investors, and potential customers can come together and engage.
"Inspired by the award-winning technologies celebrated here tonight, push the boundaries, imagine the impossible, solve the solvable. In 2020, we'll gather again for the VOICE Summit Awards."
Want to join us next year at VOICE 2020? Pre-register now to stay in the loop for discounted tickets and special announcements.