Credit: Voicipe
Using your phone or tablet to follow a recipe can be more stressful than the cooking itself. If it's a video, you'll spend half the time rushing to pause it or repeatedly replay the previous step. If it's a written recipe, well, we hope you like food smudged all over your screen.Thanks to voice assistants, following a recipe is finally becoming much less hectic. You just fire up the right Alexa Skill or Google Action and let a patient voice guide you through everything from vegan lasagna to bartender-worthy cocktails.
Except not everyone has (or wants) a voice assistant sitting on their kitchen counter.
Enter Voicipe, a friendly little mobile app with a hugely helpful mission: to make the best recipe reading application that you can control with your voice.
Voicipe
Voicipe is a hands-free cooking assistant sparked by a man who loves to cook but hates having to keep looking back-and-forth at recipe cards, books, or devices. Voicipe's founder, Mike McCoy, told VOICE in an email exchange,
"I was so irritated while cooking meatloaf one time that I literally blurted out-loud, 'How come my phone can't just read me the instructions?!' I knew right away that this was exactly what I wanted to make."
And so McCoy and his team brainstormed an app that would allow people to focus on their cooking rather than how to unlock their phone screen with food-coated fingers. And in 2016, this nifty idea earned Voicipe second place at the 2016 Startup Weekend in San Francisco.
Naturally, they've often been asked about fellow recipe-reading competitors: Alexa and Google Assistant. But Voicipe isn't worried and hinted that these leading voice-first platforms aren't exactly converting home cooks. And, according to a recent survey on how voice assistants are used, Voicipe is right. In fact, only 5.1% frequently use their assistants to find recipes or cooking instructions. (Makes you wonder why.)
McCoy gave his two cents in saying, "Many times these platforms will reach a point where the user is informed that they need to refer to the app to continue. whereas Voicipe states that users can cook an entire meal without even looking at their phone."
How it works
To get started with Voicipe, the first thing you need to do is open the app and load a recipe. You can pull one from Blue Apron, Hello Fresh, and Home Chef; or choose a recipe you like from over 100+ supported sites. (Yes, Food Network and AllRecipes included.)
Once you have it, the app will break it up into easy-to-follow steps on-screen so you have the option of glancing at them for reassurance.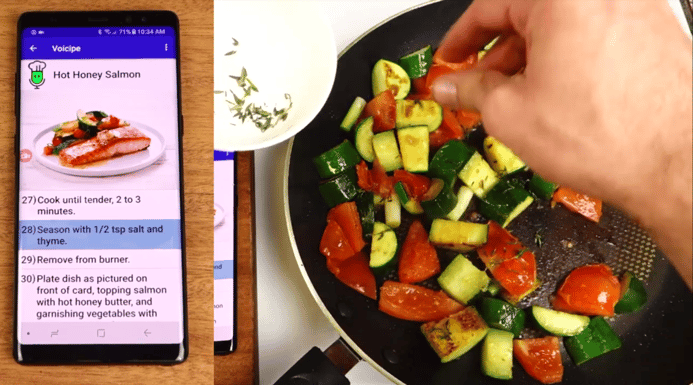 Credit: Voicipe Facebook
Then it's just a matter of letting Voicipe guide you through the recipe at your own pace. You can say "next" when you're ready to move on, "repeat that" to hear the step again, or "go back" to check if you were supposed to add the herbs five minutes ago.
If you've forgotten something specific, like how many eggs you need, then you can just say "how many eggs?" and Voicipe will remind you without interrupting your flow. If a step mentions a specific time period, like cook the beans for 5 minutes, you can ask Voicipe to set a timer for that step. Finally, when you're done cooking, just say "stop" and Voicipe will consider her mission accomplished and leave you to enjoy your meal.
If you're liking how all this sounds, you'll be glad to know that Voicipe is completely free and readily available for Android on Google Play. (An app for iOS is on the way.)
Voicipe at VOICE Summit
Voicipe has a few more new features and plenty more on the way. If you'd like to see how Voicipe works with your own eyes and poke the team about it, you can find them at the Startup EXPO at VOICE this July.
They'll be buzzing around the NJIT in Newark, NJ, along with an almost magical collection of startups, investors, and thought-leaders worth having a coffee with. After the EXPO, make sure to head over to the rest of VOICE Summit to marvel at keynotes from the biggest names in the industry (Amazon, Samsung, Microsoft, and more) and network with like-minded Voice aficionados.
It's going to be an unforgettable four days of tech, people, and unmatched enthusiasm. So whether you work in conversational interfaces or just love using them, forget the beach, because VOICE Summit is where you'll want to be this summer. (We'll save you a seat.)