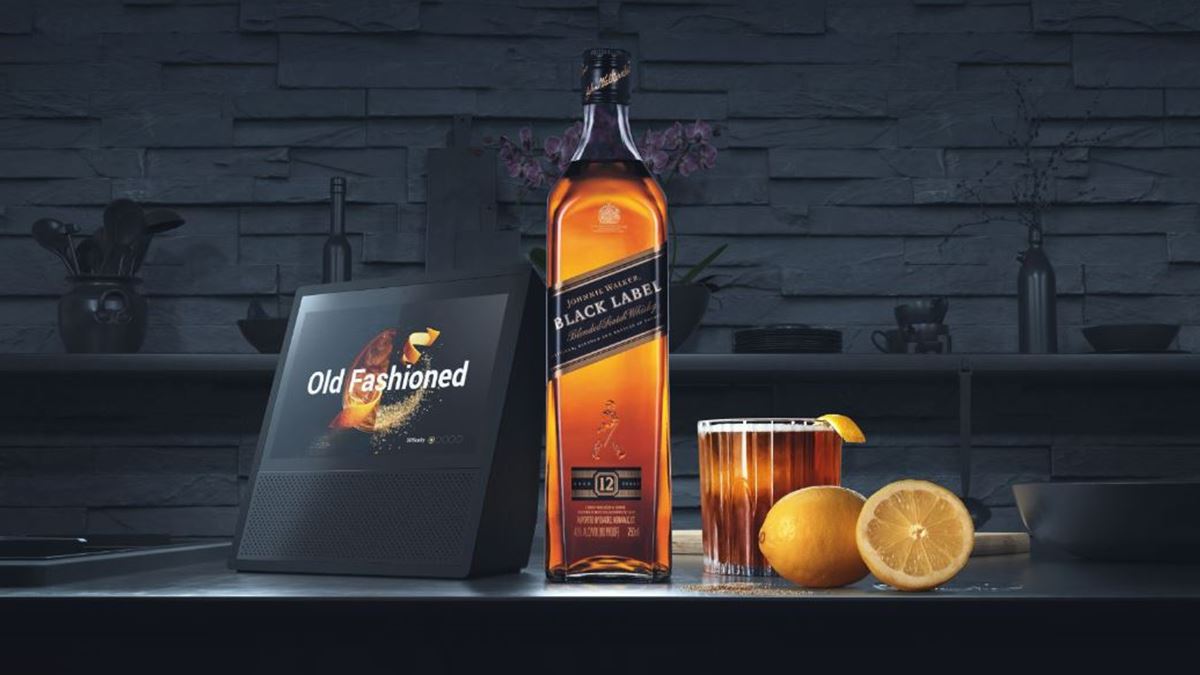 Source: Diageo
We've all wanted to whip up cool cocktails when we have friends over. Google has always been somewhat helpful with recipes, but when it comes to drinks, most need a more visual instruction. So we turn to YouTube, only to find ourselves frantically tapping the screen to pause and replay the video with what we hope is the least sticky finger.
But now voice assistants with helpful screens are out and about. One of them in particular—the Amazon Echo Show—has been flaunting a skill that helps you become the bartender you've always been in your head.
"Alexa, open The Bar"
The Bar is an Alexa Skill inspired by the award-winning website thebar.com, which has been teaching people to mix cocktails since 2013.
This popular skill emerged from Diageo, a global leader in alcoholic beverages with a fierce interest in exploring voice technology. Just before Christmas in 2017, Diageo launched The Bar skill in the UK to equip hosts with three (tremendously helpful) options:
Make a cocktail: This option lets the host choose a specific cocktail and then follow the recipe as Alexa patiently reads out each step.
Suggest a cocktail: If one of your guests doesn't know what they want, Alexa will briefly quiz them and then recommend a cocktail.
Learn mixology techniques: Before the party gets started, the host can beef up their drink-making skills with nifty tips and advice on mixing ingredients the right way. (So they can impress their guests instead of poisoning them.)
As an added feature, hosts can also send a shopping list of ingredients to their Alexa app or ask Alexa to purchase it on Amazon. Not a bad way to get the party started.


"Technology is changing the way we socialise in and outside of the home, and with the new 'The Bar' skill, we're tapping into the growing number of adults using voice-enabled devices to take them on a journey towards mastering mixology"
- Periklies Antoniou, Technology and Media Innovation Manager at Diageo.


To get a clearer picture of how it works, take a look at the skill's commercial.
Enhancing brand experiences with voice
From distilling to distributing, Diageo produces over 200 brands (including Johnnie Walker, Guinness, Smirnoff, and Baileys) and operates in more than 180 countries.
Being focused on innovation, dabbling in voice technology was almost an instinctive next move.
"We realize that the voice ecosystem is in its early days," said Benjamin Lickfett, head of digital innovation at Diageo, "but we are determined to continue to test and learn and explore where we can use voice to create great experiences for our consumers."
And so they did with The Bar Alexa skill. But they didn't stop there. In 2018, they led another voice-first marketing campaign promoting Bailey's Almande—a vegan spirit—nudging users to ask for a free bottle using Alexa or Google Home.
They received more than 6,000 sample requests in its first week.
Later that year, with Christmas approaching, Diageo strategically piloted another skill in which users can "taste" their then-new Talisker Scotch Whisky from home. The Talisker Tasting Experience asked users to name the whisky they wanted to explore, then led them on an audio journey detailing the flavors and history of their chosen Scotch.


"Voice is the perfect technology to provide an enhanced brand experience by putting the consumer, product and brand at the centre of a tasting, in a completely seamless and non-intrusive way."
- Benjamin Lickfett (source: Diageo News and Media).


If you're in the UK, you can test out these skills and more in the Amazon UK Alexa Skills Store. If you're a Londoner, then you can take your voice experience a step further and join us at the one-day VOICE London meetup. It's coming up fast on May 16th, so get your ticket-clicking finger ready.
Meet Diageo at the largest voice tech event of the year
For those of you not in London, there's good news for you too. This July in Newark, New Jersey, you can meet Benjamin Lickfett himself as he rolls out a fascinating talk about Diageo's journey with voice tech at VOICE Summit.
He'll be joined by hundreds of other industry leaders with equally insightful talks, panels, and demos you won't want to miss. Tickets are flying fast so get yours here to meet the best and brightest in voice!
(Note: we can't confirm if Diageo will be giving out tasters, but if you follow us on Twitter, you'll be the first to know.)