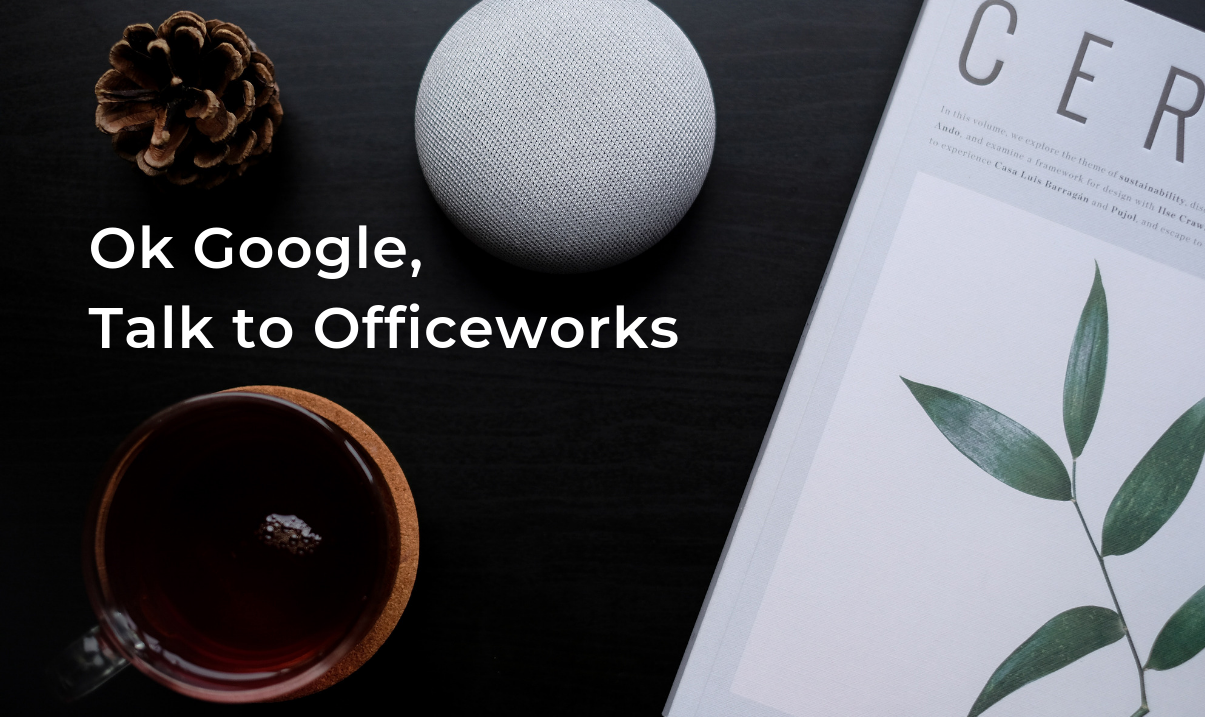 When we read about Australia and Voice, it's usually about how most voice assistants are fantastically useless at understanding the accent. But there's so much more going on in voice-first Australia.
One glowing example is FIRST Digital, a team of seasoned specialists that push businesses forward with digital strategy, creative campaigns, online products, and conversational interfaces. In a move to place themselves at the forefront of voice search in Australia, FIRST partnered with Officeworks—an local office supply chain—to bring retail shopping to Google Assistant.
Ok Google, Talk to Officeworks
Running out of paper when you need to print is one of life's greatest tragedies, but at least you can order more paper without traipsing all the way to the store. While you can always order online, that's no longer how people prefer to search the internet these days.
Turns out that 76% of smart speaker users conduct local searches at least once a week, and 53% are already performing daily searches.
As a result, FIRST and Officeworks decided to build a first-to-market Google Assistant application so Aussies can simply use their voice to search for office supplies, check product availability in-store, and find nearest stores and opening hours.
To purchase products, they can ask Google Assistant to print out their shopping list to take with them to the nearest store. Alternatively, they can add the products to their "shopping cart" and complete checkout via the Officeworks website. Easy.
David Pisker, Officeworks customer experience and ecommerce manager, said in a statement, "We are excited to provide customers with another way to engage with our brand anywhere, anytime and in any way they want."
"Our aim is to educate Australians on how this smart technology can benefit their everyday lives," he added.
Building Officeworks for Google Assistant
Officeworks' handy Voice search can be enabled on Google Home, Google Mini, and basically any app or device that lets you talk to Google Assistant. With it, Australians can search more than 35,000 products online and 165 stores across the country.
Although making this all happen was a little less glamorous.
On their website, FIRST details how they used DialogFlow to build the Google Assistant app while using Google Home as the interface. As a bonus, this setup also allowed the team to add images and text on Android devices and ready the app for scaling to other voice interfaces—like Alexa and Cortana.
In an interview with Mumbrella, Matt Ware (Head of Operations at FIRST) explained how the trickiest part was actually pulling the right product information and real-time availability from the business side. Surprisingly, he noted that writing the conversation itself was "easy." While Australians certainly have a knack for getting their point across, the simplicity of designing the conversation was largely thanks to Google's existing capabilities.
The resulting conversation with Officeworks goes something like this:
"I need to buy printer paper"
"Okay, are you after A3, A4, or A5 sized paper?"
"A4, please."
"The most popular product is [product name] for [price]."
"Can you check if it's available at my local Officeworks?"
"Sure. I just need to get your location. Is that okay?"
"Yeah"
"I can see that it's available at [store]."
"What time does it close today?"
"[Store] closes at 9 pm."
"Perfect. Thanks!"
So was building this app worth it? Pisker from Officeworks certainly thinks so. He reported that customers have "responded positively to Officeworks' broader smart home and office range," resulting in more than 250% sales growth in the category year-on-year.
Seems Mike Ware was right in saying early adopters in this medium will jump miles ahead of the competition.
FIRST at VOICE Summit
At this year's long-awaited VOICE, you'll have the opportunity to check out Officeworks with your own eyes (and ears) as FIRST will be gracing the floor with all their Google goodness (and their Bronze sponsorship). Matt Ware and Lachlan Pottenger from FIRST are set to share their story on-stage and take questions from anyone looking to build something similar.
To keep them company at the Summit, the Australian Broadcasting Corporation (ABC) will also be giving a talk on how they launched the country's first news service for voice assistants.
It's all very fascinating stuff, and whether you're a fan of Australia or of Voice, we all hope to see your awe-struck face in the audience. Now there's only a cute two months until showtime, but you can still get your hands on a full-access ticket (or two).
See you there?