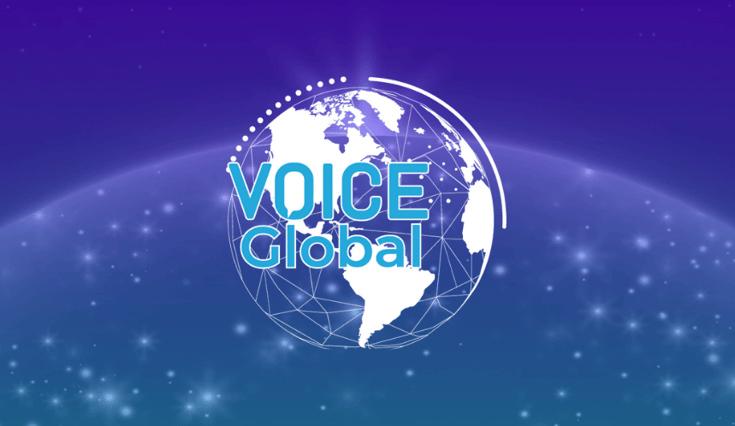 The events industry can be unpredictable, but that just makes us find new and creative ways to stay connected.
Unprecedented times are upon us, but it's not all about isolating yourself indoors and hunching over your laptop. With technology on our side, plenty of (virtual) doors are opening so we can stay in touch with our communities and—ironically—strengthen human connections from home.
Within the voice-first realm, we've been working on an initiative over the last few months called VOICE Global—a virtual event that focuses on accessible content, community, and collaboration at a time when these are more important than ever.
The largest online gathering in Voice
VOICE Global is a 24hr conference on June 9, 2020 that will livestream the best and latest in Voice across the biggest industries, including healthcare, fintech, gaming, transport, entertainment, and conversational design and development. From live keynotes led by Google and Amazon to online workshops and insightful panels, there's something for everyone interested in learning about Voice.
Although with all sorts of promising online events popping up left and right, what makes VOICE Global so special? Well, consider the thousands of attendees who joined us at VOICE 2019, now remove the barriers of travel, visas and other expenses. Next, take away the entrance fee.
That's a lot of people with newly unlimited access to voice-first knowledge.
That's why VOICE Global is gearing up to be the world's largest virtual Voice conference, and we couldn't be more excited.
Of course, we know that sometimes a virtual event can feel a bit like watching a concert on an old phone, so we have a few tricks up our sleeve to keep things alive and interesting. Here's what we have in store for you on June 9th.


Industry-leading content, around the clock
Since the Voice community is spread across the world, we're running VOICE Global for a full 24 hours to give everyone a chance to join in. Whether you're in Delhi or Washington D.C., you can connect at any time of the day to participate in pioneering keynotes, expert panels, practical workshops and even catch some live entertainment.
The schedule for each timezone will be available on April 24th, so make sure to register for VOICE Global to get it right in your inbox.


Live participation and brand interaction
VOICE Global is definitely not the type of conference where everyone just sits and watches their screen. As soon as you hop in, you'll have the opportunity to chat with fellow viewers, spark interesting conversations with live polls, and send your biggest questions to the industry leaders on-screen.
Plus, there will be plenty of windows to click on interesting content and interact with your favorite brands in the voice-first space. Better keep your finger on the mouse for this one.


Ongoing business opportunities
Conferences are a great place to meet people in your industry who you can do business with. Granted, virtual events can't entirely replicate that face-to-face chemistry, but we'll do our best with focused chat rooms designed to connect job-hunters with recruiters, startups with investors, and businesses with potential partners.
These "deal-making channels" will give you a dedicated space to discuss new and exciting opportunities within a full 24 hours. And with thousands of attendees online at any given time, you'll have no shortage of options!


Team-building and connection
In the same way that people form tight-knit teams to play online, you'll have the option to join VOICE Global under your own team name. It can be your company name, university, micro-community, or even just your friendly group of Voice enthusiasts.
Not only does this help kindle the feeling of belonging, it also makes you pop online so others can easily identify you and reach out.


Raffles, goodie bags, and giveaways
That's right: freebies! Sometimes it doesn't matter how interesting a conference is, we all need a break every so often.
At VOICE Global, if we're not already doling out live entertainment to freshen up your eyes, we'll be perking up your attention with things like virtual goodie bags filled with discount codes, limited offers, videos, prized white papers, and so much more. It's going to be too good to miss.


Join the world's largest virtual voice conference!
Ready to be part of something ground-breaking? All you have to move is your finger to click on the button below to join the voice-first community for an unprecedented 24 hours. Don't miss out!


What about VOICE 2020? Well, we hope the dust will have settled by October, but we're actively preparing in the event that it doesn't. Subscribe to our newsletter below and we'll make sure you're the first to know about any important updates.