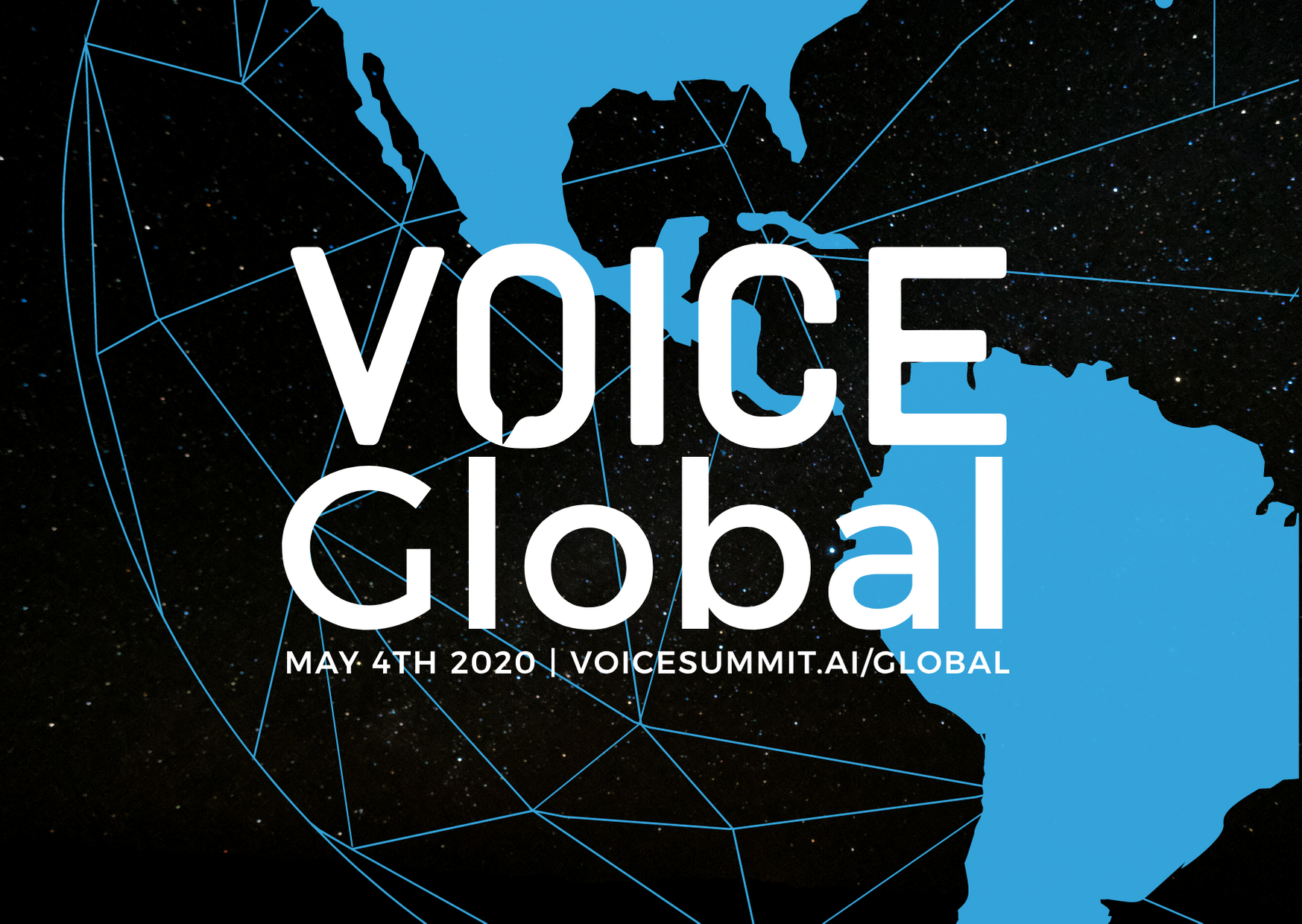 We're incredibly proud to have a tight-knit community spread across the world, but with everyone sitting at home and in-person events off the table, we're finding new ways to safely bring us all together again.
For almost a year, we've been brewing an all-inclusive event that everyone can attend no matter what country they're in. That event is VOICE Global, and we're excited to officially invite you to jump in this June 9th for 24 hours of inspiring content, deep conversations, and unique business opportunities.

Connecting the voice-first community with VOICE Global
VOICE Global is a free virtual gathering featuring superstar speakers, workshops, panels, fireside chats, and even entertainment that will be streamed for a full 24 hours on June 9th, 2020.
You read that right, it's going to run for a whole 24 hours so that no matter what timezone you're in, you can catch some voice-first insight. During that time, we'll cover multiple industries including healthcare, fintech, entertainment, and transportation—with topics ranging from software development and conversational design to user experience and voice-first marketing.
With a strong focus on community and human connection, we're making sure that this virtual event doesn't feel like just another endless webinar. You'll have the chance to interact live with CEOs, send your questions to industry leaders, chat with fellow VOICE members, and even win virtual goodies like discount codes and courses! (You can read what other surprises we have in store in this post.)
It's going to be an unmissable opportunity for professional development and engaging conversation—all delivered right to your screen. All you have to do to join is register for VOICE Global and we'll send you the agenda, plus an email reminder a few days before the event.


Speak at VOICE Global
With the world changing by the minute and Voice technology rising to the occasion in more ways than one, we thought it would be good to give everyone a little more time to showcase their latest innovations.
VOICE Global focuses on six main channels: Thought-Leadership, Media and Entertainment, Business, Education, Health, and Social Good. You can submit anything from industry insights to a peek into how your product or service is changing our everyday lives. We're especially interested in sharing how Voice is helping communities and businesses adapt to the current health emergency.
if it's innovative, valuable and exciting, then we want to hear about it. Submit your proposal until April 15th and we'll be in touch.


Sponsor a channel or session
This one is for brands looking to become the face of a particular channel or session at VOICE Global. There are dozens of unique tracks to choose from, which means dozens of opportunities to showcase your brand on thousands of screens worldwide.
Additionally, viewers will be able to interact with your calls-to-action in real-time or step into VIP chat rooms for one-on-one business discussions. (That's a definite upgrade from standing for hours at a booth in a crowded exhibit hall.)
If you're interested in becoming a sponsor, get in touch and we'll discuss the best opportunity for you.


Join us at VOICE Global
The power of community and innovation is more important than ever. Join us virtually on June 9, 2020 for 24 hours to hear how top industry experts are wielding technology in every industry and how we can leverage Voice to help us adapt to this "new normal." An entire community awaits, and remember, it's absolutely free to join.