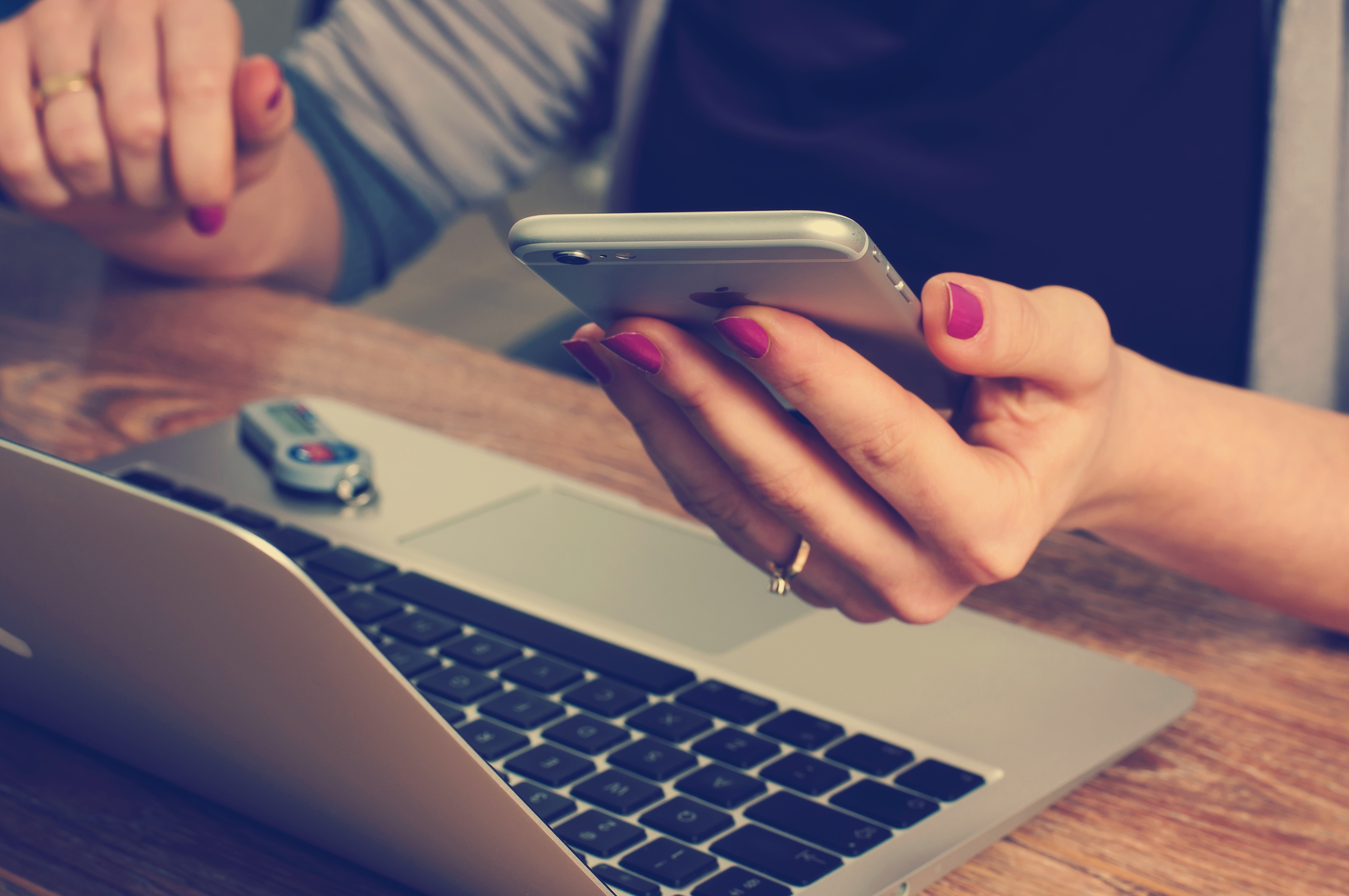 Image credit: William Ivan
If there's anything almost every internet user can agree on, it's that no-one likes passwords. Juggling a dozen cryptic passwords (or stubbornly reusing the same one), getting SMS notifications, automated phone calls, security questions, the list goes on and we hate them all. It makes signing in to any service about as fun as filling a lengthy contact form (where every field is mandatory).
This hassle is especially true for financial services where verification is top priority and particularly tedious. While companies like Nuance are already replacing passwords with voice commands, there is another company working to make user verification much less stressful.
Meet Privakey. On their website, Privakey describes themselves as an, "authentication and authorization solution used to broker secure transactions between users and the websites, online services, and applications they use."
In a nutshell, Privakey's mission is to streamline the customer experience by enabling password-free authentication across all channels. Here's why this is such a big deal.
Omni-channel digital verification
The magic thing about Privakey is that it removes all those annoying extra steps that are usually required to verify your identity. Instead, it uses your existing devices (smartphone, tablet, laptop) as your passkey. It's like swiping your phone to enter your office building instead of digging through your wallet for ID.
From a customer service perspective, this is a golden opportunity to remove the usual friction from customer's interactions with their services. Which makes Privakey very attractive to financial institutions and enterprise solutions.
Let's get to how it all works. You know how most smartphones nowadays let you use your fingerprint to unlock it? Well, Privakey leverages this familiar biometric and ties it to highly secure financial services. This means you can open your bank app, for example, and verify your ID with your fingerprint instead of using passwords or answering security questions.
But a lot of apps do that already.
True. But what Privakey does differently is let financial services like Bank of Tomorrow use your phone as your ID whether you're accessing their services on their website, mobile app, or on Amazon Echo/Google Home.
The same principle applies when confirming fraud alerts, account updates, or payments. You get a notification on your phone and you can give your authorization with your fingerprint. Simple.
Now, with the rise of IoT, Privakey jumped onto the opportunity to evolve their authentication technology so it could apply to voice interfaces too. But here's where things got tricky.
The challenge of voice interfaces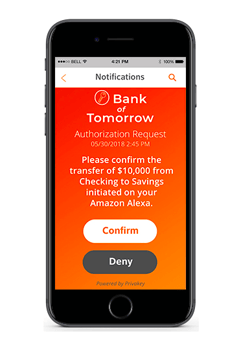 Image credit: Privakey
Smart devices are here to stay, so organizations have no choice other than adapting their services to the new voice-first world. Except security is still a major concern with voice devices, and the solutions out there right now tend to interrupt the natural interaction of voice.
Patrick Kelly, Vice President at Privakey, explains in a blog post, "Users will reject using one-time passcodes, RSA tokens and other forms of strong authentication as they ruin the elegance of voice interfaces."
Kelly's right. So how can we ensure strong user authentication for sensitive data on voice interfaces? To solve this challenge, Privakey partnered with SEI Investments to develop a natural language processing engine so that advisors, investment managers, and other financial services professionals can interact with SEI's solutions.
It's set to be the first commercially deployed service that supports multiple natural language interfaces -- including chatbots and voice assistants.
"Our technology makes it possible to use mobile phone biometrics for identity verification across all channels – even with natural language platforms like SEI's," says Kelly.
Watch their demo at VOICE
VOICE is coming up fast and there are just a few tickets left, but you can still snag one to see Privakey's Patrick Kelly and SEI Investments' Jim Lewis give an insightful demo of their groundbreaking mobile-first authentication service.
They'll also be sharing the challenges they faced while developing their service for high-value transactions in the financial services industry using voice interfaces. It's going to be a fascinating talk, so be quick and get your ticket here!
Remember to follow VOICE on Twitter for updates and cool voice-first news.