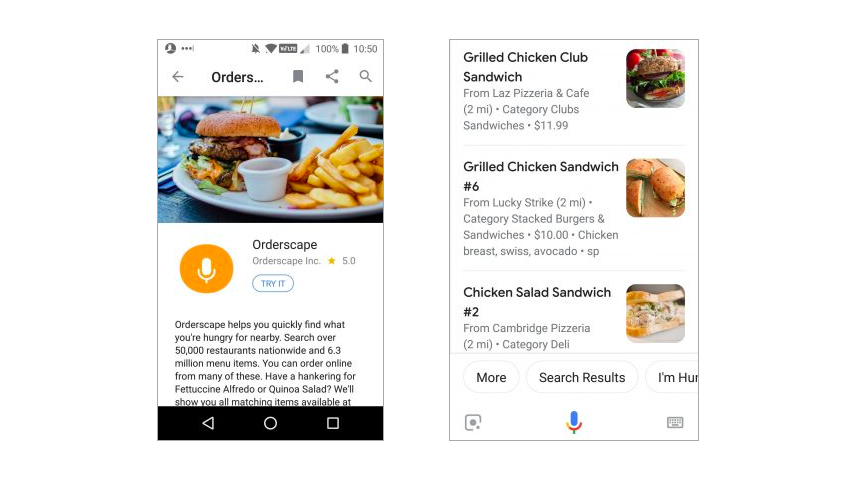 Credit: Orderscape.
"It's overwhelming and God-awful."
That's what Orderscape's CEO, Michael Atkinson told food tech site The Spoon about technical and operational challenges restaurants must undertake to add voice as a sales channel.
Fortunately for restaurants looking to adopt voice technology, in 2016 Atkinson and his business partner, Ted Cohn, founded Orderscape—an app that makes it "ridiculously simple" for restaurants to adopt voice-enabled search and commerce.
Think of it as a Deliveroo, but using your voice to find and place an order.
Why Orderscape?
Orderscape is the "first nationwide food search action" for smart speakers like Alexa and Google Assistant so hungry customers can search for a specific dish at nearby restaurants—just by using their voice.
For restaurants, this saves them the hassle of voice-enabling their entire menu. Instead, they can ask Orderscape to add them to the listing (for free) so their menu can appear in voice searches. As a result, restaurants get a voice-activated menu with no installation, training, or downtime.
For customers like yourself, Orderscape means no more downloading and opening dozens of menus to see if something tickles your fancy. You can simply tell your smart device, "I'm in the mood for a burger," and choose the tastiest-sounding one from the listing.
If you have a screen, you'll see a list of burgers with an image, description, price, and the restaurant it's from. If you're using a screenless smart speaker, you can kindly ask your voice assistant to guide you through the menu.
Looks like shouting at Alexa for a double-cheese pizza from the comfort of your couch will soon become a reality.
How does it work?
As Atkinson put it, the process to voice-enable a menu "isn't easy."

Orderscape aims to spare restaurants from having to create their own Voice User Interface (VUI). Instead, the application works with browsers, smartphones, watches, and smart speakers like Alexa and Google Assistant to bridge the gap between voice features and the restaurant's platform.
"Orderscape simply gets permission from the restaurant to use its menu, ingests the information via an existing [restaurant platform] partner like Olo, and voice-enables the menu," says Atkinson, "All the hard work will been done by portals and platforms."
To get a clearer picture of how Orderscape works on the client side, here's a brief demo using Google Assistant on a smartphone.
Is this the future of ordering food?
Orderscape is set to release a commercial version in Q2 2019 and they already have more than 50,000 restaurants and food portals in their listings. This isn't a trend food businesses want to be late for.
Whether you love the convenience of voice or hate the invasion of yet another "lazy-inducing" technology, there's no escaping the fact that voice tech is on the rise. There are already Alexa's sitting in hotel rooms and helping to improve restaurant operations. So really, it was only a matter of time before voice-first ordering stepped into the food scene.
With more than 50% of mobile searches set to be voice-first by 2020 and 56% of consumers ready to order meals with voice, apps like Orderly will only increase in demand for eateries who want to stay in business.
"Voice-assisted anything is the future of everything." - Orderscape.


If you're curious to learn more about Orderscape, the CEO himself will be speaking at VOICE Summit—the largest voice tech event in the world. Michael L. Atkinson will be buzzing around Newark along with dozens of other expert speakers you'll have the chance to network with. The best part is it's officially open for registration! Reserve your seat here.