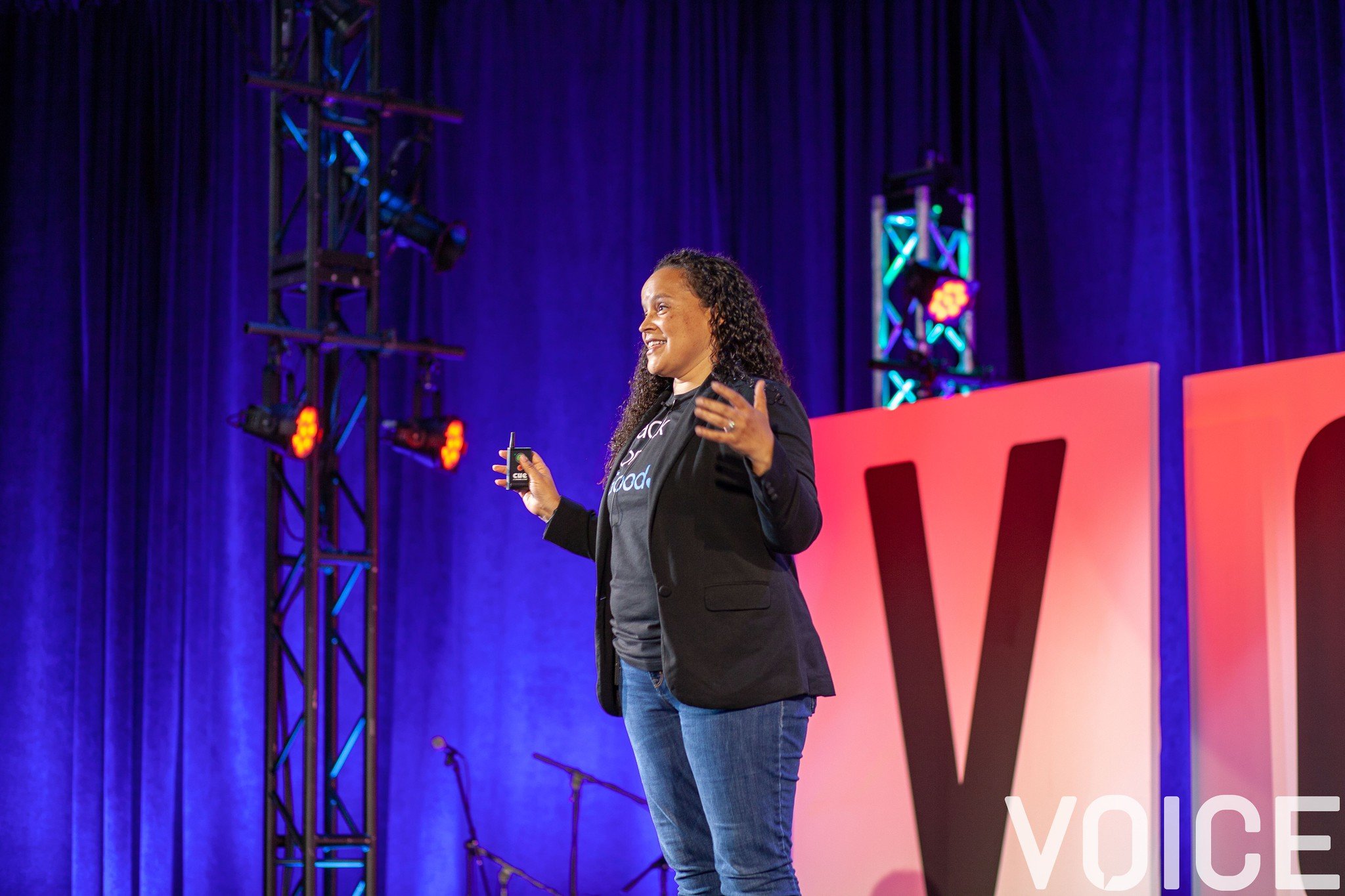 The countdown has begun for the next VOICE reunion; that special time of year when thousands of students, professionals, entrepreneurs, and industry leaders gather in one place to learn and connect with like-minded Voice enthusiasts.
Now in our third year, VOICE Summit has not only become the world's largest voice tech event, but also an exciting hub for innovation, talent, experience, and passion in the industry. Although, we couldn't have done it without the hundreds of brilliant people willing to share their knowledge and experience with the community. So, with the third annual VOICE Summit on the way, we're happy to announce that the call for proposals is now open!
Whether it's a new Alexa skill, an enterprise solution, or simply lessons learned and new insights people should consider; the glowing stage at VOICE is the perfect place to share it.
If you love the idea of inspiring an audience with your thought-leadership but aren't completely convinced you should apply (hint: you definitely should), here are a few reasons to nudge you into the speaker application form.
Promote your ideas to a growing community
For VOICE 2018, we saw a buzzing crowd of 2,700 attendees. A year later, that crowd soared to around 4,200 from a whopping 30 countries. Now, for VOICE 2020, we expect an exciting outcome of over 5,000 voice-first fans. That's a lot of potential eyes and ears for your talk.
If you've been in the industry for a while, VOICE is the place to share your tried and tested methods. If you're just getting started, it's an even better platform to promote your business and bring your innovations to the front of everyone's minds. From the glittering main stage to spacious auditoriums and cozy classrooms, there's a space for every talk to draw its own dedicated audience.
Make a difference in the industry
We believe knowledge should be in reach of everyone who is eager to learn. We also believe that the best work emerges when we work together. VOICE Summit gives attendees from all backgrounds a chance to learn, get inspired, and have plenty of those precious "aha" moments so they can embark on their journey in Voice with their best foot forward. You can help them do just that.

Whatever your role or level of ability, you know something others don't, and even the smallest drop of information could be the catalyst for someone's next business venture. After speaking at VOICE, you can help to set in motion a whole new generation of ideas. You can also use your platform to bring attention to little-known solutions, promote deserving professionals, and motivate eager students hoping to go down the same road as you. You can make a real difference, and VOICE Summit is where you can make it happen.

Acknowledge that your voice matters
Every year we aim to create an environment where everyone interested in Voice technology feels like they're heard. If you've been following our episodes on Inside VOICE, you'll know that sometimes the best insights and tips come from people in independent roles or small businesses. Countless guests have reached out to us in shock that their little interview received so many positive responses!

That's because you don't have to be a world-class entrepreneur to take the stage. Everyone is a potential speaker at VOICE Summit. So, regardless of your role, rank, and level of ability—you belong at the forefront of VOICE 2020. Take the stage, and get comfortable there.
We want to learn from you, and we know our attendees do too.
Apply to speak
Want to make your mark at VOICE 2020? Now's the time to tell us about it. We receive hundreds of applications each year, so get ahead of the avalanche of submissions and apply to speak now!
All you have to do is create your speaker account and fill in a form describing yourself and your idea for a talk. You can always go in and edit your submissions (until they're entered for review), and keep an eye on the approval process. Easy.
Ready to give it a go? Apply to speak at VOICE Summit 2020.