Day Two at VOICE beginswith a keynote from James "JP" Poulter on his lessons learned after a year in Voice. His cheerful session is laden with insights on the Voice industry, peppered with humor to keep the audience on their toes in the early hours of the day.
Halfway through his presentation, Poulter brings 16-year-old Jeremiah Lunis from Cristo Rey Newark Highschool on-stage, who has won the Vixen Labs scholarship program to get him started in the industry. James then gives a few special notices, like keeping an eye out for today's Alexa Cup and the VOICE Awards Dinner. Lastly, he introduces the second keynote of the day led by David Ciccarelli, founder and CEO of Voices.com.
David's talk is dedicated to highlighting the importance of using voice actors rather than default robotic voices. "We've been asked to make the voice actor 'sound more purple'," David says in disbelief, nudging a few chuckles from the crowd. He ends his session with an invitation to sign up for Voices.com to learn more about adding professional voice talent to enhance their voice-first experiences.
As David steps down from the stage, James Poulter zips back up to introduce the next session on the role of security in Voice led by Vijay Balasubramaniyan, founder of Pindrop.
Outside of the main stage, attendees are pouring themselves some much-needed coffee. David Isbitski strolls past, occasionally waving at someone familiar. One attendee rushes out the building to her next session, passing Voice designer Deymi Campos, who is perched on the ledge waiting for the upcoming panels on health.
"It's really exciting for me as a voice designer because we get to learn about tools that we can use to build more intentional, creative, and engaging experiences for our users." - Deymi Campos, Voice designer.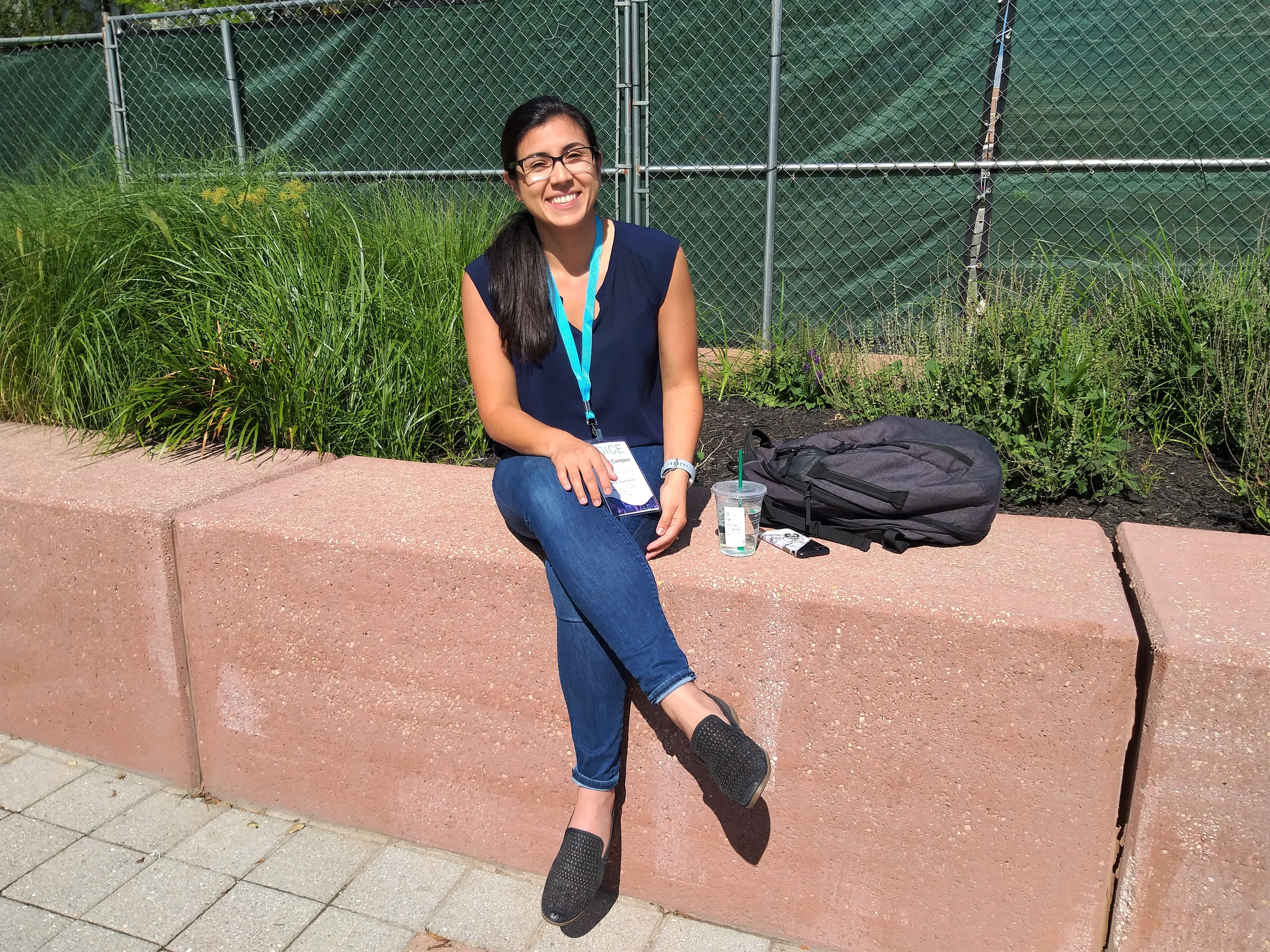 Deymi Campos sitting outside in-between sessions.
Going into the Central Campus building, the food court is mildly busy with attendees lining up for Starbucks. Others are sitting around typing or scrolling while a line of people file into the next room for the 10 AM session.
Inside the Atrium, Franklin Lobb from Amazon Alexa is just finishing his talk. As half of his audience streams out with him, an equal number come in to take the newly-emptied seats. Akersh Srivastara, a Developer Evangelist at Amazon begins his workshop on building and monetizing an Alexa skill with In-Skill Purchasing (ISP). His already eager audience perks up as Akersh announces that the first 150 people to submit their ISP skill would be awarded with an echo show.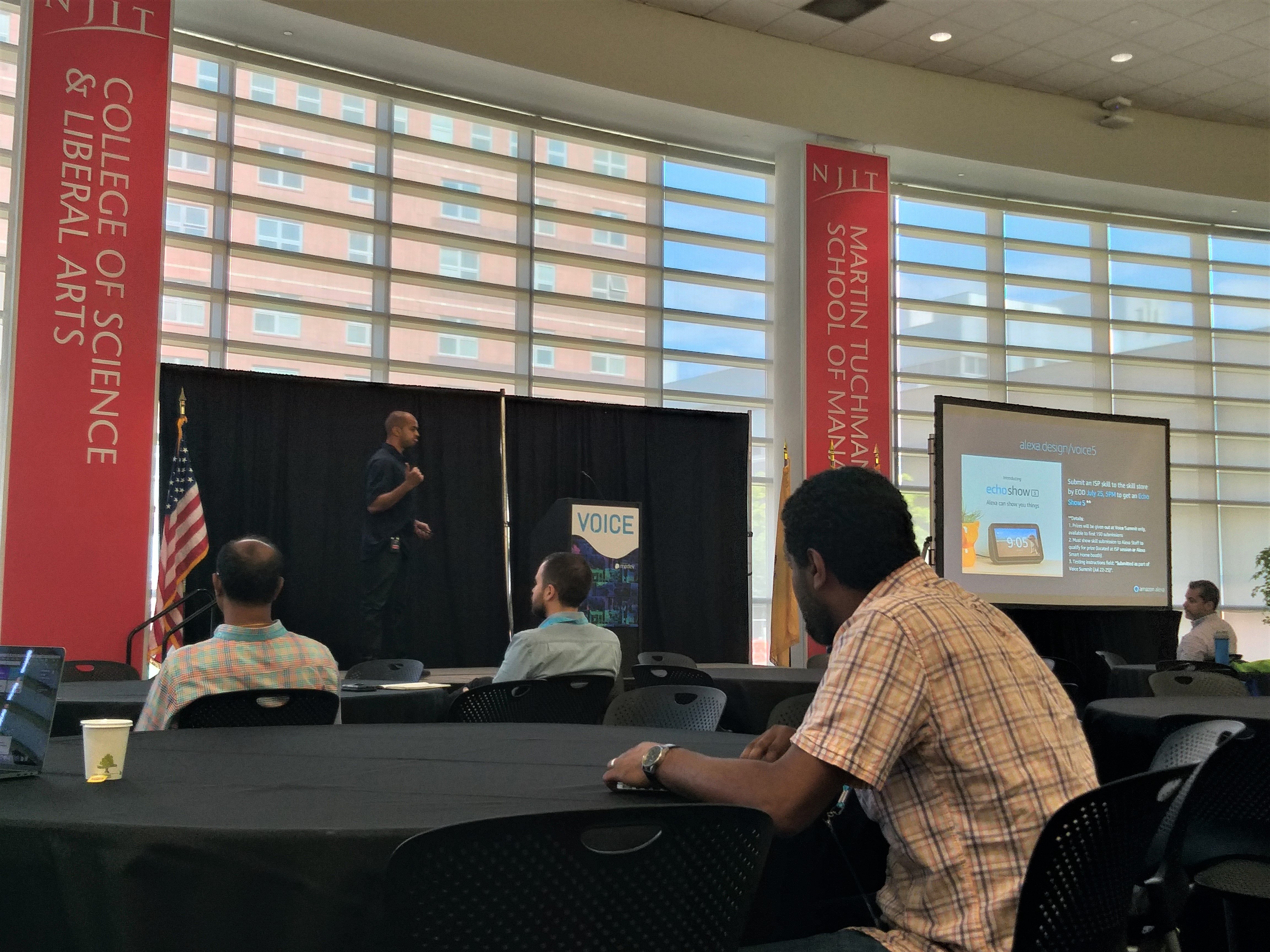 Akersh Srivastara on-stage during his Amazon Alexa workshop.
Out on the exhibition floor, it's quieter than usual as tables are just being set up for the day. Although the Amazon Alexa booths—designed for a moment of silence—are both occupied, with one attendee on his laptop and another on a conference call.
The pop-up shop nearby is also enjoying some attention. Attendees occasionally saunter by to inspect the VOICE hats and check out the brightly colored tote bags. Bright blue Mystery Boxes are stacked in the corner, some full of VOICE merchandise, one containing a surprise. Pete Erickson's brother in-law is manning the pop-up tables today, and he couldn't look happier.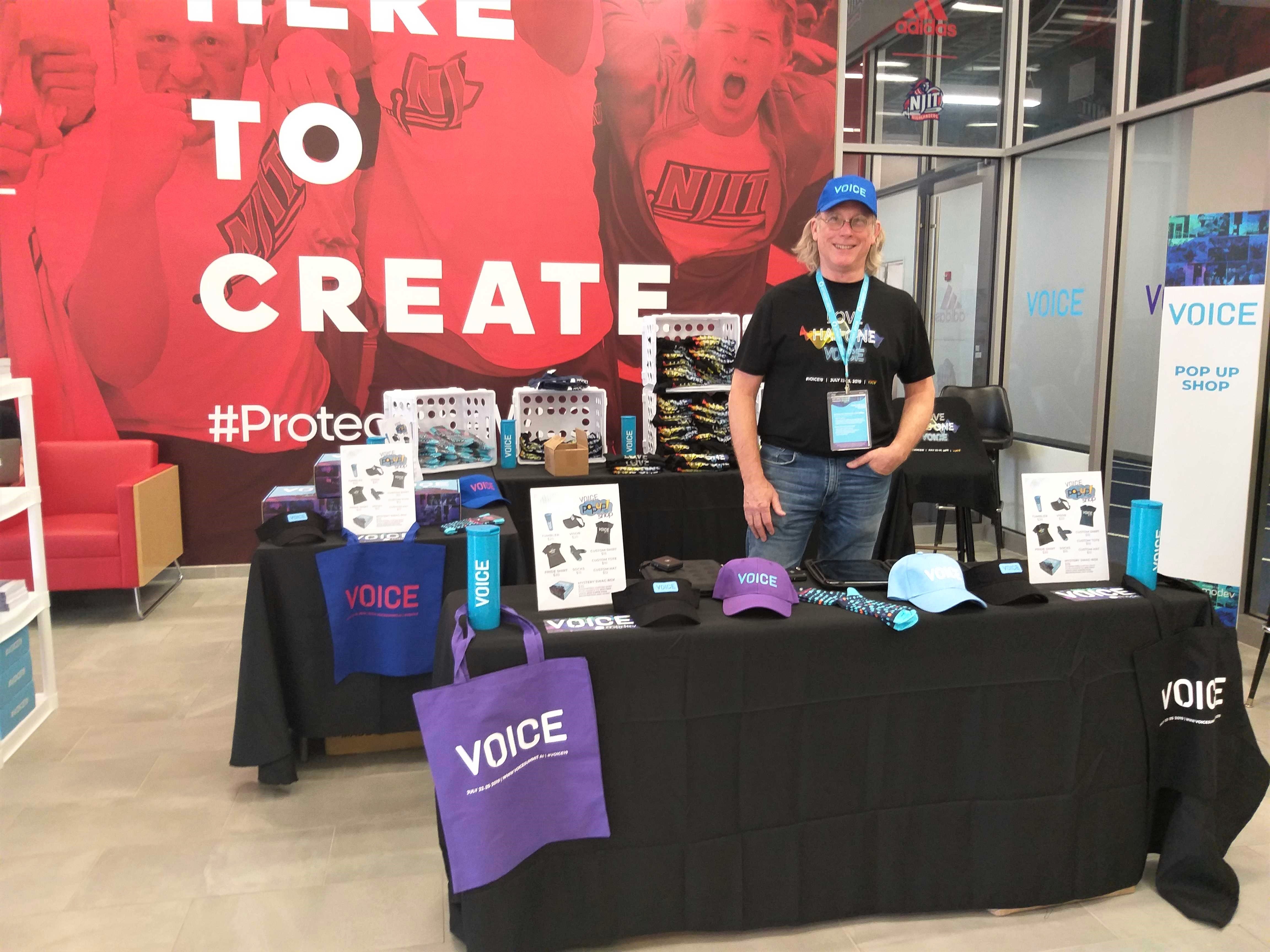 Pop-up shop at VOICE.
On the opposite side of the EXPO floor, standing by their own table, Voicipe Founder and CEO Mike McCoy is cheerfully overlooking the roaming attendees. He and his CTO, Kenny Horan, have been attending sessions themselves and enjoying the attention at their table. "We've talked to voice actors, voice producer companies, and people offering to help us with audio branding using professional talent instead of robotic voices," says Mike about his experience on the EXPO floor.
"The voice trend is moving across platforms and being here has given us some amazing opportunities to review the design and direction of our app," he says with a beaming smile. A woman drops by his table and picks up one of the business cards intentionally fanned across the table.
Inside the main EXPO demo room, the booths are bustling as usual. An Amazon Alexa team member is removing the rope across the smart home entrance to welcome the growing line of students hoping to get a tour. A few booths away, Parloa is demonstrating their tech's capacity for building automated dialogs by talking into a stuffed parrot, which immediately repeats the words back while dancing and flapping on the spot.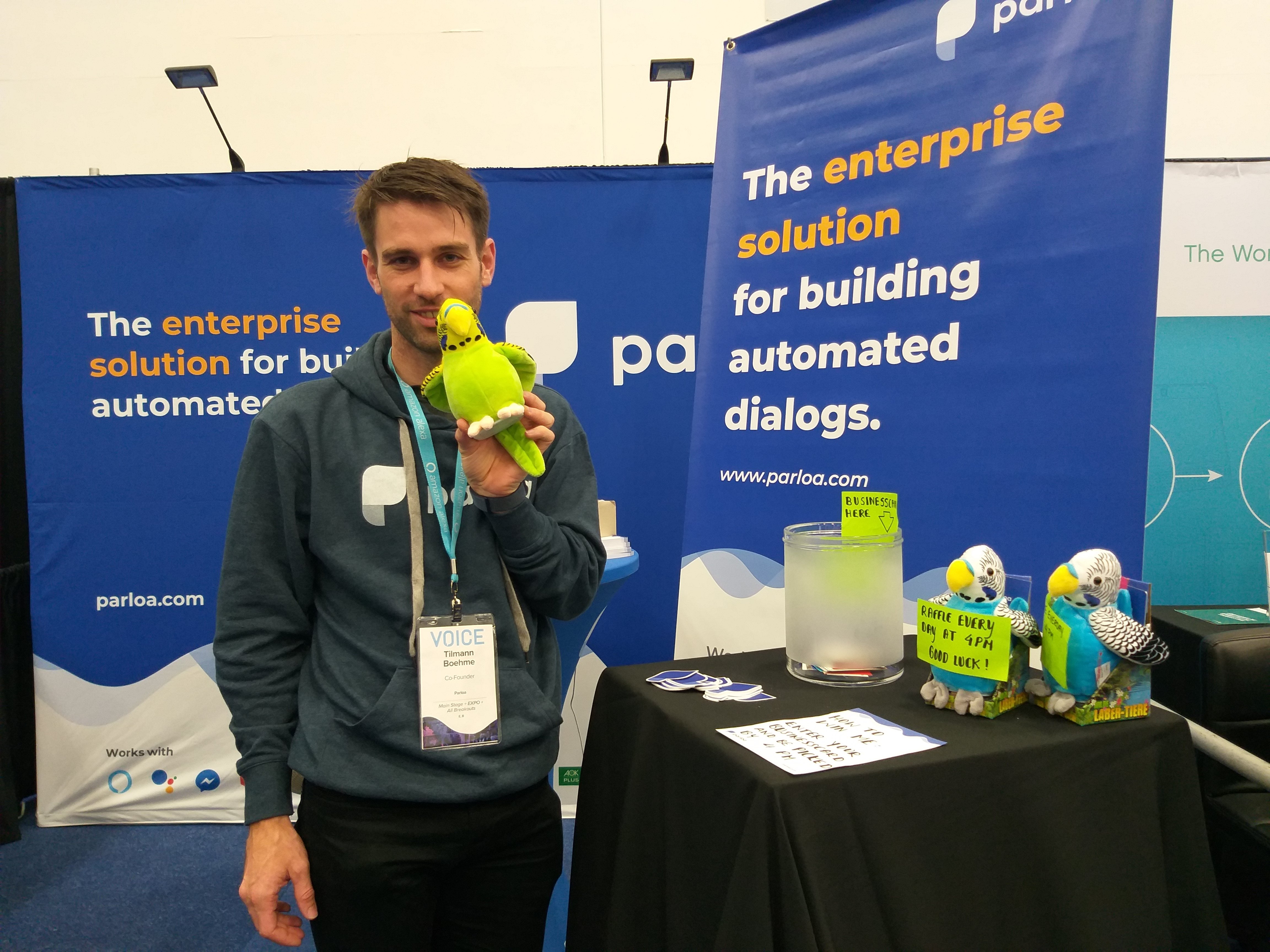 Parloa demonstrating their enterprise solution for automated dialogs.
Downstairs on the main stage, the panel on "Entertainment, Media and Publicity Take on Voice" is underway. Every table has attendees dutifully typing or scrolling as the panelists are currently discussing the topic of bias in Voice.
"The voice you are hearing will influence your thought process," concludes industry expert, Frank Radice.
Around noon, the sessions ends and attendees file out for lunch. Jon Lederman, founder of Spinor.ai, exits the main stage, seemingly satisfied with the session he just attended.
"Based on their news stories, they're seeing that people don't like listening to entire articles in a synthetic voice," he says, "but we're seeing incredible innovation and in some cases it's indistinguishable from human voice. It's really a question of how that transition happens."
Jon adds that he's interested in learning what people are looking for in terms on AI apps to help build his own startup. He then roams on, mixing into the crowd on their way to the food trucks outside.
Want to save your set for VOICE 2020? You can already pre-register or stay in the loop for updates if you're not ready to buy. Sign up for VOICE 2020 today.