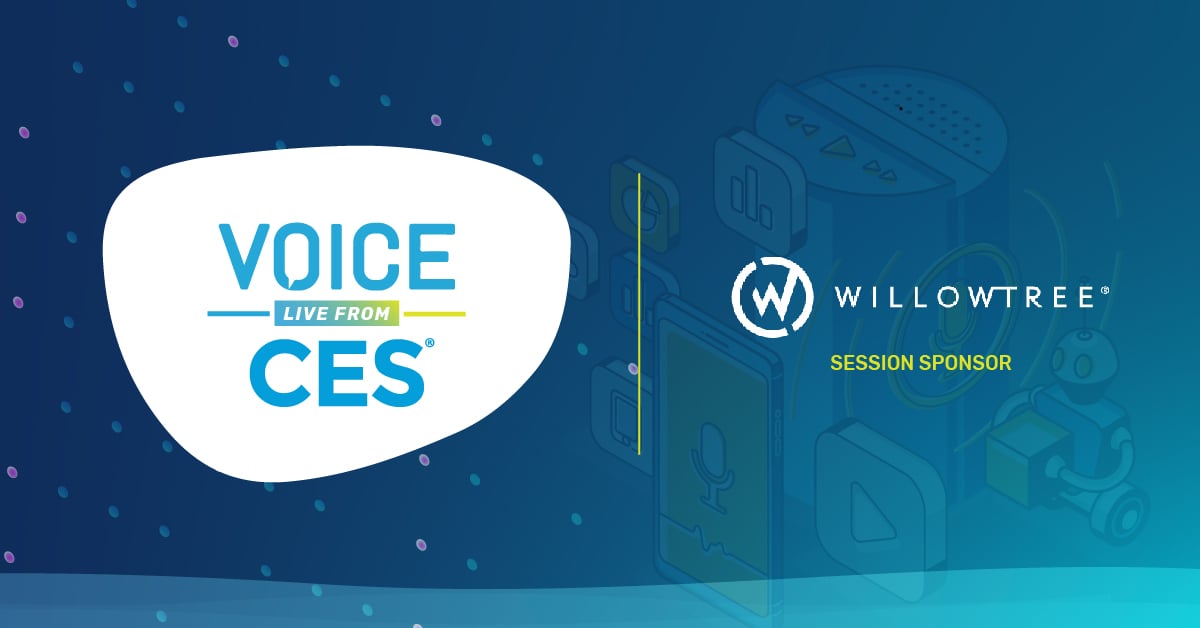 CES is coming up fast and we're very excited about what you'll see there. As you know, VOICE will be there to shower attendees with pioneering knowledge, voice-first opportunities, and the rare chance to mingle with world-leading experts in Voice.
With Google Assistant reigning as supreme sponsor for all our upcoming content and glamor at CES, we're proud to highlight another appreciated sponsor of ours: WillowTree.
WillowTree will be adding a generous serving of brand-focused content to VOICE Live From CES through a collection of brilliant speakers and sessions. Here's what you need to know about them and which sessions to add to your CES calendar.


Why WillowTree
Having WillowTree sponsor sessions that focus on pushing brands forward was a decision that practically made itself, considering they're an outstanding digital product agency with a strong portfolio in Voice-enabled apps.
With plenty of experience in digital transformation, WillowTree specializes in digital strategy, design, development, and growth marketing for world-leading brands—including National Geographic, Pepsico, and American Express.
They're particularly savvy on voice-first digital strategies, and are more than happy to share their tips and findings with you for free. For one, they're sliding over a full report on The Executive's Guide to Driving ROI with Voice Experiences. (We really recommend reading this one.)
Now that you know why we're so proud to have WillowTree as a session sponsor, here's a quick peek at the guest speakers and sessions they'll be presenting at CES.


WillowTree-sponsored sessions
What's Next in Voice for Brand Leaders: Keynote
WillowTree CEO, Tobias Dengel, will be giving a short but sweet keynote at VOICE Live From CES about what voice-first brands can expect in 2020. It's going to be packed with unique advice and interesting tidbits that brands can use to enrich their 2020 Voice plans.
What's Next in Voice for Brand Leaders: Fireside Chat
To continue the theme of preparing brands for Voice throughout the upcoming year, WillowTree will also host a cozy fireside chat with Chris Merrill from Synchrony. It's going to be a down-to-earth conversation with plenty of light-bulb moments to help you succeed as a brand in a voice-first world. With Chris specializing in consumer banking, this session will be particularly insightful for those of you in the financial industry.
What's Next in Voice for Brand Leaders: Panel
To complete the trio of enticing content, WillowTree will present a panel of experts to bring different perspectives into the discussion of what's next in Voice. Featuring David Heafitz (Prudential Financial) and Dr. Sandhya Pruthi (Mayo Clinic), and moderated by CNET reporter Ben Rubin—you'll be the first to hear what you can do as a brand to tip the scales in your favor.


Join us and WillowTree at CES
It's our very first time at CES and we'd love for you to be right there with us. We have incredible sessions lined up and even more incredible speakers ready to take the stage. There will also be booths to browse and an after-party to get to know everyone better (over a few drinks, of course).
Don't miss out on this unique opportunity to get your brand ahead of the curve in 2020. Get your pass today!