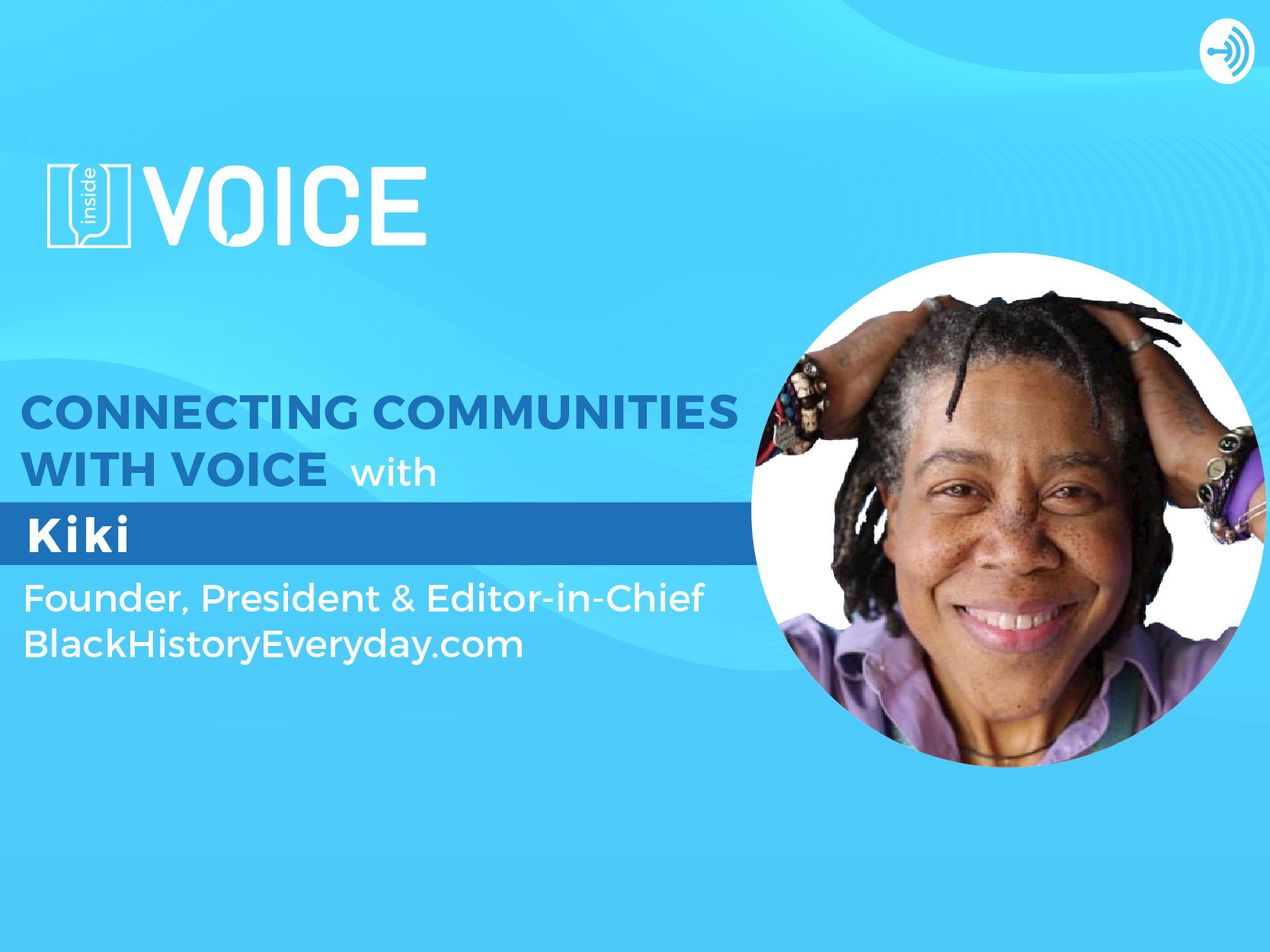 Use the code VOICEBLOG10 to get 10% off your ticket to VOICE 2020.
Black History month is upon us, but for Kiki Monifa, a former lawyer turned flash briefing extraordinaire, black history is every day of the year.
It wasn't until she received an Amazon Alexa for Christmas that she thought of using it to explore the achievements of black figures. Before that moment, she was a lawyer—and a good one at that. Except she wasn't particularly passionate about it. It never made her heart sing, as she would say. But, for 20 years, she was happy enough just doing her job.
One weekend, she stumbled upon some old journals she had filled when she was 19 years old. They told of her passion to become a writer, just like her idols Lillian Hellman and Nikki Giovanni—both admirable women who forged a career as writers back when it was difficult for women of color to do so.
With each page of her diary, her old writer's flame crackled once again. Soon after, she quit her job as a law professor and spent a year writing—readily supported by her then-wife. Years later, that one Christmas came around and she unwrapped the Amazon Alexa that would spark a whole new way of putting her writing skills to work.
"And as soon as I set it up, I thought, I want to do this," Kiki told our Inside VOICE podcast host, Keri Roberts. "I want to use this technology to read out something that I have created."
So, here's what Kiki created and her sage advice for anyone hoping to get into Voice.
Creating BlackHistoryEveryday
At first, everyone told Kiki that Alexa skills and flash briefings were for the pros, the tech experts. It wasn't until she Googled it for herself and landed on the Amazon Skill Kit (ASK) that she realized anyone can develop a skill or flash briefing. That's when the sun peeped through the clouds and she thought, "Okay, I can do this. It won't cost me anything to try."
Although then came the question of what to make a flash briefing about.
For Kiki, Black History Month was something she celebrated her entire life—not just in February, the shortest month of the year.
"We would hear the same black history facts repeated over and over again," she explained to Keri. "You'd learn about Rosa Parks, Martin Luther King, Marcus Garvey, maybe Frederick Douglass and George Washington Carver. There is more to black history than these people."
Initially, the idea was to simply put up a website with different black history facts: blackhistoryeveryday.com. Although once she had done that, she browsed the available Alexa flash briefings and realized there was nothing like what she had in mind. So, she decided to leverage the content she already had on her website and simply feed it into Alexa. This, as Kiki soon found, was much easier said than done.
It took more than a few tries and dozens of rejection letters from Amazon, but on the morning of Kiki's 60th birthday, she received an email announcing her BlackHistoryEveryday Alexa skill had finally been accepted.
Musings from a year of successful flash briefings
After finding the right balance between work and updating her Alexa skill, the feedback from listeners began to pour in.
"One thing I learned was the other skills focused on American black history. That's not black history." Kiki said. "So people really appreciate seeing the intersections I bring to really represent the breadth of being black in the world—not just in the United States."
She recalls the excitement from her listeners back when she was publishing five new skills a day, where all five positions were occupied by queer black figures. It simply wasn't something anyone else was doing. Nowadays, she schedules just one new fact a day, but it's enough to inspire her listeners with that awe of learning something truly fascinating.
As a happy bonus, Kiki also learns something new everyday.
"I didn't know Phylicia Rashād was the first black person to win a Tony award," she says, as an example. "There are so many black 'firsts' that people are unaware of."
Her flash briefing doesn't just focus on famous people in history either. She also covers present-day achievements, like when Lil Nas X became the first openly gay black person to win an award at the Country Music Association. Additionally, she uses her channel to gently educate people on facts as simple as Africa not being a single country, but a continent comprised of 54 nations.
Above all, Kiki wields her Alexa skill as a way to connect people.
"Black history isn't just for black people. Its history. And it is for everyone." - Kiki Monifa.
Wise words for hopeful skill creators
When asked whether she had any advice or words of encouragement for those with a brilliant idea pinned down by doubts, Kiki had this to say:
"My grandma started painting when she was in her 80s. It's never too late. If you have a passion for something—voice or whatever it is—do it."
She adds that if it were a case of being too old or not technical enough, she would never have created the now popular skill. So, there's really no good excuse to not go ahead. Kiki also underlines the importance of talking to others who have done what you're trying to do. This leads to her final and most important piece of advice.
"Follow your passion and be in community, because there are always people that you can learn from or even just discuss your frustrations with."
As someone who proudly practices what they preach, Kiki opens up her email to anyone who wants to talk. You can also find her social channels and other contact information on BlackHistoryEveryday.com.
Join the movement to educate with Voice
If Kiki's story has given you that extra nudge to push ahead with your own ideas, then you'd adore hearing Kiki recount her experiences in her Inside VOICE episode. There are plenty more anecdotes and examples waiting for you there.
To dive even further into the role of using voice technology to educate and connect communities, join us at VOICE 2020—the world's meeting place for people passionate about Voice. Every year, we draw thousands of professionals, students, and aficionados to share knowledge, build connections, and inspire new projects. We'd love for you to be one of them!
Whether you have something to share on-stage or simply want to sit with a vibrant crowd that shares your passion, register for VOICE 2020 today.