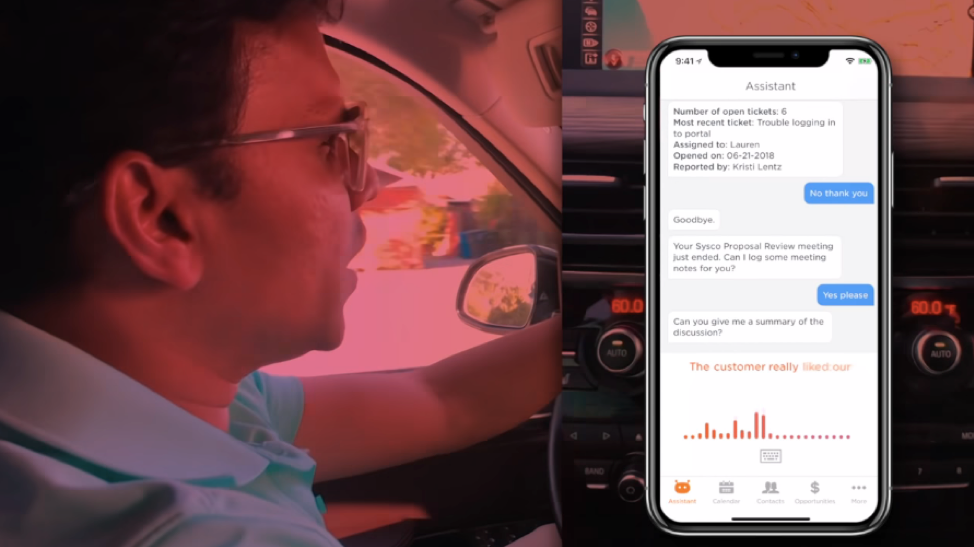 Image credit: Tact.ai
There's nothing quite like data entry to make you want to abandon your desk, get on a plane and never be seen again. It's tedious, time consuming, and is practically impossible to get done on the go.
Enter Tact.ai, a new AI startup offering busy sales teams a faster, easier, and hands-free way to interact with information scattered across emails, calls, and CRM systems. Gone will be the days of sales professionals swiping between apps looking for the right customer data and insights; with Tact.ai they can simply use their voice to access important info while at work, at home, or in their car.
Since sales is the life-blood of every company, the prospect of a more efficient workflow using voice has loosened the wallets of tech giants Microsoft, Comcast, Salesforce, and Amazon Alexa Fund (to name a few). According to a press release, the startup rounded up an impressive $27 million Series C funding and has now reached over $57 million.
"Just as people were quick to adopt voice technology in the home, we see an enormous opportunity for voice services in the enterprise," said Paul Bernard, Director of the Alexa Fund.
A personal assistant for sales professionals

Image credit: Tact.ai
On their website, Tact.ai describes their product as a "new system of workflow for sales," which came to be thanks to former Salesforce executive, Chuck Ganapathi.
Ganapathi has years of personal experience battling with the chore of entering and retrieving customer data from CRMs. So he launched Tact.ai with the vision of using voice interfaces to solve the CRM headache and make sales people's lives easier.
Tact.ai currently offers two products: Voice IntelligenceTM and Intelligent Workspace.
Voice IntelligenceTM
Voice intelligence is a car-based virtual assistant that allows sellers to control their enterprise apps while on the road.
According to Ganapathi, sales pros spend a lot of their time driving to and from meetings. So Tact.ai offers the unique ability to pull pre-meeting info, check customer emails, sales history, deal and customer insights, and other relevant information without having to take their eyes off the road. This allows the salesperson to jump into their meetings fully armed with the info they need.
The digital assistant is also able to initiate a conversation with the user with new insights and recommendations for next actions. After the meeting, sellers can use the conversational interface to record important notes, set follow up reminders, place a call, or send an email.
Intelligent Workspace
Intelligent Workspace creates "deal rooms" where the seller can coordinate with their customer (and other teams) using chat, voice, live meetings, document collaboration, and more. They even have an e-signature function to speed up approvals and close deals faster.
Imagine Google Docs, Slack, and Skype all in one place. It's a pretty nifty way to get things done without switching between emails, calls, and endless meetings. No wonder Tact.ai is already being used by companies like Cisco Systems, GE, and other Fortune 500 companies.
Voice in the future of work
Just when we thought it was a huge step to have Alexa help run the workplace, companies like Tacti.ai pop up. It goes to show that voice interfaces are being eagerly adopted in the enterprise and the voice-first innovations to help us do our jobs easier are just getting started.
If you're part of a startup hoping to round up some funding for your own voice tech idea, or an exec looking to use voice to streamline your company's workflow, there's no better place to be than VOICE summit this July. VC investors will be hunting for new opportunities and tech experts from all over the country will be giving keynotes and case studies about how voice is becoming a rising enterprise solution.
Don't miss the largest voice tech event of the year and get your ticket here! Remember to follow us on Twitter for the latest updates and voice-first news.