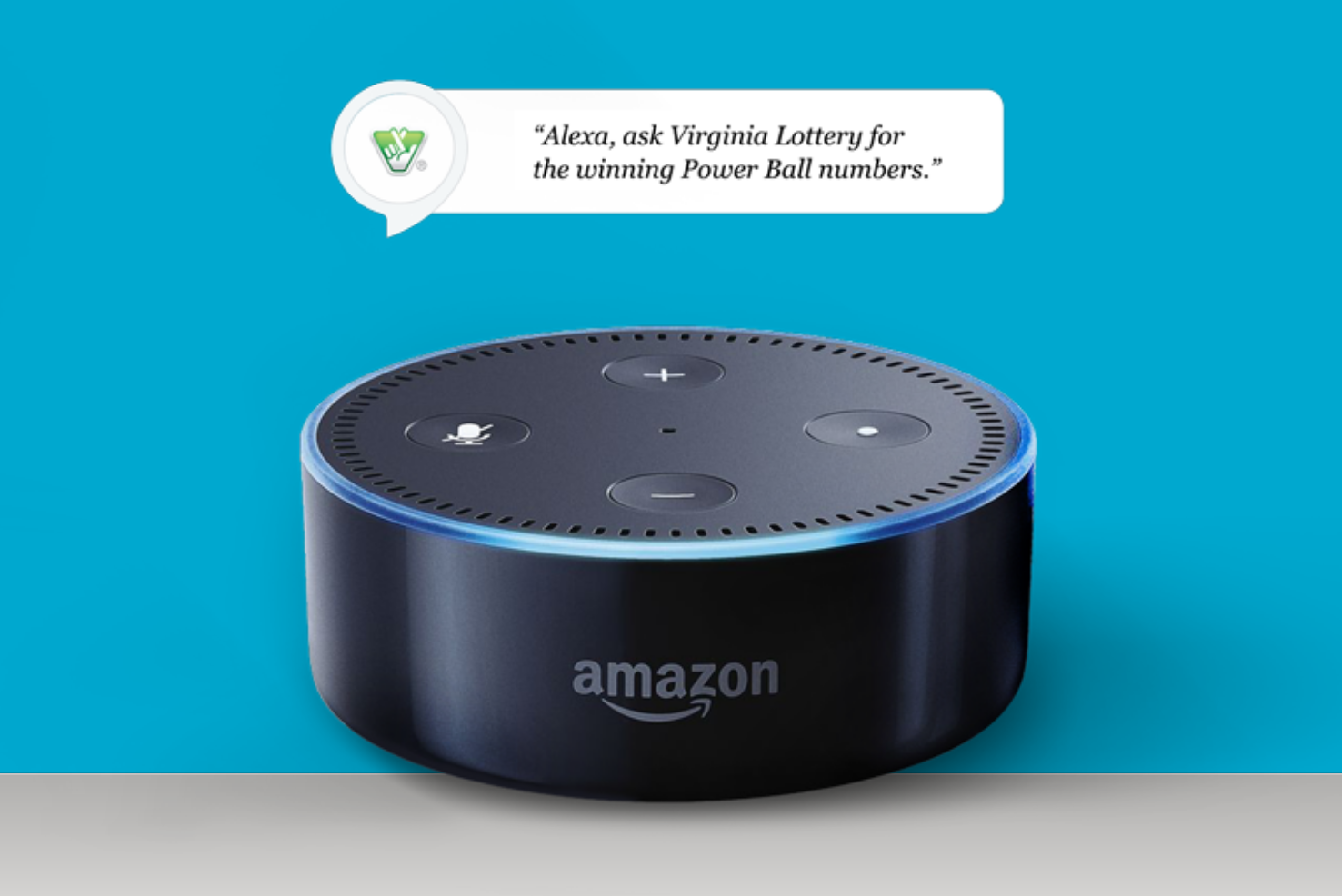 Image credit: COLAB
Have you ever wondered where the money you spent on that lottery ticket really goes?
For Virginia Lottery, some of that money is dedicated to supporting Virginia's K-12 public schools. Since 1999, over $606 million in profits have upgraded technology in schools, provided breakfast for thousands of children, driven various educational programs, and even plumped the teacher's retirement fund.
But to keep the support going, they need to maintain their connection with the people funding the cause with their lottery ticket purchases. The problem is that said people are no longer on the other side of the usual communication channels, like television, radio, and printed newspaper ads. Now they're at home, asking their smart speaker to play their favorite podcast or relay the latest news in a flash briefing.
Adapting to their customer's behavior, Virginia Lottery launched an Alexa skill to give players the information they want, on the smart devices they use.
Alexa, what are the winning numbers
In 2018, Virginia Lottery was approached by their long-time digital innovation partner, COLAB, with a comprehensive plan to build their presence on smart devices.
"It only makes sense for us to take full advantage of smart devices and make sure that we give players a way to interact with the Virginia Lottery in the most convenient way possible," said COLAB President Eddie O'Leary in an interview.
And so the pair began their voice-first adventure with the launch of a Virginia Lottery Alexa skill. With it, players can ask for the latest winning numbers, the current jackpot amount, the times and dates for the next big drawings, and what games are available.
"Alexa helps us empower our players by providing quick, easy access to drawing results and other consumer information." — Kevin Hall, Executive Director at Virginia Lottery.
While the COLAB team made sure to start off their Alexa skill with the basics, O'Leary hints at many more "exciting and innovative" features ahead as they continue to explore the boundless possibilities of the highly interactive and easily accessible technology that is Voice.
What will happen next
Being one of the first lotteries to use Alexa to provide information, it's particularly important for COLAB to ensure a pleasant user experience. In his interview, O'Leary describes the "extensive testing" that helped the team shape the conversation to feel natural for their customers. Although he adds that the job is far from finished.
"We have a very good start," he says in the interview, "but we are keeping close tabs on how the skill is being used. As we observe people interacting with Alexa, we will continue to refine the interaction."
COLAB's voice-first plan for Virginia Lottery, however, didn't stop at Alexa. While Amazon Echo is the most popular smart speaker at the moment, COLAB has long learned to stay ahead of the digital curve. Their cloud-based platform, which powered the Alexa skill, is also designed to support apps for Google Home, Siri, HomePod, and other smart speakers. COLAB also plans to add extra engaging content such as games that can be played through each virtual assistant.
Get a glimpse behind the scenes at VOICE
If you're curious about the full story behind the Alexa skill and how the new outreach strategy worked out, you can get every last detail this July 25th at VOICE Summit. Eddie O'Leary (COLAB) and Terri Rose (Virginia Lottery) will be on stage to describe the entire VA Lottery case study and will open to questions if you still want to know more.
Their session is on the very last day of the Summit, but you truly don't want to miss out on the first three days of invaluable workshops, exciting keynotes, and possibly once-in-a-lifetime networking. With just under two quick weeks to go, you're still in time to put your name on the guest list.