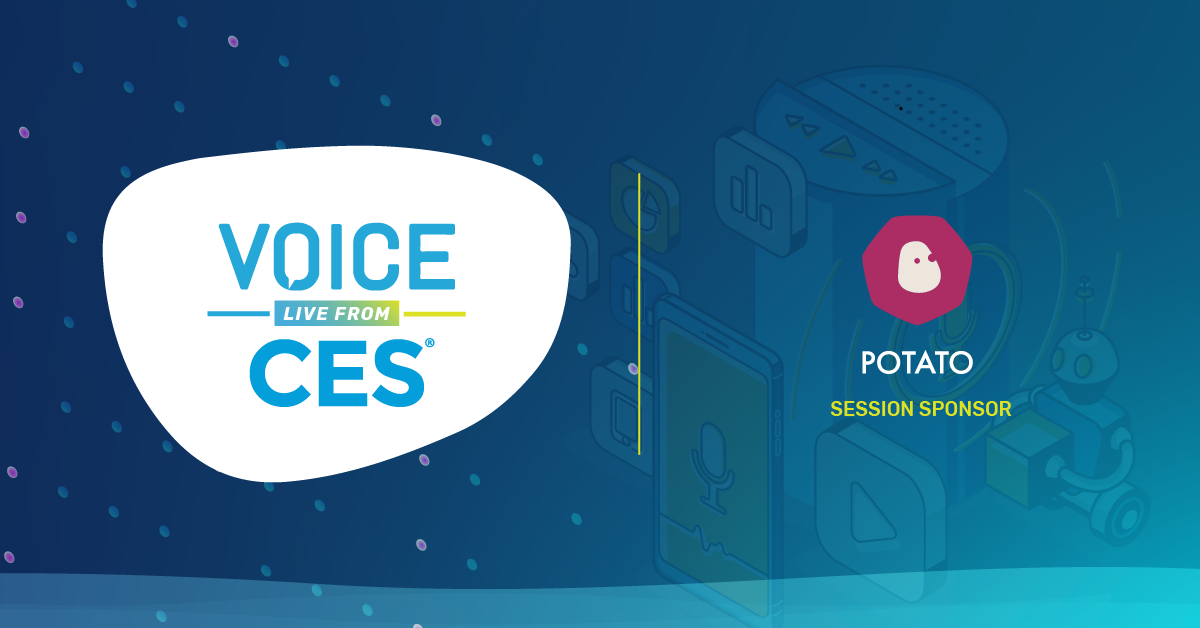 CES is coming up fast and we're very excited about what you'll see there. As you know, VOICE will be there to shower attendees with pioneering knowledge, voice-first opportunities, and the rare chance to mingle with world-leading experts in Voice.
With Google Assistant as our title sponsor at CES, we're proud to highlight another brilliant sponsor of ours: Potato.Potato is locked and ready to bring a wealth of brand-focused content to VOICE Live From CES with two high-value sessions and plenty of knowledgeable speakers. Here's what you need to know about them and which sessions to add to your CES calendar.


Why Potato
With their whimsical charm and endearing, spud-themed website, Potato is an exceptional agency dedicated to "design, develop and launch purposeful and effective digital products." Luckily for us, these products include voice-first experiences.
The Potato team are a creative bunch with a keen eye for lean development and a knack for delivering products that users consistently love. Their brand is colorful, approachable, and delightfully unique. With all that in mind, we can think of no better agency to sponsor sessions focused on driving brand experience and loyalty in the voice-first world.
This is a team that jumps on the chance to tinker with new tech and figure out the most useful and user-friendly applications for it. Their progressive approach to every aspect of product design and development makes them a significant source of wisdom at CES, and we couldn't be prouder to have them with us.
Want to see what this tubular agency has in store for you at CES? (Tubular because...potatoes are tubers and it's also slang for—never mind.) Here are the spud-sponsored sessions you really should add to your calendar.


Sessions sponsored by Potato
Improving Brand Experience and Loyalty with Voice: Keynote
There's no denying that Potato knows how to make a brand stand out—and on January 8th they'll be offering a peek into their tried-and-true strategies. Product Design Director, Nicolás Carey, will be taking the stage to share his note-worthy tips and recommendations to help brands leave their own memorable mark in the voice-first space.


Improving Brand Experience and Loyalty with Voice: Guest Presentation
You know what other brand knows exactly what it's doing? Disney. It has made an indelible mark in the memory of generations around the world, and their parks are the wish-come-true of kids and adults alike. Thanks to Potato, Asra Rasheed—Director/Executive Producer of Digital Experiences @ Disney Parks, Experiences, & Products—will be giving a presentation on everything a brand needs to know. And honestly, who doesn't want to get hot tips on brand-building from Disney.


Improving Brand Experience and Loyalty with Voice: Panel Discussion
To equip brands with yet another layer of knowledge, Potato has peeled a handful of pros from their day jobs to join a bubbling panel focused on brand experiences. Nicolás will be joined by Andrew Hill from Mercedes-Benz, along with two other surprise guests to discuss brand-focused strategies from every angle. They'll be covering everything from UX to marketing, so it'll do you good to lend an attentive ear.


Join us and Potato at CES
We can think of nothing better to kick off the new decade than to have you with us at VOICE Live From CES. Potato and their sessions alone are worth the ticket, not to mention the hours of knowledge, networking and entertainment you'll have at your fingertips. And yes, there will be a closing party (and possibly an after-party).
The point is: if you're a brand with the 2020 resolution to make it big in Voice, then consider this your starting point. Don't miss out on this unique opportunity to get your brand ahead of the curve in 2020. Get your pass today!
Can't make it still want to join in? Livestream VOICE Live From CES.