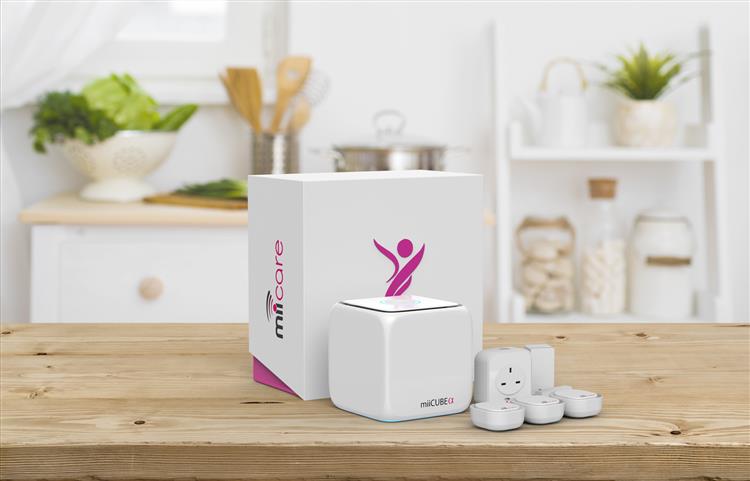 Photo credit: miiCARE

"One evening, my grandma fell and broke her hip. She was lying on a cold floor in sheer agony from 7 pm until 7 am the next day...and we just didn't know about it."
This is what pushed Kelvin Summoogum to leave his job as a digital advisor and become the tech entrepreneur behind miiCARE – a London-based startup focused on senior healthcare.
When his grandmother died three years after her fall, Summoogum began working closely with practitioners, carers, and seniors to develop the miiCUBE – a virtual assistant that monitors a person's behavior and sends alerts when something is out of the ordinary.
The goal? To give seniors the freedom to live at home alone without compromising their health and safety or worrying their loved ones.
The aging problem
There are over four million people over the age of 65 living alone across the UK. The problem is that the large majority of these elderly folk aren't in the best of health. They have medications, shaky joints, poor hearing, limited mobility – you name it.
Placing them in a nursing home would seemingly resolve the issue. They'd be under constant supervision and their loved ones would be alerted if anything were to happen. Except most elderly people don't want to move into a nursing home.
In fact, only 3% of UK's 12.7m elderly would willingly live anywhere other than their own home. But leaving them to their own devices makes caring for them difficult. You could be at work or grocery shopping with that flickering flame of worry – what if they fall or skip their medication? What if they lock themselves out or forget to turn the kitchen stove off?
So far, technology has been cropping up with all kinds of solutions for the aging population who refuse to be stuck in an old folks' home. But while there are various efforts underway to adjust Amazon Echo for the elderly, the fact is that the Echo simply wasn't designed for this particular user group.
"A lot of people don't realise how many of the four million over 65s in the country living alone don't have the internet or smart phones," says Summoogum in an article. "What future users keep telling us is we need to make technology adapt to them and not the other way round."
How miiCUBe can help
According to the miiCARE website, "miiCUBE helps older people to be safe, healthy and in touch with their friends, families and caregivers."
After two years of research, the miiCUBE was developed specifically to keep seniors in good health, whether they have a chronic condition or just want to be at home in peace.
Dubbed the "Amazon Echo for the elderly," the miiCUBE is a virtual assistant that goes beyond reminders and controlling smart homes. Using tiny wireless sensors, wearables, and machine learning, the miiCUBE monitors a person's health and daily routine so if something out of the ordinary happens – it can alert the right people for help.
How miiCUBE works
miiCUBE comes with various devices you can stick around the house, like on the walls or doors. The cube then connects to these sensors and uses AI and ML to become aware of its environment and learn their owner's daily routine.
If miiCUBE detects something abnormal, like they didn't get up from bed that morning, left the oven on for hours, or didn't make it home on time – miiCUBE sends out a notification to whomever needs to know. If the situation is dire then an appropriate response team will be sent to help.
It also connects to an app for loved ones to quickly check whether grandpa has taken their medication or gone out for a walk yet.
Sound useful? There's more. Here's a quick list of miiCUBE's other features:
Digital assistance for reminders, online shopping, news briefing, music, and more.
Instant connection to a 24/7 telecare center for urgent requests.
Connects with home devices like doorbells, ovens, cameras, etc.
Predictive analytics are shared with caregivers as a heads up to potential health issues.
Logs the comings and goings of the caregiver to give loved ones peace of mind.
Connects to optional wearables to monitor physical activities and vitals – such as blood pressure and glucose levels.
To top it all off, the miiCUBE has its own internet connection and backup power pack, so if the Wi-Fi drops or the power fizzles out, the owner won't be left alone or vulnerable. Plus, it charges magnetically, which means no tangled cords that can be easily tripped over.
Where to get one
Currently, the miiCUBE is still in the midst of a crowdfunding campaign. Since October 2018, they've been steadily surpassing their goal of £250,000 (around $320,000) thanks to the support of 300 investors. As a result, Summoogum and his team are now pushing for the official product launch in May 2019.
According to BusinessCloud, the company is confident the miiCUBE will be a slam dunk in the UK and is already gearing up to enter the US market.
If you're interested, you can pre-order a miiCUBE on their website and choose between three different subscription plans. Their premium plan includes additional telehealth devices like a wireless blood pressure monitor and a smart bracelet.
With miiCUBE already inching into the mainstream market, it's comforting to know that AI will soon be offering our aging relatives a safe and independent lifestyle, while providing the rest of us with a much-needed peace of mind.
Want to know more about AI and stay in the loop for (the slowly approaching) VOICE Summit 2019? Follow us on Twitter for voice-first news and updates!