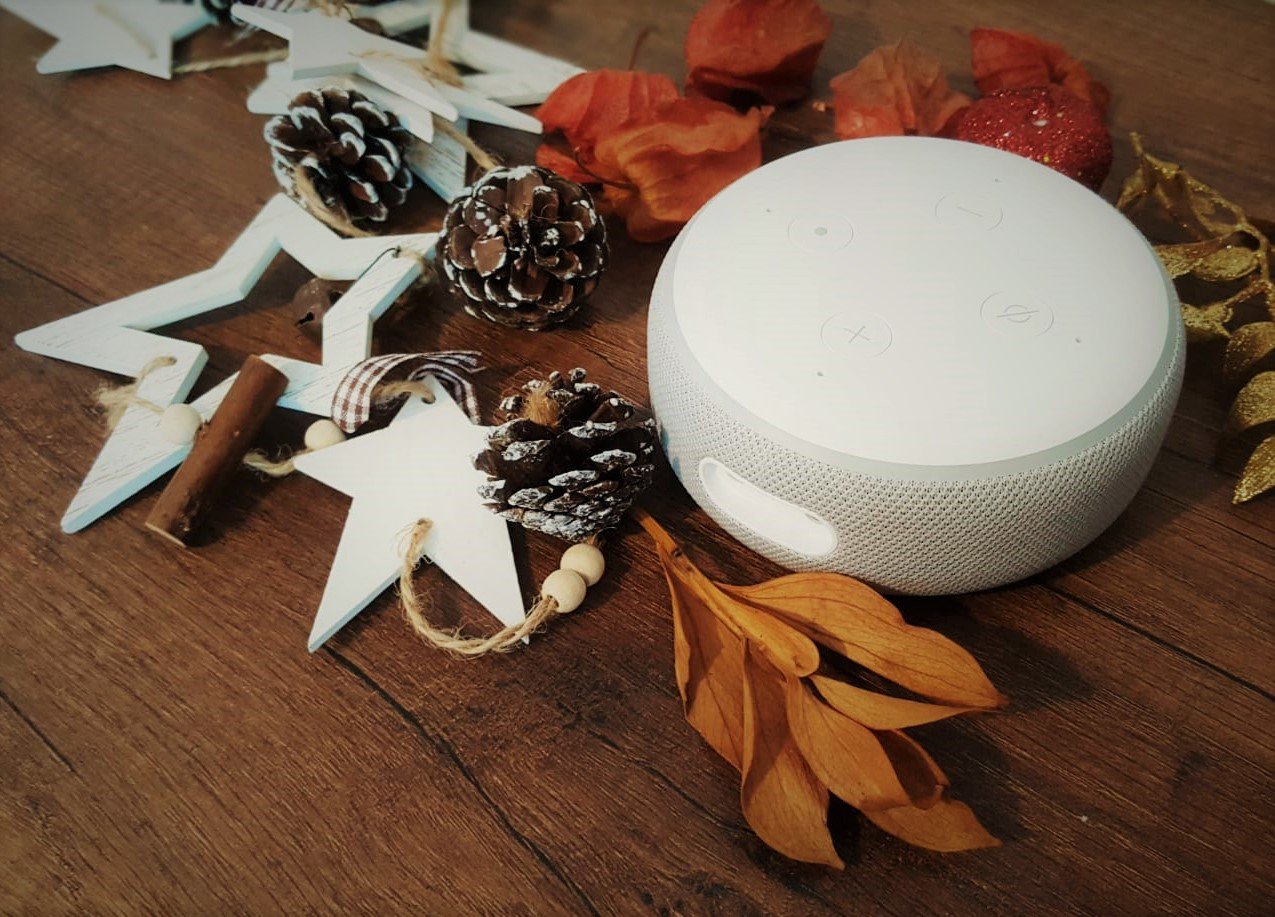 Credit: Viviana Medeiros/VOICE
'Tis the season for celebration, family-time, and...turning on your festive lights with Alexa.
From Christmas to Kwanzaa, Voice is revving everyone up for the winter season with a cozy collection of festive skills and actions. We set out to find the most fun and interesting ones from Amazon Alexa and Google Home so you can switch on your festive mood with Voice.
Christmas
Play Christmas ambient sounds
What better to complement gift-wrapping and decorating than Christmas sounds. The appropriately named Christmas Sounds Alexa skill is here to spark your festive spirit and set a warm, nostalgic ambience. Some reviewers have already nestled their Alexa under their Christmas tree to bring home the sounds of gently ringing bells, crackling fireplaces, and ornamental melodies. It definitely sounds like a recipe for that "instant Christmas feeling."
Control your Christmas lights
One of the most popular uses for voice devices this season is controlling the (likely excessive) array of lights brightening up your home inside and out. Gone are the seasons of only remembering to turn off your Christmas tree once you're already in bed. Now, all you need to do is plug your lights into a smart plug compatible with Alexa or Google Home, and yell say "Alexa/Hey Google, turn on the Christmas lights."
Send virtual Christmas cards
In some families, sending Christmas cards is as important as the day itself. With Voice, you can forget about buying mega-packs of cards or even sending them overseas. Just go into Alexa Skill Blueprints and use the Hallmark Holiday Greeting option to create your own Christmas message. You can share your message with any family members who have an Amazon Alexa. (Note that they have to activate the skill to hear your greeting.) You can get the full tutorial here.
Get Christmassy acts of kindness
While generosity should be all-year-round, Christmas time is an especially popular time to give to others. With the Christmas Kindness Alexa skill, you can ask for small but significant suggestions to brighten up someone's day. Little things like letting someone go in front of you in the checkout line, or offering a hot drink to someone sleeping rough. Every kindness counts.
Track Santa
This is a great one to keep the kids entertained on the days leading up to Christmas. If you have a Google Home, check the Santa Tracker action. If you have an Echo, enable the Santa Tracker Alexa skill. Both of these fun Voice apps will tell you what Santa is doing and his worldly whereabouts. He could be in the workshop with his elves, or in Costa Rica delivering gifts. You'll just have to ask to find out.
Hanukkah
Spin the Dreidel
This traditional game that (for non-jewish readers) can be loosely described as a mix between a roulette and a potluck. The idea is you place goodies (or "gelt") in a pot and spin a four-sided spinning top. Each side has a symbol that dictates whether you take goodies from the pot or not (and how much).
Anyway, back to the skill.
Spin the Dreidel and The Dreidel Song and Game are two Alexa skills that will keep you entertained this Hanukkah with a virtual dreidel. Give them a try and let us know how you liked them!
Learn Hanukkah facts
If Hanukkah isn't your typical holiday or you just want to learn more about it, try the Hanukkah Facts Alexa skill for more than 100 selected tidbits about the Festival of Lights. You can hear about the real meaning of Hanukkah, its traditions, what foods to eat, and even hear snippets of festive music. If you're curious about Hanukkah, then this is the skill you need.
Play Hanukkah trivia
What better to pit the family against each other than playing a competitive game on Alexa? The Hanukkah Trivia skill tests how much you really know about this Jewish holiday. (Maybe play it after binging the Hanukkah facts skill though.)
We didn't find any Google Actions about Hanukkah, but if you find (or create) one, let us know in the comments.
Kwanzaa
Play Kwanzaa quiz
If you're celebrating this African seven-day celebration of life, try out your knowledge with this Kwanzaa Kwiz Alexa skill. The skill creator describes it as "a way to clear up misconceptions about Kwanzaa and set the record straight." If you're celebrating with new family or friends, then this skill is a fun way to introduce them to it.
Learn Kwanzaa trivia
The Kwanzaa Facts Alexa skill is another great way to explore this holiday with friends and family who may have never really asked about it before. You can all learn things like what "Kwanzaa" means in Swahili, how to celebrate it, and what the holiday means for people of African descent around the world.


Winter Holiday Facts
Clearly, Voice devices aren't exactly rolling in apps for holidays other than Christmas. So, the Winter Holiday Facts Alexa skill is a good catch-all for those holidays around the world that you may not know about.
The skill is simple enough to use. Just ask Alexa to open it and ask for a "winter holiday fact" to hear an interesting tidbit or two. You can also ask for a fact about a particular winter holiday, like Kwanzaa or Ōmisoka. It's certainly a good skill for the little ones to explore the traditions their friends and classmates may be celebrating this December.
Want to learn more about Voice and how to create Voice skills and actions? Join us at any of our upcoming VOICE events for expert advice, tutorials, and direct access to industry-leading figures.