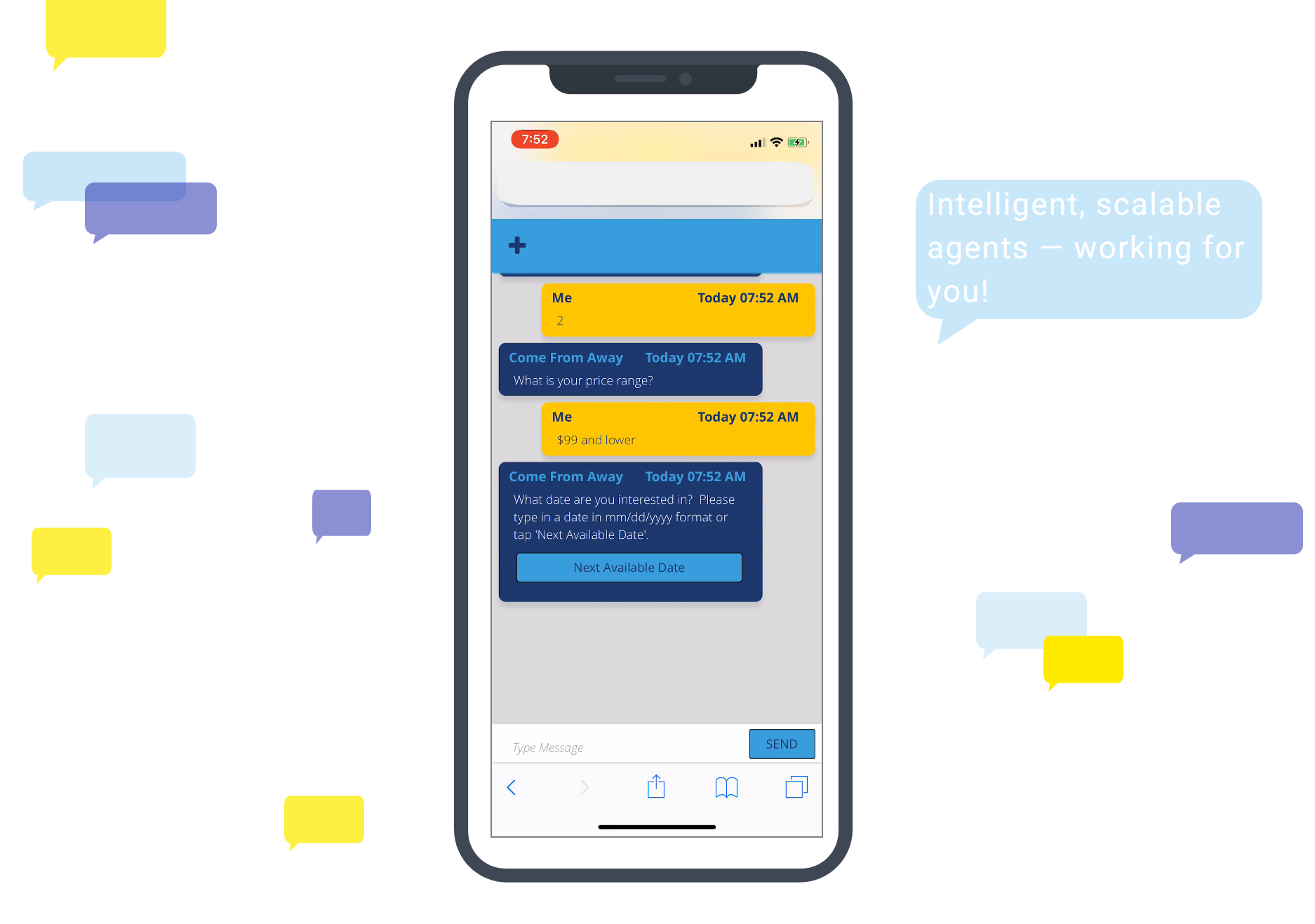 In the mood to go to the theater? Time to check BroadwAI. Yes, we spelled that right.
Broadw.ai is a multi-platform virtual assistant that theater-goers can ask anything from tickets and parking fees to advice on where to eat after the show. Using AI and ML to get smarter with every conversation, this show-savvy bot makes you feel like you're speaking to someone at the box office window.
Re-defining ticketing
Using a bot to buy a ticket may just seem like AI showing off at this point. You can always buy tickets off a website or app, but it's when you have specific questions—like what happens if you arrive late or where can you leave a stroller—that having someone to ask comes in handy. You could try digging around online, calling, waiting, then waiting again for an employee to check and get back to you—or you could simply ask the chatbot that already has all the answers.
"Our goal is to provide the simplest, quickest way to purchase tickets," said co-founder and CEO of BroadwAI, Micah Hollingworth, in an interview. "As consumers grow more familiar with the technology (for live events and especially retail) they will come to expect that a digital concierge or smart assistant will be available to them wherever they are online."
Hollingworth and fellow BroadwAI founder, Jon Scott, were already brainstorming an engagement app for live events when the idea for a virtual ticketing agent sparked. The problem was that the pair's specialty was in sales and marketing, not AI and ML. So they linked arms with Satisfi Labs—a conversational AI platform for retailers, sports venues, and live events. (You may recognize them from an earlier post on how their platform let fans ask a chatbot for help at sports venues.)
And so the team began working on a Digital Ticketing Assistant platform that brands can embed in channels like their website and Facebook page. BroadwAI is even available for helping users via SMS while at the live event.
"With this new platform, the moment somebody decides to purchase a ticket, the conversational platform is there to assist guests with all of their needs, even after the show has come to an end," said Hollingworth in a press release.

Expanding into Voice
By late 2018, the BroadwAI was up and ready to chat, selling tickets and serving information for Anastasia from the Broadhurst Theatre and Come From Away from the Gerald Schoenfeld Theatre. With the help of his long-standing relationships in the industry, Hollingwood soon added more iconic shows to the menu like Wicked and Phantom of the Opera.
Phantom of the Opera in particular is one we're really interested in, largely because it recently moved from the screen into our favorite smart speaker.
"Imagine someone is watching TV and a Phantom of the Opera commercial comes on. A message says, 'If you're interested in tickets for this special offer, ask Alexa.'" Hollingworth told SpeechMag. "You could talk to your Alexa-powered device, complete the purchase, and ask any remaining questions without ever opening a web browser."
We would love to tell you all about the BroadwAI Alexa Skill, but we'll let Hollingworth give you the details himself at VOICE Summit this July. The BroawAI co-founder will be on stage next to Satisfi Labs CEO, Don White, to take you through their experience building the Alexa skill during their talk "Alexa, I want Broadway tickets."

Join us and 5,000+ excited people at VOICE for four full days of fun, networking, and brilliant innovations. We don't have a chatbot for you to get tickets just yet, but we do have this nifty button.