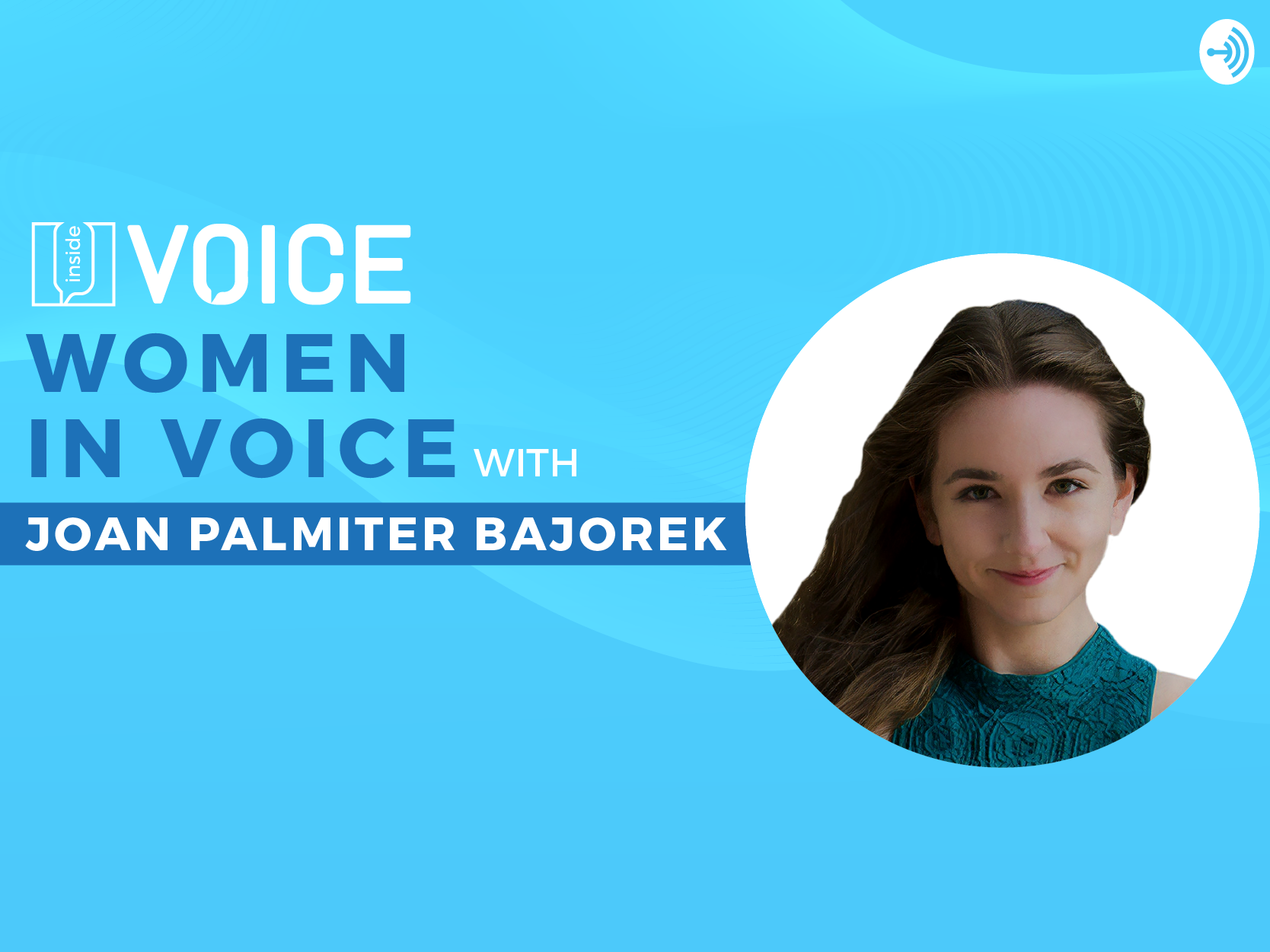 In another written rendition of our top Inside VOICE podcasts, this time we're taking on Episode 49 with the founder of Women in Voice: Joan Palmiter Bajorek.
If you caught our last post detailing Episode 57 on improving the audio user experience in Voice, you'll know that you're in for an exciting breakdown of Joan's episode with all her key points and quotes included.
Aside from create an incredible community for women in the voice-first industry, Joan has also made a name for herself as a Linguist, UX Researcher, and Conversational Designer. In the podcast, she shares her personal journey from the arts into technology, how being a creative gives her a "superpower" as a conversational designer, and what nudged her to create Women in Voice. If you're a creative in tech (or hoping to transition into tech), you'll want to read this.
A creative beginning
Before her emergence as an iconic figure in Voice, Joan was your regular art buff. She loved everything about it—from languages and culture to photography and graphic design. Her passion for the arts sparked with French class in middle school, fueling her through two bachelor degrees (photography, graphic design), and a master's degree in linguistics.
So why leave? Well, for the same reason most creatives do: it doesn't always pay the bills.
"It's a pretty volatile work environment," Joan explained. While creating the work and presenting in galleries was exciting, it was difficult to nail a stable income. So that's where speech technology stepped into the spotlight.
"What's really great about the voice space is you can be creative, and also pay the bills!"
Bringing the arts into Voice
Leaving the creative field didn't mean leaving her creativity behind. As a conversational designer, Joan is constantly dipping into her expertise as a linguist to create smooth user experiences.
To clarify any fuzzy definitions, linguistics is the "scientific study of language." It delves into the grammar, syntax, and phonetics of languages—basically analyzing the structure of human communication. If you think about it, linguistics and voice design are very closely entwined.
"When I was working with a developer the other day, we were talking about how you can write a script for a device to ask the user 'what are you looking for today?,' but the process of crafting the right language, editing and revising it to create a wonderful user experience—that's the creative part I think linguists can understand better."
The rise of creatives in Voice
The narrative that you have to be a software engineer to belong in the tech space is changing fast. Joan notes that professionals from creative backgrounds are pouring into the voice-first space and bringing with them a whole new dimension of knowledge and novel approaches to problem-solving.
Case in point: Kat Zdan, one of the conversational designers behind the popular Westworld Alexa skill worked as an actor before entering the tech industry. While working with HBO to create the Alexa skill, she quickly realized that her experience writing scripts translated beautifully into writing user conversations, and her knack for creating characters helped her build personas.
"I was shocked at how much of my background in the theater was 1:1 comparable to what I do now," said Kat in an interview with James Poulter.
The truth is that creativity is essential for creating enjoyable user experiences, so whatever your skills or background, your knowledge is needed in the voice-first space.
On starting Women in Voice
After entering tech, Joan came to the unfortunate realization that women were absent from most panels and conferences. Although, after attending VOICE Summit, she discovered that she wasn't alone in this space and women were just being grossly ignored in their achievements.
So, determined to make a change, Joan decided to launch Women in Voice. She wrote the mission statement, created a Twitter profile, and pulled up a quick website. To her surprise, it skyrocketed.
Only after one year, Women in Voice has exploded across the globe and is now recognized by dozens of leading tech organizations. "The response has been so resoundingly positive! It still makes my day when I get messages from men asking if they're allowed to be part of it," she says with a note of amusement in her voice.
Joan goes on to reinforce the importance of inclusivity by highlighting the revolutionary role of voice technology in our future. "If Voice is really going to be as ubiquitous as we think it will be," she says, "I think women and everyone should take part in designing and developing the future of how we interact with computers."
Plus, after encountering streams of fans at the most recent VOICE Summit, Joan is more excited than ever to continue expanding Women in Voice and creating a welcoming environment for all genders in the voice-first industry.
"I can't wait to see how we build the future together."
We're right there with you, Joan.

Go beyond the podcast
If you want to know more about Joan, you can connect with her on LinkedIn and check out Women in Voice for their Slack group and upcoming newsletters. You can also get a better sense of Joan's genuine passion for her work by listening to her full podcast episode here. While you're there, feel free to peruse the rest of our value-packed episodes and let us know your favorites!
If you want to "go beyond the podcast" and meet with all these Voice guests in person, sign up for VOICE2020 and set yourself up for a brilliant event filled with industry leaders and hands-on workshops. It's just too good to miss.