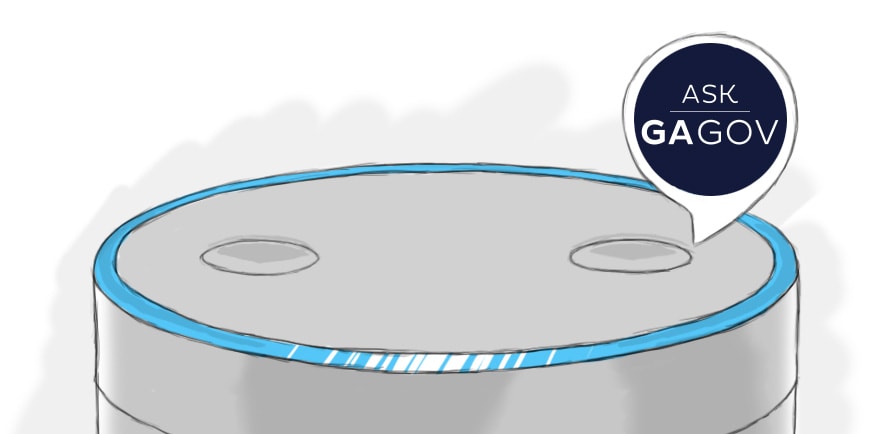 Image credit: GeorgiaGov
"Alexa, how do I apply for a fishing license in Georgia?"
Carl is a senior citizen who has spent the last hour trying to get through to the Georgia Department of Natural Resources so he can find out what documents he needs to apply for a local fishing license. After being put on hold yet again, he scoffs and hangs up.
Typical government, always a hassle to get any information. If his eyesight were better he'd try his luck browsing online. But using a smartphone is hard enough, even with a magnified screen. Carl sighs in resignation and looks around the room, as if looking for someone who can share his frustration. His eyes fixate on the dining room and he suddenly remembers that his daughter gave him one of those Alexa things for his birthday. She showed him how to use it for online searches, but hell, that was months ago.
Carl decides to speed dial his daughter instead and explain his situation to her to see what she can do. After hearing his plight, she chuckles and says she added a skill on the Echo called "Ask GeorgiaGov" which he can use to get all sorts of government information. All he has to do is ask.
Carl hesitates before finally asking her how to activate the darn thing. She gives him the Alexa 101, and leaves him to it. Carl mutters and clutches his phone as he hobbles over to the dusty Echo sitting quietly on the coffee table. He peers at it with bleary eyes and slowly bends down until his face is just inches away from the device.
"A-Alexa?"
The Echo takes a moment before lighting up to show it's listening. Carl clears his throat and hopes he's asking this correctly,
"Alexa, Ask…GeorgiaGov."
He listens intently as a pleasant female voice welcomes him to the Ask GeorgiaGov skill and encourages him to ask a question. Carl forgets everything his daughter told him and simply says,
"I-I want a fishing license."
To his surprise, the voice replies, "Is this helpful: How to apply for a fishing license?" Carl shuffles around for a nearby paper and pen while saying, "Yes yes, that's it." The Echo lights up again as the same voice coolly explains the types of fishing licenses available and how to apply for them. Carl slowly asks another question, and then another. This isn't so hard after all. Finally, he's written down everything he needs and even managed to get the phone number of a representative who can help him. Alexa isn't half bad.
"Thank you, Alexa. Goodbye now."
Why 'Ask GeorgiaGov' was created
People like Carl are all over the United States. Citizens have questions about state government services and no straight-forward way to find the answer. They can scour the internet, spend a lifetime on the phone, or get into virtual battles with State websites. Moreover, none of these are viable options when disabilities are part of the equation.
The Digital Services Georgia division knew this all too well and in 2017 they partnered with Acquia Labs to create the Ask GeorgiaGov Alexa Skill – the first skill for Georgians. The goal was to provide an accessible solution for their citizens to get accurate and up-to-date information using the voice devices that just about everyone has in their homes. Goodbye long-winded phone calls and frustrating websites.
Behind the scenes, the Alexa skill integrates content on the Georgia.gov website (run on Drupal) with a conversational interface that anyone can use. The story of how Ask GeorgiaGov came to be is actually pretty fascinating and has plenty of "wow, that actually happened" moments.
You can hear all about it at VOICE where Nikhil Deshpande (Chief Digital Officer, State of Georgia) and Preston So (Director of Research and Innovation, Acquia) will be going into how the skill integrates with Drupal, what they did to make web content conversational, and the interesting ways skills like these can connect citizens with their governments. Get your ticket to VOICE here! (Or at least follow us on Twitter to stay in the voice-first loop.)