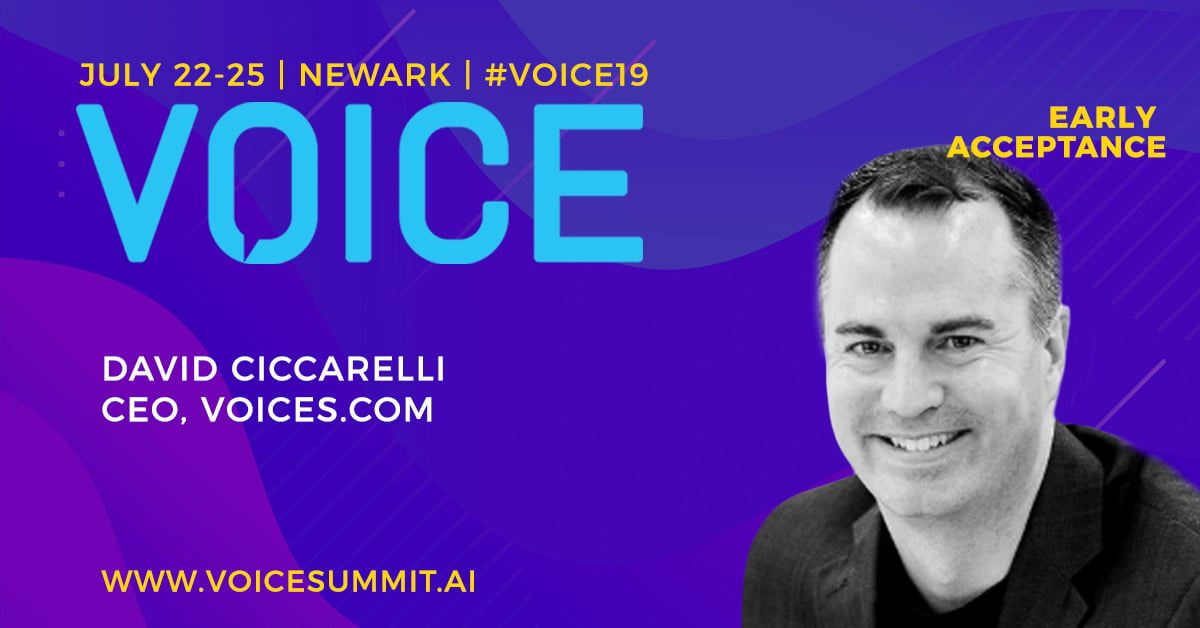 With VOICE soon to brighten Newark with excited guests and flashing stage lights, we're digging into our fantastic collection of speakers so you know which must-see talks to pencil into your schedule.
One such speaker is David Ciccarelli, Co-Founder and CEO of Voices.com—the leading voice over company (and a gracious Platinum sponsor for the Summit!).
From advertisements and training videos to voice applications for smart speakers, Voices.com is the world's largest marketplace for voice products and also the best source for what's happening in the voice-first market.
Happily enough, we managed to lasso in David Ciccarelli himself for a quick interview on the latest trends in this bubbling industry, why brands should use human voices for their AI applications, and what you can expect to learn at his upcoming talk.
But first, let's give you some context and take a quick dip into what Voices.com is all about.
About Voices.com
From small businesses to Fortune 500 companies, Voices.com is widely relied on as the bridge between businesses and professional voice talent. Their pioneering platform handles the entire project cycle from finding the right voice to making sure the person behind it gets paid.
According to their About page, this entire award-winning service started out as a small voice-recording studio in London, Ontario. With a newspaper article touting their services, David—and the sole voice talent he had at the time—began recording commercials for local businesses.
Seeing the potential of voice-overs, the duo decided to put up a website to usher in more clients. Soon after, people from around the world began approaching David asking to be added as another voice talent on his website.
Today, David's hard-earned company has more than 500,000 registered users and serves over 160 countries. Thanks to that one newspaper article back in the day, Voices.com is now the industry-leading website for hiring voice talent and flaunts big-name clients including Microsoft, Netflix, and Hulu. (We're definitely impressed.)
David Ciccarelli on voice-first trends
Now for the good part. Here's what David had to say when asked to give a peek on what his company has observed in the voice-first market so far.
1. Have you noticed an upward trend in brands seeking Voices.com's services for AI-driven applications? (Voice assistants, bots, etc.)
We've definitely been aware of increasing demand for voice when it comes to emerging tech, including AI applications. The market is demanding voice applications that can bring a brand's voice, literally, to life.
We're seeing some of the world's largest, and most respected companies, such as MasterCard, move to sonic rebrands. These monumental moves have caused ripples in the world of marketing and advertising, and are causing brands to take an even deeper look at how they're using sound, and specifically voice, to engage with their audiences.
2. From experience, which industries would you say are the most active in the current Voice market?
The eLearning industry is proliferating on-demand with voice-rich content helping to guide the learner's journey. We're also seeing incredible innovation in the health care space, where electronic health records are becoming voice enabled, and patient care is expanding into the home thanks to voice-activated devices like Amazon Alexa.
The list goes on and on. The growth has been staggering and the number of applications for voice are limitless. It's a really exciting time to be in our industry.
3. Your talk at the Summit touches on the importance of brand voice. For businesses just joining the Voice trend, what value does casting a human voice bring to the user's experience with their brand?
Incredible value. A human voice is what we were made to connect with. There is nothing more powerful or moving, than receiving a message this way. We're able to pick up on all of the richness of tone, inflection, and emotion, all of which add extra layers, and weight to what a brand is attempting to convey.
I believe there's a time and a place for human voice, and it's alternative - the custom text-to-speech, or 'synthetic/AI' voice as well. When it comes to synthetic /AI voices, I believe that amazing strides have been made and we're now closer to convincing, human-like voices than ever before.
However, we're not quite there yet.
4. Not to spoil your talk, but as a taster can you give us a quick tip on when to go for an AI voice or a human voice?
Each one has their pros and cons in various scenarios. For instance, custom text-to-speech voices can be incredibly useful for informational content that is urgent - like changes in flight times, or weather alerts, etc. Meanwhile, human voices are still king at conveying emotion and forming a connection with an audience, such as in an advertisement, film, or more.
Plus, don't forget that human voices are still the backbone of synthetic/AI voice, and a human voice over is required in order to create these versatile voice files. So, no matter which stream you opt for, you're going to get the best end product, as a brand, when you start with the right human voice.


Learn to integrate Voice in your brand and business
Like a bee in a new garden, David has been busy gathering insights from everyone in the industry—CEOs, marketers, voice developers, and anyone in between—and will pass on everything he learned at the Summit. From how voice apps can help you achieve business goals to...you know what, we'll let David tell you himself.
"I plan to share insights that we've gathered from within our business, as well as external research, which will illuminate emerging trends in how voice is being used in new and exciting ways. I'm also going to explore the importance of brand voice, and how you can ensure that your brand's sonic qualities are helping to enhance your business."
David promises that you'll walk away from his talk feeling inspired and equipped to jump into your own action plan for integrating Voice within your business. So if you're hoping to connect with your audience in an increasingly audio-driven world and only have time for one talk at the Summit—this should be it.
If you're eager to delve further into future trends in voice (and want to be savvy on the subject before the Summit), you'll love this 2019 report on Future Trends in Marketing and Voice Over. (You can also use it as a conversation starter with David.)
For those of you considering attending the Summit, David neatly summed up the sentiment driving over 5000 like-minded people to the event in saying,
"We're seeing a new audio rich world unfold and it's changing the way we live, work, and connect in ways that humanity couldn't have anticipated - and the emerging trends are fascinating. It's a really exciting time to be in our industry, and truly, to be alive."
We couldn't agree more, David.
Secure your ticket to VOICE and join us as we explore exhibits, keynotes, and trends at the cutting edge of the voice-first era. See you there.