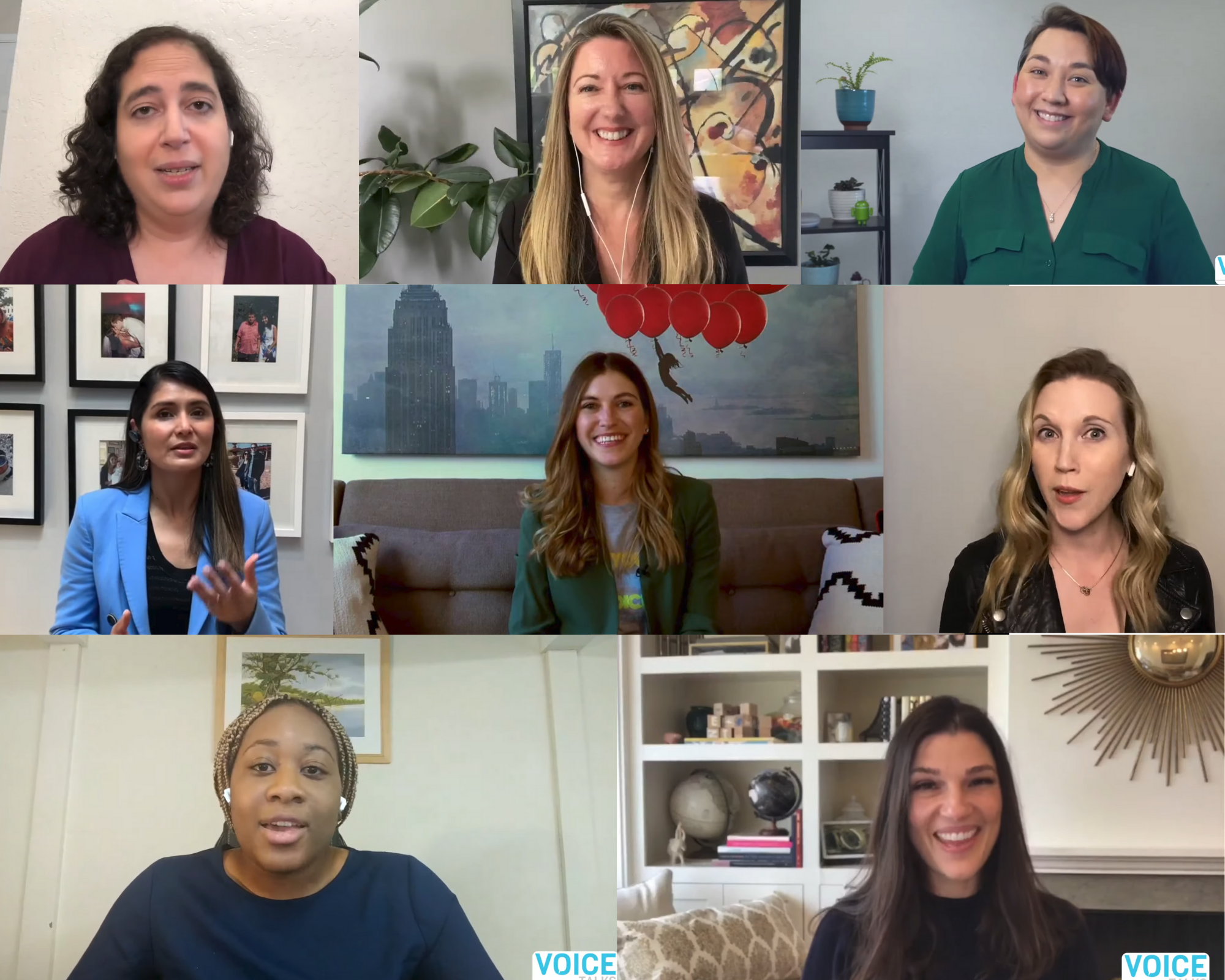 The second episode of VOICE Talks graced thousands of screens around the world on Tuesday, May 26th, to share the magic of building voice assistants. With a focus on how women, in particular, are leading in the field, this episode featured an entire line up of fantastic developers, directors, and engineers who are not only changing the face of tech, but also helping other women to do the same.
If you missed this second serving of brilliant insights and exciting announcements, you can watch the 1.5hr recording here or read on for the main takeaways.


Insights from industry leaders
After another warm welcome from VOICE Talks host, Sofia Altuna, she eased everyone into the topic we're all talking about: COVID-19.
"Voice tech is poised to be part of the solutions that shape our new normal and what makes our lives easier and safer," she began, "so it´s important we learn from each other, get creative, and build great voice experiences together."
In the spirit of learning from each other, here are a few highlights from each conversation in this exciting episode.


Lilian Rincon and Meryl Stone (Google Assistant)
Senior director of product, Lilian Rincon connected on-screen with head of consumer partnerships Meryl Stone to swap stories about how people are using Google Assistant in the midst of the global health crisis.
"We're looking at how habits and behaviors are changing and trying to respond with good product features," Lilian began. She went on to say that she personally taps into Headspace on her Google Assistant to help her meditate before bed—something that others seem to be doing more than ever during the pandemic.
Meryl agreed that consumers are building new habits and using Google Assistant to keep their families in check as well as maintain their work-life balance. The most popular uses include trivia games, news briefings, dance parties, group calling, and even language learning.
After some more back-and-forth, Lilian wrapped up their chat with the five key areas that Google Assistant is currently focusing on to make our lives easier at home: step-by-step recipes, entertainment, productivity, communication, and wellness.


Jessica Dene Earley-Cha (Google Assistant)
Jessica Dene Earley-Cha, a Google Assistant developer advocate, followed up with a focused talk on building interactive games.
She began by highlighting the evolution of smart speakers around the world and across different industries, supported by stats and graphs. She showed that 53% of smart speaker users spend their time asking it fun questions, while 20% use their device to play games. With millions of Google actions and billions of Google Assistants sitting in over 80 countries, it's a good idea to leverage these user preferences when designing your own interactive action.
Jessica also gave a few tips for the game-building viewers:
- Use the Interactive Canvas API for full animations and custom layouts and fonts.
- Lean on visuals and consider a specific viewing distance to optimize your display—like font sizes. (The minimum for primary text is 32pt, by the way!)
- When designing the voice, focus on building the personas, and how each character communicates. This helps people interact them through natural conversation rather than commands.
- Connect with the Google Action community on Twitter using #AoGDevs or get started with the Actions on Google documentation.


Sarah Andrew Wilson and Ilarna Nche (matchbox.io)
Chief content officer, Sarah Andrew Wilson, and software engineer, Ilarna Nche, kept the gaming conversation going with their own lessons on how best to build voice experiences.
Sarah started off by explaining there are small, daily games you can build (like Matchbox.io's Question of the Day) or long, immersive ones. The key in both cases is to start with the minimum viable product—the most essential features your game needs to work. Ilarna chimed in with the recommendation of bringing your gaming idea to voice devices from another platform, like mobile.
Sarah went on to describe the aspects you need to carefully design to make your game work, like the character, personality, and how they talk. Ilarna added that being culturally aware is equally important, like considering the differences between UK and US phrases.
They ended their segment with a final recommendation: capture data and use it to make decisions. Everything from what time of the day they use your game to what words they use to interact with it can help you tweak and improve.


Leslie Garcia-Amaya and Jossie Haines (Google Assistant, Tile)
Leslie Garcia-Amaya from Google Assistant's global partnerships initiative tied a bow on the episode in a chat with Tile's senior director for platform engineering, Jossie Haines.
Both are heavily involved in Women in Voice and find it incredibly important to mentor and inspire women so they can to forge their own path in the industry. Leslie revealed that 56% of women who have spent over a decade in tech end up leaving. While companies are getting better at hiring diverse teams, they're not too great at creating an environment where they can thrive.
Jossie noted that non-diverse teams lead to technology that doesn't work for diverse people. For example, voice assistants understand male voices better than female ones, and facial recognition struggles with darker skin tones.
"We need diverse teams to create the technology that allows a diverse world to thrive." —Jossie Haines.
Leslie then asked what women can do to stay in tech and what men can do to promote a fairer workplace. Jossie's recommendation for women is simply: fight for your place in tech. While we shouldn't have to, the only way to change the status quo is by actually being present and changing it from within.
As for the lovely men who share the belief that diverse teams make for better product experiences, Jossie asks them to "speak up" and challenge those who perpetuate negative biases—even when there aren't women or minorities in the room. No one has to be the perfect ally, but simply trying to be a better ally can make all the difference.


Giveaways and connecting the community
At the beginning of the episode, Sofia asked the community to use #AskSofia and tell her what new ways they're using voice since we've all been grounded. Responses ranged from asking Google about "Marvel's infinity stones" and "how often to water tomato plants" to keeping home-schooling schedules and adding items to their "ever-growing shopping lists."
Sofia also showed the top video submissions from productive bees spending the lockdown building new Google actions. The first video by Valentina Dami showed a Google Home sitting on a red box, announcing how it's helping students prepare for their upcoming exams and giving them career advice.
The second video was by Yoav Medan who shared how AmplioSpeech is using Google Assistant to give children with speech impairments a fun and interactive way of learning.
Both submissions earned a free Google-enabled device, so make sure to submit your best video of how you're using Google Assistant for a chance to win next time!


What's next?
With over 20,000 subscribers and counting, you can bet we have another exciting episode coming up. The third episode of VOICE Talks is set to air on June 23, 2020 at 2 PM (EST).
This third installment will feature another round of Google experts and industry leaders for more goodies on the latest innovations in voice tech. (Plus, we have even more Google devices waiting for new owners.)
Ready to join our content-packed monthly meet-ups? Register now for VOICE Talks and mark your calendar for June 23rd!