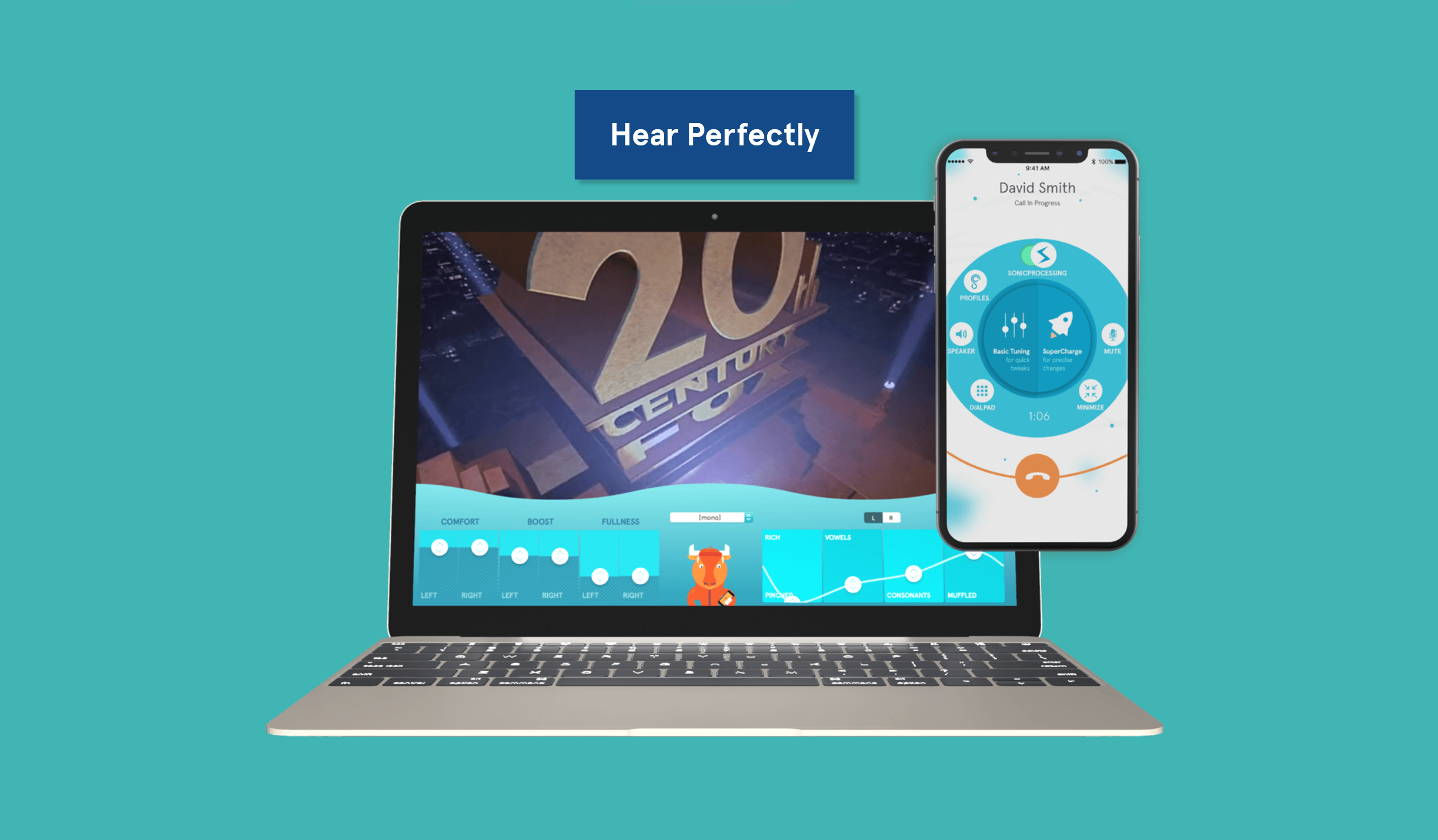 Credit: SonicCloud
"I listen to so much Beatles music, you can't imagine. But I'm now hearing some background vocals that I've never heard before—and I have really good speakers," said Dr. Robert Sweetow, PhD, a renowned Audiologist. "I'm hearing better, right now, on my phone than with my hearing aids," marveled Carl, a pilot who has trouble hearing numbers in the cockpit.
These are two people with severe hearing loss who tried out SonicCloud for the first time and, to their surprise, could actually hear with crystal clarity without their hearing aids.
Intrigued? Here's a glimpse into what this wonderful technology is all about. (We're really excited to tell you about this one.)
Making hearing accessible
SonicCloud is a Californian company that wants to make hearing technology accessible for people with moderate to profound hearing loss. Their pioneering team took the functionality of hearing aids and created an app that could do a better job. All it needs is a phone or a laptop, and a regular set of headphones.
Larry Guterman, co-founder of SonicCloud, came up with the idea while dealing with hearing loss for most of his adult life. The need for an easier hearing solution other than his fuzzy hearing aids became even more urgent during social events and phone calls, which Larry needed to do often as a busy film director.
So he partnered up with Silicon Valley engineer, Jon Lederman—who later became his fellow co-founder—and channeled his creativity to build an app that each person could calibrate to suit their individual hearing needs.
To create this patented, self-tuning tech, the SonicCloud team worked closely with leading researchers, Digital Signal Processing engineers, a board of expert audiology advisors, and countless focus groups.
The result: a beautifully-designed app that can be installed on a phone or laptop then adjusted to make any audio clearer; from phone calls to movies, music, and podcasts. If it's audio, SonicCloud lets you tune it to your hearing.
"SonicCloud is a game changer," said Jody Winzelberg, AuD, former Chief of Audiology at Stanford Children's Health, who worked closely with the team to develop the app. She added,
"This solution has the potential to make a big impact on the lives of people with hearing loss."
How it works
Using SonicCloud is pretty simple. All you need is a phone to install the SonicCloud app and a little patience to set things up. Here are three things you can do with this incredibly app (so far):
Create a hearing profile
The first thing you'll notice is a delightful interface with colorful animations and simple instructions. One of these instructions is to take a hearing assessment so you can customize how you listen.
This assessment involves tapping through various interactive screens to define the right volume for certain sounds and adjust specific letters until they sound perfectly clear. Once that's done, you'll have your very own default hearing profile. You can always customize it further or create multiple profiles to suit different situations—like phone calls or to stream your favorite band, (which leads us to our next point).
Stream media
Imagine watching Avengers but with the sound quality of a tin can, or barely hearing an audiobook narrated by Morgan Freeman. It's not very enjoyable to play any kind of content when you can't hear half of it properly.
With SonicCloud installed on your laptop, you can play whatever you want and adjust the sound in real-time (and for each ear) using eight toggles that pop up at the bottom of the screen. You can make sounds sharper, hear consonants better, and basically customize your sounds to your heart's content.
Make phone calls
Now for the main purpose of SonicCloud: phone calls.
Phone calls are particularly troublesome for hard-of-hearing receivers. You can get jarring feedback from your hearing aids, there are no lips to read, and there are only so many times you can ask them to "say that again, please?"
The SonicCloud app lets you spin through different hearing profiles depending on the person you're calling or even the environment you're calling in. For example, you can have a specific profile to clearly hear Lisa with the shrill voice, and another for calls while in a bustling cafe.
In both cases, you can fine-tune the sound while on the call, using basic settings—where you can enhance specific sounds like CH, SH, and S— or more advanced ones to help with echo, muffled audio or the common "tinny" sound.
Once you have the ideal hearing profile, you can confidently answer calls without the usual dread of missing out on the conversation. This on its own is already a life-changing improvement for millions of people around the world who struggle with hearing loss—including Larry Guterman.
SonicCloud at VOICE Summit
If innovations like the SonicCloud app give you warm and fuzzy I-love-tech feelings, you'll be in good company at VOICE Summit where everyone shares that same sentiment.
We have a fabulous collection of sponsors for the VOICE Summit Startup EXPO, and SonicCloud is one of them. You can meet them along with plenty more industry-leading teams wielding the latest technology to improve people's day-to-day.
The EXPO will draw over 1,000 investors, analysts, influencers, and attendees from around the globe. (If you think it sounds exciting, you're right.) Then, after four fascinating hours of startups, you can move on to the equally inspiring keynotes, panels, workshops, and even the largest Voice Hackathon.
Want to join us at VOICE?